3D Printing
envisionTEC: Envisiontec Home
- New ProJet 3500 Series immediately available in 10 printer models - 11 high performance materials matching your application requirements - High productivity and resolution, with remote tablet and smartphone connectivity 3D Printers are easy to own and economical to operate in your office, lab or design shop. 3D printers are the output tool of choice for designers, engineers, marketers, artists, architects and educators. Communicate your concept. Deliver your product to the market, fast.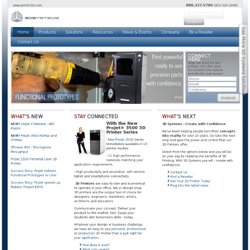 edit is restricted to the sysop group (set from the "protect" tab)move is restricted to the sysop group (set from the "protect" tab) RepRap is humanity's first general-purpose self-replicating manufacturing machine. RepRap takes the form of a free desktop 3D printer capable of printing plastic objects. Since many parts of RepRap are made from plastic and RepRap prints those parts, RepRap self-replicates by making a kit of itself - a kit that anyone can assemble given time and materials.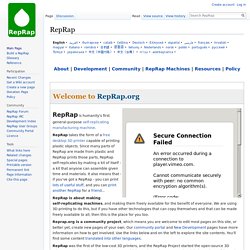 Striving for the Perfect Ride Check out the prototyping shop at Trek Bicycles, where designers obsess over the world's best bikes. Trek relies on the Objet500 Connex3 for ultra-realistic color, multi-material prototypes. See the video and case study Museum Visitors Become the Exhibit The London Science Museum's exhibit "3D Printing the Future," open now, features 3D printed miniatures of 150 museum goers.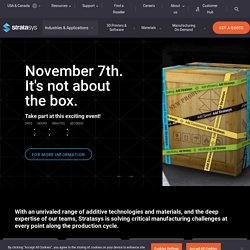 Bring Performance Prototyping In-House The Dimension 1200es features the largest build envelope of any Stratasys Design Series performance 3D printer. Running on Fused Deposition Modeling (FDM) Technology, it prints in nine colors of real ABSplus thermoplastic. This 3D printer lets you choose fine resolution or faster printing, with layer thicknesses of 0.254 mm (0.010 in.) or 0.33 mm (0.013 in.).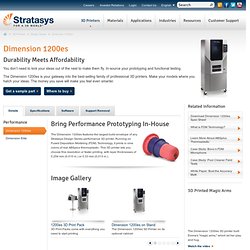 An ORDbot Quantum 3D printer. 3D printing or additive manufacturing[1] is a process of making a three-dimensional solid object of virtually any shape from a digital model. 3D printing is achieved using an additive process, where successive layers of material are laid down in different shapes.[2] 3D printing is also considered distinct from traditional machining techniques, which mostly rely on the removal of material by methods such as cutting or drilling (subtractive processes). A 3D printer is a limited type of industrial robot that is capable of carrying out an additive process under computer control.