Jquery
Liquid Slider est un Slider jQuery (avec des morceaux de HTML5 dedans) conçu avec les contraintes des périphériques mobile à l'esprit pour assurer à vos contenus un affichage optimum quelque soit la taille ou la résolution de l'écran de vos visiteurs. Parmi les fonctionnalités, nous trouvons : Affichage «Responsive»,Utilisation des balises HTML de votre choix,Utilisation des transitions CSS3 pour un affichage rapide sur mobile,Animations jQuery pour les périphériques non-compatibles avec les transitions CSS3,Lien vers les slides avec des hashes personnalisables (vers lesquels on peut faire des liens),Navigation au clavier,Fonction diaporama avec boutons «stop», «play» et «pause» au survol (hover),Fonctions de rappel et accès aux fonctions internes,Scroll automatique,Optimisé pour HTML5. → Liquid Slider est disponible sur Github.
Liquid Slider — Slider responsive HTML5 & CSS3 pour le web et les mobiles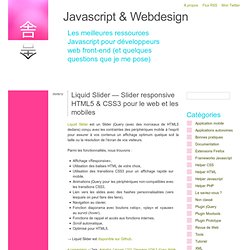 jQuery Mobile: Demos and Documentation
jQuery Slider Plugin with Infinite Style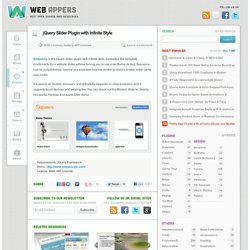 Sequence is the jQuery slider plugin with infinite style.
Today we're going to take a look at sprite animation. There's been a lot of talk this year about the future of technologies like Adobe's Flash and for good reason – with the performance of JavaScript frameworks having come so far since they were first conceived, it's now possible to create equally as powerful animations and effects without needing to use any third party plugins.In today's screencast I'm going to show you what a sprite is and just how easy it can be to create an entire animated scene using jQuery, CSS & Sprites. You'll also get to see some pretty cool out-in-the-wild examples of jQuery Sprite Animation in action, so why not check it out in my screencast below!
jQuery & CSS Sprite Animation Explained In Under 5 Minutes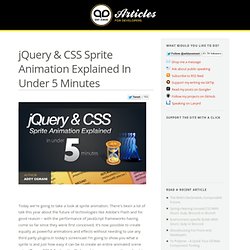 Video controls:Play | Pause | Volume Up | Volume Down | Mute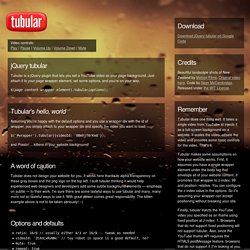 tubular, a YouTube Background Player jQuery Plugin | Sean McCambridge Design
It seems that jQuery plugins are constantly being released, and it's no surprise since it's insanely popular, and for good reason. The only problem is being able to sort through them all to find the good ones. That's why we're always on the lookout, and we've found some good ones for you.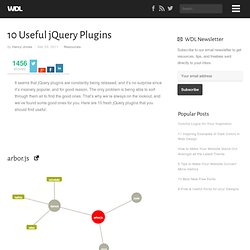 10 Useful jQuery Plugins | Resources
Martin Angelov In this tutorial we will be writing a jQuery plugin for creating a shiny knob control.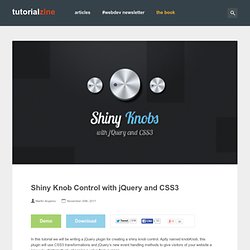 Shiny Knob Control with jQuery and CSS3
Nov
Free jQuery Image Sliders Download | Graphicitvitis
I've always been intrigued by recognition software because I cannot imagine the logic that goes into all of the algorithms. Whether it's voice, face, or other types of detection, people look and sound so different, pictures are shot differently, and from different angles, I cannot fathom how it's all done.
Face Detection with jQuery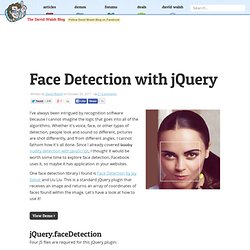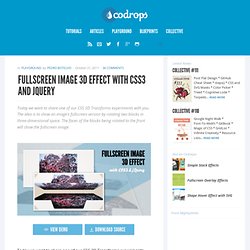 Fullscreen Image 3D Effect with CSS3 and jQuery
Today we want to share one of our CSS 3D Transforms experiments with you. The idea is to show an image's fullscreen version by rotating two blocks in three-dimensional space. The faces of the blocks being rotated to the front will show the fullscreen image.
ssdLight : Simple Lightbox with jQuery
Chained AJAX Selects
Martin Angelov In today's tutorial, we will build a set of chained select elements. Selecting an option in one of them will trigger an update on the page, showing you more choices to refine your selection.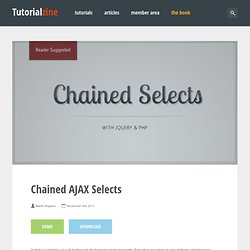 How cool is it to sometimes just display content a little bit differently? Today we want to share an experiment with you that let's you show images and content in a unique form - a wave. The idea is to initially have some smaller thumbnails rotated and placed in a wave-like manner.
Wave Display Effect with jQuery
Image map with CSS3 & jQuery tooltips
Tooltips can play a big role in your web designs and that isn't new anymore. Just use them correctly and they will help you improve user experience. We have seen before how to create some good looking CSS3 tooltips and today you'll learn how to create an image map with pins and tooltips.
MiniAjax.com / Highlighting Rich Experiences on the Web