ARG - Réalité Alternée
Intel lance Discovered premier film immersif avec la Kinect. Intel lance «Discovered» un film en réalité augmentée, créé en collaboration avec les équipes de Xbox, qui permet notamment de jouer les héros avec Chris Evans.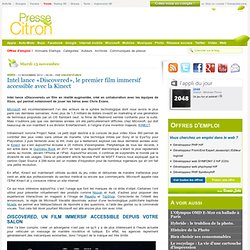 Microsoft est incontestablement l'un des acteurs de la sphère technologique dont nous avons le plus parlé ces dernières semaines. Avec plus de 1,5 milliard de dollars investit en marketing et une génération de terminaux propulsés par un OS flambant neuf, la firme de Redmond semble confiante pour la suite.
Dave Szulborski. This Is Not A Game: A Guide to Alternate Reality Gaming: Dave Szulborski: 9781411625952: Amazon.com. Miss TrollMedia. Paris, le 25 juin 2012 Chers lecteurs, Cela fait déjà 1 mois que Henry Jenkins, ce fameux, fameux théoricien des médias est venu précher la bonne parole transmédia au Centre Pompidou.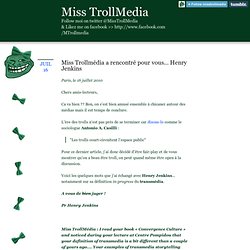 Cela fait donc déjà 1 mois mes amis que je vous mets au défi... et que nombre d'entre vous me taquinent et cherchent à reconstituer mon adresse postale. Jeu en réalité alternée. Un article de Wikipédia, l'encyclopédie libre.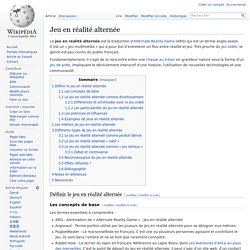 This Is Not a Game, slogan du jeu The Beast et devise d'un ARG (Trad. : Ceci n'est pas un jeu) Le jeu en réalité alternée est la traduction d'Alternate Reality Game (ARG) qui est terme anglo-saxon. Unfiction.com. The 5 Most Insane Alternate Reality Games. An alternate reality game (ARG for short) combines the best elements of viral marketing, role playing games and being an insane person who can't tell fantasy from reality.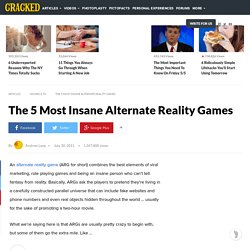 Basically, ARGs ask the players to pretend they're living in a carefully constructed parallel universe that can include fake websites and phone numbers and even real objects hidden throughout the world ... usually for the sake of promoting a two-hour movie. What we're saying here is that ARGs are usually pretty crazy to begin with, but some of them go the extra mile. Like ... Blast Theory. The Rabbit Hole. I Love Bees. I Love Bees. I Love Bees was first advertised by a subliminal message in a Halo 2 trailer; players who investigated the titular website discovered that the pages appeared to be hacked by a mysterious intelligence.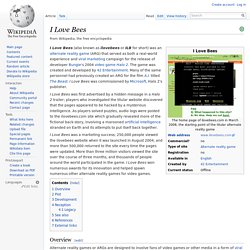 As players solved puzzles, audio logs were posted to the ilovebees.com site which gradually revealed more of the fictional back-story, involving a marooned artificial intelligence stranded on Earth and its attempts to put itself back together. I Love Bees was a marketing success; 250,000 people viewed the ilovebees website when it was launched in August 2004, and more than 500,000 returned to the site every time the pages were updated. More than three million visitors viewed the site over the course of three months, and thousands of people around the world participated in the game. I Love Bees won numerous awards for its innovation and helped spawn numerous other alternate reality games for video games. The Beast (game) An ARG is a game which deliberately blurs the line between the game and the real world.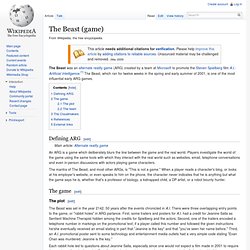 Players investigate the world of the game using the same tools with which they interact with the real world such as websites, email, telephone conversations and even in-person discussions with actors playing game characters. The mantra of The Beast, and most other ARGs, is "This is not a game. " When a player reads a character's blog, or looks at his employer's website, or even speaks to him on the phone, the character never indicates that he is anything but what the game says he is, whether that's a professor of biology, a kidnapped child, a DP artist, or a robot bounty hunter.
The Beast was set in the year 2142, 50 years after the events chronicled in A.I. Sean Stewart . Beyond the Fourth Wall. Mouth Taped Shut. ... WHAT IS HIDDEN IN SNOW ... 360 Alterned Reality Experience. Why So Serious. Why so serious : ARG. Jane McGonigal. Superstruct. SuperBetter. This Might Be a Game. Jane McGonigal: Gaming can make a better world. Gameful | Home. Find the Future at NYPL: The Game.
The Go Game. Reality Is Broken: Why Games Make Us Better and How They Can Change the World (9781594202858): Jane McGonigal. LIVE - Jane McGonigal : son intervention aux rencontres RSLN. (photo : Jane McGonigal par Bernard Lachaud.)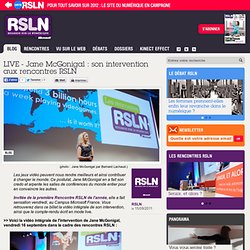 Les jeux vidéo peuvent nous rendre meilleurs et ainsi contribuer à changer le monde. Ce postulat, Jane McGonigal en a fait son credo et arpente les salles de conférences du monde entier pour en convaincre les autres. Invitée de la première Rencontre RSLN de l'année, elle a fait sensation vendredi, au Campus Microsoft France. Jane McGonigal @ Rencontres RSLN. This is not a Game - PDF.
Omnsh.org : l'Observatoire des Mondes Numériques en Sciences Humaines :. Fais Moi Jouer ! Cross Video Days. UbiQ Paris. Les ARG et le cinéma. Daybreak2012.com. Web Television Observer. Y'a pas que les jeux vidéo dans la vie ! Vous êtes nombreux (et je vous en remercie c'est sympa) à regretter que, depuis quelques mois, mes publications se fassent rares sur ce blog.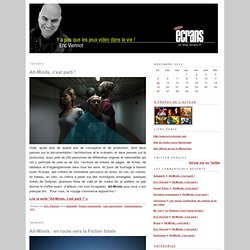 La vie d'un game designer est faite de cycles. Il y a des périodes pour la réflexion, l'échange et les recherches, et puis il y a les périodes de production qui laissent beaucoup moins de temps à la prise de parole. C'est le cas pour moi. Depuis plus 2 ans, je suis engagé à plein temps dans la production d'un nouveau projet de jeu / fiction transmédia intitulé Alt-Minds.
Alt-Minds. Assassin's Creed IV : des interactions avec les smartphones et tablettes ? C'est à l'occasion d'un petit entretien avec Jean Guesdon, Directeur Créatif sur Assassin's Creed IV : Black Flag, que nous avons pu approfondir certains des éléments dévoilés lors de notre premier contact avec le jeu...
On commence donc avec quelques détails sur la méta-histoire, un sujet qui intrigue encore nombre de fans ! Comme vous le savez, tout du moins si vous avez bien lu notre grand article récap' (Tout ce qu'il faut savoir sur Assassin's Creed IV), la méta-histoire suivra son cours dans ACIV, mais de manière totalement différente. Six to Start | We are Next-Generation Storytellers.
---