ARG - Réalité Alternée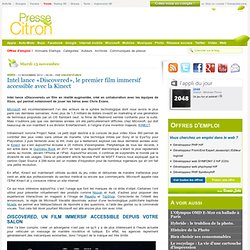 Intel lance «Discovered» un film en réalité augmentée, créé en collaboration avec les équipes de Xbox, qui permet notamment de jouer les héros avec Chris Evans. Microsoft est incontestablement l'un des acteurs de la sphère technologique dont nous avons le plus parlé ces dernières semaines. Avec plus de 1,5 milliard de dollars investit en marketing et une génération de terminaux propulsés par un OS flambant neuf, la firme de Redmond semble confiante pour la suite.
Intel lance Discovered premier film immersif avec la Kinect
Dave Szulborski
Flip to back Flip to front Listen Playing... Paused You're listening to a sample of the Audible audio edition. Learn more <div> Imagine a world of mystery and excitement, adventure and fantasy, waiting for you to explore.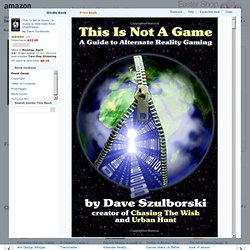 This Is Not A Game: A Guide to Alternate Reality Gaming: Dave Szulborski: 9781411625952: Amazon.com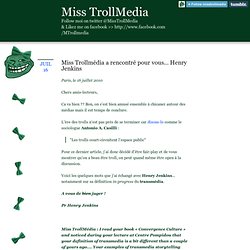 Miss TrollMedia
Paris, le 25 juin 2012 Chers lecteurs, Cela fait déjà 1 mois que Henry Jenkins, ce fameux, fameux théoricien des médias est venu précher la bonne parole transmédia au Centre Pompidou. Cela fait donc déjà 1 mois mes amis que je vous mets au défi... et que nombre d'entre vous me taquinent et cherchent à reconstituer mon adresse postale.
Jeu en réalité alternée
Un article de Wikipédia, l'encyclopédie libre. This Is Not a Game, slogan du jeu The Beast et devise d'un ARG (Trad. : Ceci n'est pas un jeu) Le jeu en réalité alternée est la traduction d'Alternate Reality Game (ARG) qui est terme anglo-saxon.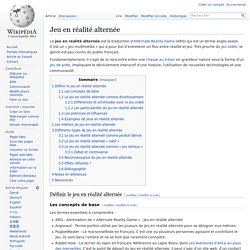 unfiction.com
…And then the screaming started. After a long day of surfing the web, you crash hard and sleep soundly. But suddenly you are awakened by the persistent ringing of your phone. You answer it, and the voice at the other end speaks sinisterly, "If you know what's good for you, you'll back off. You don't want this, you really don't." You're sitting in the dark at 3:00 a.m., staring at the now-dead phone, thinking to yourself, "What have I gotten into?"
The 5 Most Insane Alternate Reality Games
An alternate reality game (ARG for short) combines the best elements of viral marketing, role playing games and being an insane person who can't tell fantasy from reality. Basically, ARGs ask the players to pretend they're living in a carefully constructed parallel universe that can include fake websites and phone numbers and even real objects hidden throughout the world ... usually for the sake of promoting a two-hour movie. What we're saying here is that ARGs are usually pretty crazy to begin with, but some of them go the extra mile. Like ...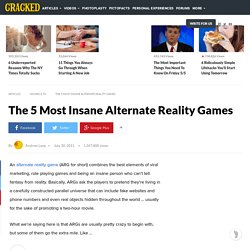 Blast Theory
Cross Vidéo Night sur le thème du Transmédia → Rendez-vous, mardi 11 décembre à 19h30 à La Cantine pour les Cross Video Nights #3 consacrées au Transmedia ! Cette soirée très européenne, organisée avec le MEDIA Desk France, sera l'occasion de revenir sur quelques projets transmedia […] Les premiers résultats du réseau multichaines du Groupe Canal+ sur Youtube →
The Rabbit Hole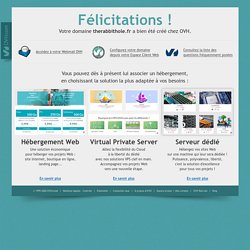 I Love Bees
I Love Bees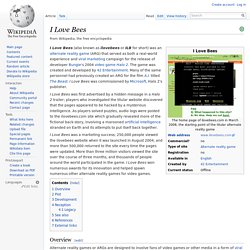 I Love Bees was first advertised by a subliminal message in a Halo 2 trailer; players who investigated the titular website discovered that the pages appeared to be hacked by a mysterious intelligence. As players solved puzzles, audio logs were posted to the ilovebees.com site which gradually revealed more of the fictional back-story, involving a marooned artificial intelligence stranded on Earth and its attempts to put itself back together. I Love Bees was a marketing success; 250,000 people viewed the ilovebees website when it was launched in August 2004, and more than 500,000 returned to the site every time the pages were updated. More than three million visitors viewed the site over the course of three months, and thousands of people around the world participated in the game. I Love Bees won numerous awards for its innovation and helped spawn numerous other alternate reality games for video games.
An ARG is a game which deliberately blurs the line between the game and the real world. Players investigate the world of the game using the same tools with which they interact with the real world such as websites, email, telephone conversations and even in-person discussions with actors playing game characters. The mantra of The Beast, and most other ARGs, is "This is not a game." When a player reads a character's blog, or looks at his employer's website, or even speaks to him on the phone, the character never indicates that he is anything but what the game says he is, whether that's a professor of biology, a kidnapped child, a DP artist, or a robot bounty hunter. The Beast was set in the year 2142, 50 years after the events chronicled in A.I.
The Beast (game)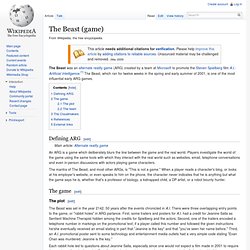 Sean Stewart . Beyond the Fourth Wall
Connect with Sean News 5 October 2012 Sean will be the keynote speaker at this year's Power to the Pixel. New from Fourth Wall Studios: The Gamblers. New from Fourth Wall Studios: The Swarming, a 7-minute horror piece.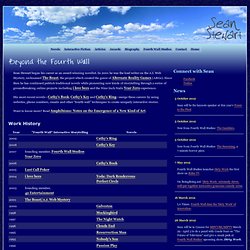 Mouth Taped Shut
... WHAT IS HIDDEN IN SNOW ...
360 Alterned Reality Experience
Why So Serious
Why so serious : ARG on Vimeo
Jane McGonigal
My #1 goal in life is to see a game designer nominated for a Nobel Peace Prize. I've forecast that this will happen by the year 2023. Of course, it's not enough to just forecast the future — I'm also actively working to make it a reality. (And you can too — join Gameful, the Secret HQ for Worldchanging Game Developers.) My best effort so far?
Superstruct was a massively multiplayer forecasting game, created by the Institute for the Future, and played by more than 8000 citizen future-forecasters from September - November 2008. Although the game is no longer live, you can still learn about it and explore some of our archived game content: Find out how the game was playedWatch the scenario videos to preview the SuperthreatsLearn about the 8000+ playersRead 1000+ stories they craftedDiscover the 500+ superstructures these awesome citizen future-forecasters created
Superstruct
You are stronger than you know. You are surrounded by potential allies. You will soon conquer a great challenge. You are a Hero to others. An epic win is in your future.
SuperBetter
This Might Be a Game
Jane McGonigal: Gaming can make a better world
Gameful | Home
Find the Future at NYPL: The Game
The Go Game
Reality Is Broken: Why Games Make Us Better and How They Can Change the World (9781594202858): Jane McGonigal
LIVE - Jane McGonigal : son intervention aux rencontres RSLN
Jane McGonigal @ Rencontres RSLN on Vimeo
This is not a Game - PDF
Omnsh.org : l'Observatoire des Mondes Numériques en Sciences Humaines :.
Fais Moi Jouer !
Cross Video Days
UbiQ Paris
Les ARG et le cinéma
daybreak2012.com
Web Television Observer
Y'a pas que les jeux vidéo dans la vie !
Alt-Minds
Assassin's Creed IV : des interactions avec les smartphones et tablettes ?
Six to Start | We are Next-Generation Storytellers