iPad, Apple
Mobile Apps
iPad Apps for High School Teachers
Teachers Have Sensory Needs Too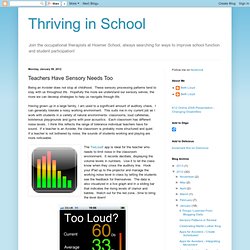 Being an Avoider does not stop at childhood. These sensory processing patterns tend to stay with us throughout life. Hopefully the more we understand our sensory selves, the more we can develop strategies to help us navigate through life.
Using iPads in the classroom?? - Elementary Tech Teachers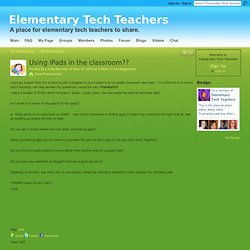 I just got a grant from my school to pilot a program to put 2 ipads in a 1st grade classroom next year. I'm a little bit of a novice and if anybody can help answer my questions I would be very Thankful!!!!! I have a budget of $1400 which includes 2 ipads, 2 ipad cases, the rest would be used to purchase apps. Is it worth it to invest in the ipad3? or the ipad2? Is 16GB plenty for a classroom or 32GB?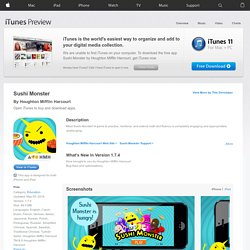 Sushi Monster for iPad on the iTunes App Store
Description Meet Sushi Monster! Scholastic's new game to practice, reinforce, and extend math fact fluency is completely engaging and appropriately challenging. Strengthen reasoning strategies for whole number addition and multiplication by helping monsters make a target sum or product. Earn points with each correct answer… but watch out for distractions! To be successful, plan ahead and strategically select numbers from the sushi counter.
Kids AppFriday: April 20, 2012 - Free or Discounted Apps!
Free Apps for Educators - Google Docs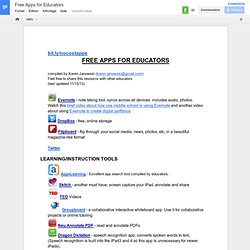 Pour activer le lecteur d'écran, appuyez sur CTRL + ALT + Z. Pour connaître les raccourcis clavier, appuyez sur CTRL + BARRE OBLIQUE. Feel free to share this resource with other educators Evernote - note taking tool, syncs across all devices. includes audio, photos. Flipboard - flip through your social media, news, photos, etc, in a beautiful
ColorSmart by BEHR™ Mobile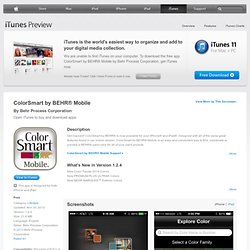 Description Get inspired! ColorSmart by BEHR® is now available for your iPhone® and iPad®. Designed with all of the same great features found in our online version, ColorSmart by BEHR® Mobile is an easy and convenient way to find, coordinate or preview a BEHR® paint color for all of your paint projects.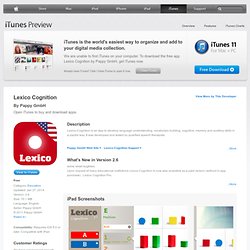 Description Lexico-Cognition is an App to develop language understanding, vocabulary building, cognitive, memory and auditory skills in a playful way. It was developed and tested by qualified speech therapists.
Lexico Cognition for iPad on the iTunes App Store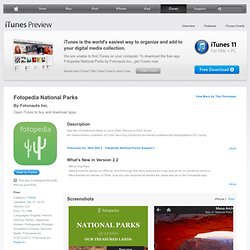 Fotopedia National Parks
Description See the US National Parks on your iPad, iPhone or iPod Touch. An extraordinary collection of 3,000 stunning photos by renowned professional photographer QT Luong.
Description MSO Learn is the first App of its kind to offer the user advanced interactive audio-visual exploration of an orchestra, featuring the different instrumental families, individual instruments and the musicians who play them. The App for iPhone and iPad brings together stunning graphics and uncompressed audio to produce an experience that will delight users of all ages and enhance their appreciation of the workings of an orchestra.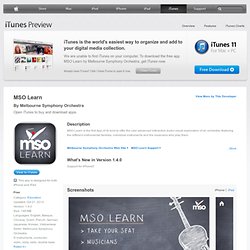 MSO Learn
AstroApp: Space Shuttle Crew
More App Info description & screenshots Free TeacherPal by ITWorx Since taking attendance and keeping a gradebook is a regular task for all teachers, having a great solution on your iPhone or iPad is a must. This simple, effective, free, universal app belongs on every teacher's iDevice. Take attendance; track grades and behavior for your students. Set up a profile for each student that can even include information such as allergies.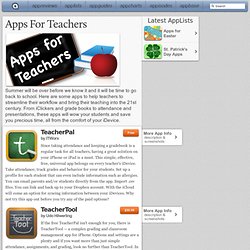 Description ***FREE FOR A LIMITED TIME***To Celebrate the release of the new iPad, the ultimate iPad starter guide is now free! All articles and AppLists have been fully refreshed and loaded with the freshest apps. AppStart is the first app to download on your iPad: An app starter kit with all the essential apps you'll ever need. AppStart takes a fresh and fun approach to teach the average Joe (or insert your name here) how to become more familiar with his/her iPad and apps. NO THIS IS NOT A BORING MANUAL.
AppStart for iPad (2012 Edition) for iPad on the iTunes App Store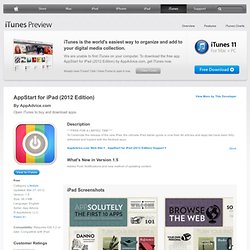 The customizable Hipstamatic camera attempts to "bring back the look, feel, unpredictable beauty, and fun of plastic toy cameras of the past"; it gives you, iPhone photographer, the option to swap camera lenses and film and change up your flash settings, creating heavily-filtered photographs that look like Polaroids. A download of Hipstamatic costs $1.99 and comes with four lenses, three different kinds of film, and three different kinds of flash. You can also purchase in-app upgrade "HipstaPaks," which come with one lens, one film, and one flash for 99 cents apiece. Combining all of these effects makes for good, addictive fun.
The 10 Best iPhone Camera Apps Besides Instagram: Hipstamatic, Camera+ And More
There's a lot of folks who say the iPad isn't proper competition for netbooks because it isn't a 'productivity tool'. They're all wrong. Take the visual arts, for example, and you'll find a growing army of examples of artists using the Apple device to create stunning pieces of art, here's six stories to illustrate this. Clearly this illustrates why netbook sales have cramped up and why Apple's iPad is such a success, because it unlocks imagination for users, developers, old and new media. [This story is from the new Apple Holic blog at Computerworld. Subscribe via RSS to make sure you don't miss a beat.
Apple iPad art: paintings created using Brushes, ArtStudio and Sketchbook Pro apps
These works of art could easily be mistaken for oil paintings or watercolours - but they've actually been created on an iPad. The pictures were created using fingers and apps such as Brushes, ArtStudio and Sketchbook Pro. The device is attracting established artists, who are abandoning canvases in favour of the 9.7-inch iPad screen. And some iPad prints are being sold for hundreds of pounds. Corliss Blakely, 59, was one of the first professional artists to put an iPad painting on the internet.
Apple iPad art: paintings created using Brushes, ArtStudio and Sketchbook Pro apps
Free Friday | Best Apps for Kids : reviews, news and promo codes for iPhone / iPad / iPod apps
Media awareness is everywhere these days, from scary social media stories in mainstream newspapers to parent education events at elementary schools. It can be a little overwhelming. Chances are your kids are already using lots of media. And chances are you haven't yet found time to explicitly outline your online expectations of what they are and aren't allowed to do, in writing.
Ipad Resources for Educators
Description **Apple Staff Favorite**Top 50 FREE Educational App I have provided a virtual set of fraction bars on www.abcya.com for several years. Many teachers have contacted me about creating a similar application for the iPad.
Grade K-2 Apps
iPad Tutorial: How to quickly update multiple iPads to a new version of the iOS
iOS: Syncing with iTunes