iPad, Apple
Mobile Apps
iPad Apps for High School Teachers
Teachers Have Sensory Needs Too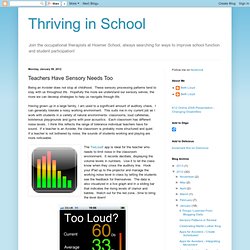 Being an Avoider does not stop at childhood. These sensory processing patterns tend to stay with us throughout life. Hopefully the more we understand our sensory selves, the more we can develop strategies to help us navigate through life.
Using iPads in the classroom?? - Elementary Tech Teachers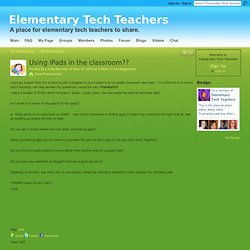 I just got a grant from my school to pilot a program to put 2 ipads in a 1st grade classroom next year. I'm a little bit of a novice and if anybody can help answer my questions I would be very Thankful!!!!!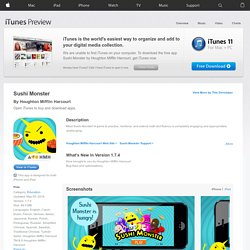 Sushi Monster for iPad on the iTunes App Store
Description Meet Sushi Monster!
Kids AppFriday: April 20, 2012 - Free or Discounted Apps!
Free Apps for Educators - Google Docs
ColorSmart by BEHR™ Mobile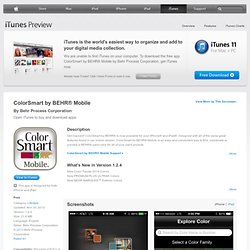 Description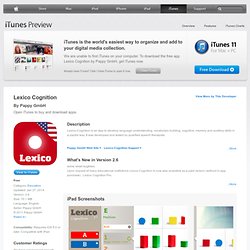 Description Lexico-Cognition is an App to develop language understanding, vocabulary building, cognitive, memory and auditory skills in a playful way. It was developed and tested by qualified speech therapists.
Lexico Cognition for iPad on the iTunes App Store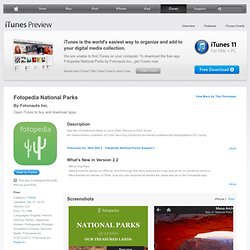 Fotopedia National Parks
Description See the US National Parks on your iPad, iPhone or iPod Touch. An extraordinary collection of 3,000 stunning photos by renowned professional photographer QT Luong.
Description MSO Learn is the first App of its kind to offer the user advanced interactive audio-visual exploration of an orchestra, featuring the different instrumental families, individual instruments and the musicians who play them. The App for iPhone and iPad brings together stunning graphics and uncompressed audio to produce an experience that will delight users of all ages and enhance their appreciation of the workings of an orchestra.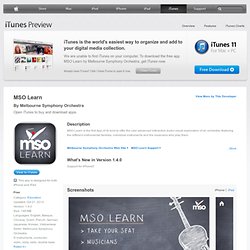 MSO Learn
AstroApp: Space Shuttle Crew
More App Info description & screenshots Free TeacherPal by ITWorx Since taking attendance and keeping a gradebook is a regular task for all teachers, having a great solution on your iPhone or iPad is a must.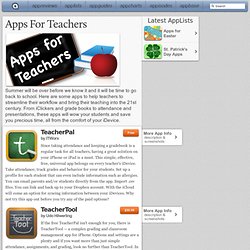 Description ***FREE FOR A LIMITED TIME***To Celebrate the release of the new iPad, the ultimate iPad starter guide is now free!
AppStart for iPad (2012 Edition) for iPad on the iTunes App Store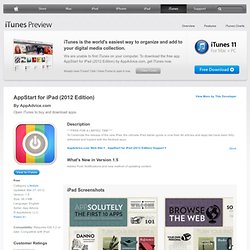 The customizable Hipstamatic camera attempts to "bring back the look, feel, unpredictable beauty, and fun of plastic toy cameras of the past"; it gives you, iPhone photographer, the option to swap camera lenses and film and change up your flash settings, creating heavily-filtered photographs that look like Polaroids.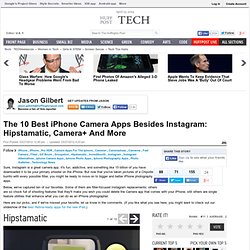 The 10 Best iPhone Camera Apps Besides Instagram: Hipstamatic, Camera+ And More
There's a lot of folks who say the iPad isn't proper competition for netbooks because it isn't a 'productivity tool'. They're all wrong.
Six reasons iPad is an artist's productivity tool
Apple iPad art: paintings created using Brushes, ArtStudio and Sketchbook Pro apps
These works of art could easily be mistaken for oil paintings or watercolours - but they've actually been created on an iPad.
Apple iPad art: paintings created using Brushes, ArtStudio and Sketchbook Pro apps
Free Friday | Best Apps for Kids : reviews, news and promo codes for iPhone / iPad / iPod apps
Ipad Resources for Educators
There are a multitude of K-5 apps in the app store.
Grade K-2 Apps
I'm indebted to my friend Fraser Speirs for this tip. You know how long it can take for the download and update of a single iPad or iPod touch.
iPad Tutorial: How to quickly update multiple iPads to a new version of the iOS
iOS: Syncing with iTunes