Web Sites
LETTERS, INC. 25 Websites with Full Screen Background. Well, we've been hearing this since ever that a single picture is worth a thousand words.
This definitely explains why pictures are so important. When it comes to web designing, people give preference to pictures instead of text. Every Last Drop – An Interactive Website about Water Saving. Top 30 | Web Design Inspiration Gallery – Webinspeer. jQuery lightbox for images, videos, YouTube, iframes, ajax | Stéphane Caron. To open inline content, simply: Create a link (<a href="#">).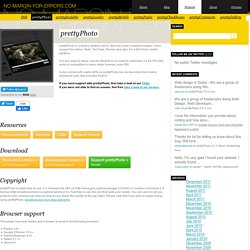 Add the rel attribute "prettyPhoto" to it (rel="prettyPhoto"). The Best Designs / Best Web Design Awards & CSS Gallery. Werbeagentur Traun, Linz | Strategie, Design, Kampagne, Web. Blacknegative. Reklamebyrået NeoLab. Woodwork. Joint London - About Us. Soleil Noir 2012 | We believe in... Lost World's Fairs. The New Design Guidelines. Creating Minimalist Designs Makes You a Better Designer. The trend of using minimalist designs has been with us for a while now.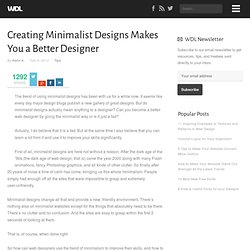 It seems like every day major design blogs publish a new gallery of great designs. But do minimalist designs actually mean anything to a designer? Can you become a better web designer by going the minimalist way or is it just a fad? Actually, I do believe that it is a fad. But at the same time I also believe that you can learn a lot from it and use it to improve your skills significantly.
Awwwards: Website Awards - Best websites around the World. Best Web Gallery. 25 Tutorials to Build Up Your Design Skills - Designer Blog Designer Blog. One of the best ways to improve and build upon your design skills is by using tutorials — short, instructional guides that teach techniques so you can craft great designs.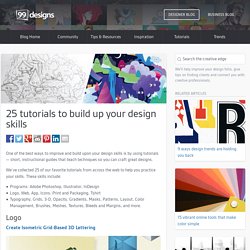 We've collected 25 of our favorite tutorials from across the web to help you practice your skills. These skills include: Programs: Adobe Photoshop, Illustrator, InDesignLogo, Web, App, Icons, Print and Packaging, TshirtTypography, Grids, 3-D, Opacity, Gradients, Masks, Patterns, Layout, Color Management, Brushes, Meshes, Textures, Bleeds and Margins, and more. Goksel Eryigit - Front-end Developer » Info. The Wilderness Downtown. 25 Beautiful Minimalist Designs. "Simplify, simplify, simplify.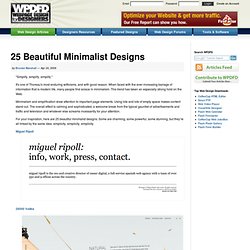 " It's one of Thoreau's most enduring witticisms, and with good reason. When faced with the ever-increasing barrage of information that is modern life, many people find solace in minimalism. 40 Wonderfully Creative Websites Inspired by Nature. The field of design has many followers who create works inspired by nature.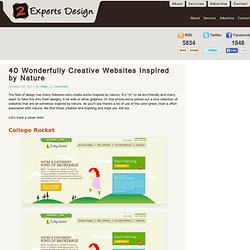 It's "in" to be eco-friendly and many seem to take this into their designs, it be web or other graphics. In this article we've picked out a nice collection of websites that are all somehow inspired by nature. As you'll see there's a lot of use of the color green, that is often associated with nature. We find these creative and inspiring and hope you will too. Let's have a closer look! Galaxy Nexus.
10 Cool Resource Web Sites For Graphic and Web Designers | Graphic Design. This week I would like to show you 10 cool resource websites, each one of them offering various examples of images, links, wallpapers etc.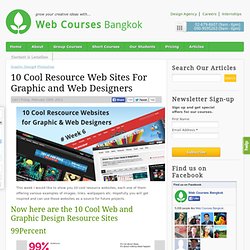 Hopefully you will get inspired and can use those websites as a source for future projects. Now here are the 10 Cool Web and Graphic Design Resource Sites. Imaginary Forces - Science ID - Universe. WATERLIFE - NFB. CSSelite.com – CSS Gallery » Showcasing the best in CSS web design and development.
Using Photos in Web Design, Excellent Examples for Inspiration. Startup Framework Close Using Photos in Web Design, Excellent Examples for Inspiration Corina Ciripitca • Inspiration • April 14, 2011 • 2 Comments.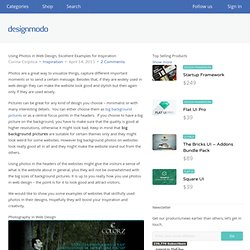 Contrast Rebellion - to hell with unreadable, low-contrast texts! 30 Beautifully Hand Crafted HTML5 Websites. HTML5 is the new web standard, it defines many elements and attributes that can be seen under the hood.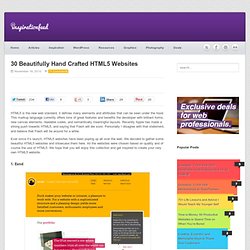 This markup language currently offers tons of great features and benefits the developer with brilliant forms, new canvas elements, readable codes, and semantically meaningful layouts. Recently Apple has made a strong push towards HTML5, and saying that Flash will die soon. 5 best corporate websites from themeforest | Web design Cheltenham, Square One. Not being a big fan of premium themes I still think they have their place and themeforest is probably one of the most popular sites where you can find all sorts of themes for different jobs.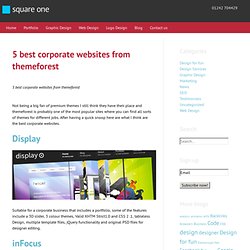 After having a quick snoop here are what I think are the best corporate websites. Suitable for a corporate business that includes a portfolio, some of the features include a 3D slider, 3 colour themes, Valid XHTM Strict1.0 and CSS 2 .1, tableless Design, multiple template files, jQuery functionality and original PSD files for designer editing.
A professional looking corporate website with 3 stage jQuery slider, 3 layout portfolio, multiple page layout templates, Valid XHTML, jQuery dropdown menus and PSD files for further editing. A significant theme with a multitude of flexibility Valid HTML 5, Cross Browser Compatible including IE 9 and FF 4, 16! Yes 16! DIV based Web Design Tutorial.
---