Infographie et dataviz
Data journalism and visualisation: welcome to our new data site | News. Data journalism has become an increasingly big part of our work here at the Guardian - from Wikileaks to government spending, it's our job to make the key data accessible and easy to understand.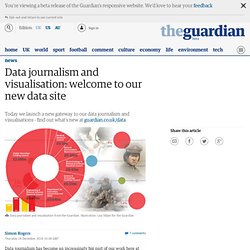 As Tim Berners-Lee said recently: [Journalism is] going to be about poring over data and equipping yourself with the tools to analyse it and picking out what's interesting. And keeping it in perspective, helping people out by really seeing where it all fits together, and what's going on in the country. Mapping America — Census Bureau 2005-9 American Community Survey. Fiscalité locale: le travail exemplaire de "La Gazette des Communes" - Data journalism. Il y a plus compliqué que le système fiscal français: une réforme du système fiscal.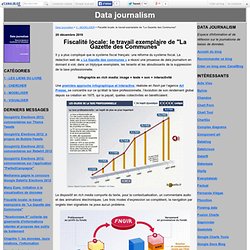 La rédaction web de « La Gazette des communes » a réussi une prouesse de data journalism en donnant à voir, dans un triptyque exemplaire, les tenants et les aboutissants de la suppression de la taxe professionnelle. Infographie en rich media: image + texte + son + interactivité Une première approche infographique et interactive, réalisée en flash par l'agence Art Presse, se concentre sur ce qu'était la taxe professionnelle, l'évolution de son rendement global depuis sa création en 1975, qui la payait, quelles collectivités en bénéficiaient. Le dispositif en rich media comporte du texte, pour la contextualisation, un commentaire audio et des animations électroniques. HootSuite Reaches 1 Million Users [INFOGRAPHIC] Social media dashboard HootSuite has reached an important milestone: 1 million registered users.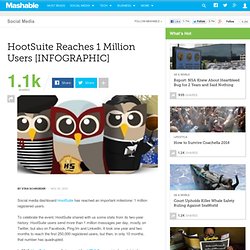 To celebrate the event, HootSuite shared with us some stats from its two-year history. HootSuite users send more than 1 million messages per day, mostly on Twitter, but also on Facebook, Ping.fm and LinkedIn. It took one year and two months to reach the first 250,000 registered users, but then, in only 10 months, that number has quadrupled. The 10 Best Infographics for Internet Marketing Pros. 2011 the year of the tablet takeover [Infograpic] What is 2011 going to be?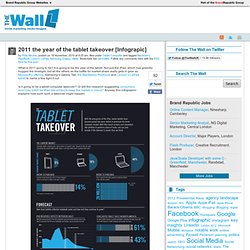 It is going to be the year of the tablet. Not just the iPad, which has greedily hogged the limelight, but all the others as the battle for market share really gets in gear as Microsoft's offering, Samsung's Galaxy Tab, the Blackberry Playbook and Lenovo's LePad tablet to name a few fight it out. Is it going to be a tablet computer takeover? Female_orgasm_facts. Transparency: Pakistan vs. Haiti, Which Disaster Got More Aid? - Health. The earthquake in Haiti last January was devastating: Estimates of the death toll are nearly 250,000 and millions of people were displaced.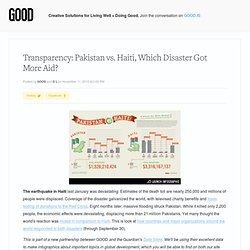 Coverage of the disaster galvanized the world, with televised charity benefits and mass texting of donations to the Red Cross. Eight months later, massive flooding struck Pakistan. While it killed only 2,200 people, the economic effects were devastating, displacing more than 21 million Pakistanis. Yet many thought the world's reaction was muted in comparison to Haiti. This is look at how countries and major organizations around the world responded to both disasters (through September 30).
Datas : Ce que Google révèle sur l'évolution de nos sociétés. Maintenant que Google a numérisé (presque) tous nos livres, qu'est-il capable de nous dire sur nos sociétés ?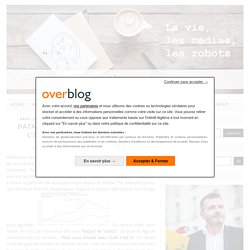 Premier résultat de cette mise en algorithme de l'humanité, "Google Ngram" dresse un portrait des tendances historiques, basées sur les mots utilisés dans la littérature mondiale. FastCompany s'est amusé à suivre le parcours de quelques sujets depuis le XIXeme. Coloroftheyear2010.png (PNG Image, 1188x1540 pixels) - Scaled (41%) How to win Rock-paper-scissors every time. I admit it.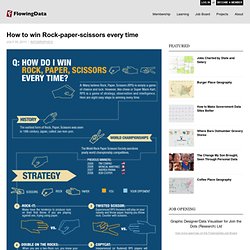 When I first heard there are actual tournaments for Rock-paper-scissors, sanctioned by the World Rock Paper Scissors Society, I laughed. I mean seriously, $50k to the winner of a game that requires no skill whatsoever? How Executives Are Using Social Media | Knowledge Is Social. The time constraints on today's executives are more numerous than ever before.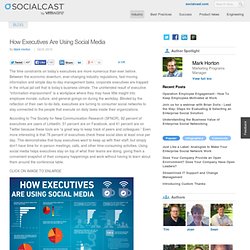 Between the economic downturn, ever-changing industry regulations, fast-moving information and simple day-to-day management tasks, corporate executives are trapped in the virtual jail cell that is today's business climate. The unintended result of executive "information-imprisonment" is a workplace where they may have little insight into employee morale, culture, and general goings-on during the workday. The Rise of Facebook Mobile. This post was written by Jenny Urbano, our Social Media Manager.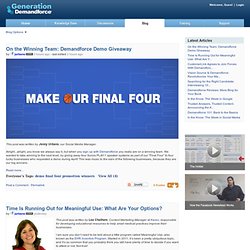 Here at Demandforce, we love seeing and celebrating your ideas! And more than that, we love to hear from YOU. The Darwinian Evolution of Microsoft Windows. This is a cool infographic timeline, showing the Darwinian Evolution of Microsoft Windows from version 1.0 in 1985 up through the current Windows 7 in 2009.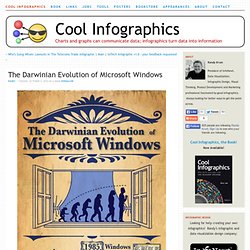 Although it makes for a really tall infographic, I love seeing the visuals of the startup screens and the desktops. Art is credited to Richard Cavolo, and the project is from TestKing.com (even though I can find no mention of it on their site). It was posted on BitsandPieces.us Update on Tuesday, October 5, 2010 at 11:00AM by Randy. Je reçois un mail d'Hadopi, que dois-je faire ? infographie @lemondefr. Best-Times-Infographic. En une seule image - Comment les téléphones sont entrain de changer les... Poster_beer_1300. The Value of an Hour of Work. Cool Infographics - Cool Infographics - An Infographic Guide to Buying Your Own Island. Mapping Stereotypes by alphadesigner. Atlas of Prejudice 2 [English Edition] Get your copy on: Amazon US / Amazon UK / Amazon DE / Amazon FR / Amazon IT / Amazon ES Atlas der Vorurteile 2 [German Edition] Get your copy on: Amazon DE.
Infographie sur internet : attirer l'attention vers les données des acteurs de la solidarité. Séduisantes, efficaces, directes, facilement partageables, les infographies (ou Dataviz) ont le vent en poupe en ce moment, dans la presse classique mais aussi sur le web. Lors de l'introduction du concept dans la langue française vers les années 1970, l'infographie désigne uniquement les graphismes, que l'on appelle alors « infographies » (mot valise exprimant l'idée d'information par le graphisme), destinés à mettre en images des informations généralement statiques au moyen de diagrammes, de cartes ou de schémas. Aujourd'hui, le concept d'infographie s'est élargi à tous les graphismes produits par des moyens numériques.
Des médias comme lemonde.fr ou Owni en sont friands. Au-delà du sempiternel diagramme circulaire ou du tableau réservé à l'analyste, les infographies sont là pour dire des choses, rendre compréhensibles les chiffres et les enjeux qu'ils soulèvent et transmettre de l'information. E-réputation des entreprises : Digimind publie une infographie. Dimgimind publie une infographie sur l'e-réputation dans laquelle l'éditeur de la solution de veille nous donne des chiffres intéressants sur le marché de l'e-réputation en France. Le premier chiffre intéressant survient dès le haut de cette infographie et concerne le nombre de sociétés spécialisées dans l'e-réputation. Pour trouver la liste des entreprises françaises spécialisées dans l'e-réputation, nous vous invitons à lire cet article du blog CaddEréputation dans lequel figurent 129 des 130 sociétés (dont BlueBoat). Dans la suite de cette infographie, vous pourrez trouver des chiffres sur la réputation numérique de grandes marques, mais également sur la prise de conscience des entreprises et la prise de décisions de celles-ci face aux risques liés à l'e-réputation des entreprises.
Belgique: et si c'était le compromis qui était le chaos ? » Article » OWNI, Digital Journalism. Untitled. Translation Services | Translation Info Graphics. Facts About Spam: A Visual Journey. Untitled. Infographie : Ma mère est sur Facebook. La puissance du crowdsourcing résumée en une infographie. Tracking Google's Acquisitions. Et si les plus gros sites Web étaient réunis? Timelines: Time travel in popular film and tv. Untitled. David McCandless: The beauty of data visualization. Untitled. An infographic for why social media matters | EngageSciences.com.
Interactive Infographic of the World's Best Countries. Untitled. Internet Censorship Report – woorkup.com. Untitled. Répartition de l'utilisation des réseaux sociaux dans le monde. "Scott Pilgrim vs. the World" + Interactive Trailer = Achievement Unlocked! [AUTOPLAY] Les « bourgeoises alternatives » : la cible marketing de Madame Figaro.
En Allemagne, la vie privée sur Internet sera enseignée à l'école - Numerama. 25 HTML5 Features, Tips, and Techniques you Must Know. Eric Schmidt et Google Wave : "Nous célébrons nos erreurs" Oil firm wins battle to identify chatroom users - Business News, Business. NBC : une série sur les zombies et les vampires en projet. Compte-rendu des Rencontres mondiales du logiciel libre - Blog du modérateur : conseils, widgets et outils pour créer son blog emploi. Google Postini : la carte du spam en temps réel. REGARDS SUR LE NUMERIQUE : Blog - Le Louvre en ligne : une plateforme communautaire en septembre et un nouveau site internet en 2011. RSLNmag est édité par Microsoft et se consacre à l'analyse et au décryptage du monde numérique.
ROI Doesn't Mean 'Return on Ignorance' Milestones in the History of Thematic Cartography, Statistical Graphics, and Data Visualization. Untitled. Notre monde ultra connecté. Infographie sur l'univers Youtube - Infographie -Thèque. Untitled. @jjuraver L'#infographie WiredUk sur Lost (#scannpourri déso. 33 infographies représentant internet, les usages ou les réseaux. Infographie, évolution de la publicité - JBlog Pro, by JB Planti. Individuals and Their Online Identities. Are We Addicted to the Internet? Untitled. Les médias sociaux et les grandes entreprises. Women and Social Media. Infographie : 15 choses à  savoir sur la Wikipedia. The Republic of Facebook | Cool Infographics - Cool Infographics - Google(graphic) - How Go. 60 infographies sur les medias sociaux. LinkedIn by the Numbers [Infographic] Untitled. Untitled. Untitled. A Visual Guide To The First-Person Shooter. Which Identities Are We Using to Sign in Around the Web? Untitled. Top World Cup Players on Facebook, Day by Day - Interactive Grap.
Best virals of 2010 infographic.
---