IDD
Everything Instructional Design and Development larcalla Dec 2
Sketching at Work - A Guide to Visual Problem Solving and Communication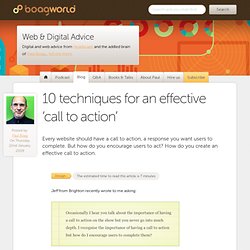 10 techniques for an effective 'call to action'
Design: The estimated time to read this article is 7 minutes Jeff from Brighton recently wrote to me asking: Occasionally I hear you talk about the importance of having a call to action on the show but you never go into much depth.
Featured Fellows applications are now open! We're now accepting applications for the d.school fellowship program for the academic year 2014-15. This year, we are looking for restless experts in the fields of K12 education and health care. Ideal candidates will be mid-career professionals and entrepreneurs with the potential to drive systems-level change. If you're dedicated to improving either of these areas, read on!
By Jared Spool March 8th, 2012 Imagine two designers. One is really imaginative and inventive, but hasn't spent any time learning how to use any of the prototyping tools available today.
tips: Prototyping's Resurgence – Communicating the Designer's Intent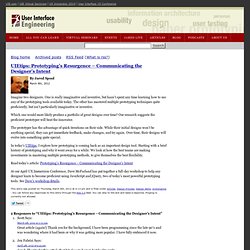 Information Graphics :: E-learning & Multimedia Journalism Examples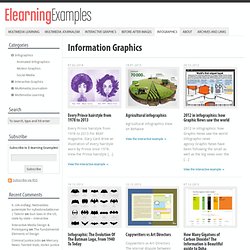 The Fundamental Elements of Design The Fundamental Elements of Design View the animated infographic View the interactive example → Take Google Maps Indoors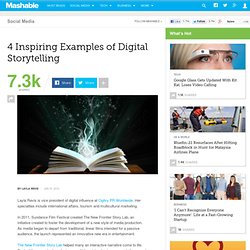 Layla Revis is vice president of digital influence at Ogilvy PR Worldwide. Her specialties include international affairs, tourism and multicultural marketing. In 2011, Sundance Film Festival created The New Frontier Story Lab, an initiative created to foster the development of a new style of media production.
QR Codes have been around for a while and people are continually coming up with new ways of using them. As you may have see on ChurchMag, one grocery store chain in South Korea has done just that. In an attempt to increase market share without adding new storefronts, Tesco unveiled a virtual storefront in subway stations, using QR codes as a means of shopping. Customers scan the codes using their smartphones, pay online using a credit card, and enjoy having the products shipped directly to their homes by Tesco!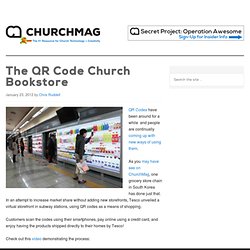 The QR Code Church Bookstore
The Contexts We Make
I've been presenting on this topic for quite a while. It's officially an obsession. And I'm happy to say there's actually a lot of attention being paid to context lately, and that is a good thing. But it's mainly from the perspective of designing for existing contexts in the world, and accommodating or responding appropriately to them.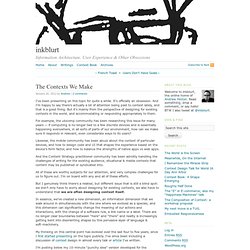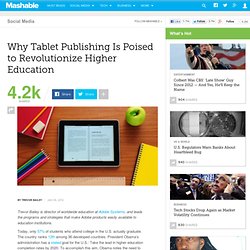 Why Tablet Publishing Is Poised to Revolutionize Higher Education
Trevor Bailey is director of worldwide education at Adobe Systems, and leads the programs and strategies that make Adobe products easily available to education institutions. Today, only 57% of students who attend college in the U.S. actually graduate. The country ranks 12th among 36 developed countries. President Obama's administration has a stated goal for the U.S.: Take the lead in higher education completion rates by 2020. To accomplish this aim, Obama notes the need to foster critical thinking, champion problem solving and employ innovative knowledge to prepare students for college and careers.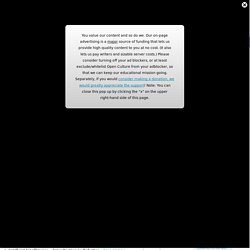 - YouTube - iTunes Video - Multiple formats - Oussama Khatib, Stanford - Multiple formats - Christopher Manning, Stanford - YouTube - iTunes Video - Multiple formats - Andrew Ng, Stanford - YouTube - P.Dasgupta, IIT - YouTube - iTunes Video - Ion Stoica, Anthony Joseph, UC Berkeley
Blowing Out the Digital Book as We Know It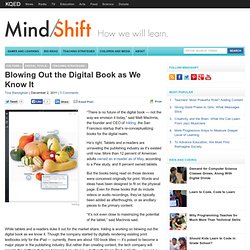 Culture Digital Tools Teaching Strategies Inkling "There is no future of the digital book — not the way we envision it today," said Matt MacInnis, the founder and CEO of Inkling, the San Francisco startup that's re-conceptualizing books for the digital realm. He's right. Tablets and e-readers are unraveling the publishing industry as it's existed until now. More than 12 percent of American adults owned an e-reader as of May, according to a Pew study, and 8 percent owned tablets.
Related resources from InnovativeLearning.com site: (n): The process by which instruction is improved through the analysis of learning needs and systematic development of learning materials. Instructional designers often use technology and multimedia as tools to enhance instruction. How Children Succeed: Grit, Curiosity, and the Hidden Power of Character is a fascinating look into the important role of non-cognitive skills like perseverance, curiosity, and grit on educational success. Trends & Issues in Instructional Design and Technology is Written by the leading figures in the field, this book clearly defines and describes the rapidly converging fields of instructional design, instructional technology, and performance technology.
Welcome to EduTechWiki EduTechWiki is about Educational Technology (instructional technology) and related fields. It is hosted by TECFA - an educational technology research and teaching unit at University of Geneva. It is a resource kit for educational technology teaching and research, e.g. a note taking tool for researchers; a literature review tool or a writing-to-learn environment for students.
Instructional Design Models Models, like myths and metaphors, help us to make sense of our world. Whether derived from whim or from serious research, a model offers its user a means of comprehending an otherwise incomprehensible problem. An instructional design model gives structure and meaning to an I.D. problem, enabling the would-be designer to negotiate her design task with a semblance of conscious understanding. Models help us to visualize the problem, to break it down into discrete, manageable units. The value of a specific model is determined within the context of use.
IDKB - Models/Theories
Learning happens when a correct response is demonstrated following the presentation of a specific environmental stimulus Learning can be detected by observing an organism over a period of time Emphasis is on observable and measurable behaviors
Notification Deadline: Information needed for complete notification includes the names of your graduate committee, and your preferences for the date/time of the portfolio oral exam meeting.. Jan. 31, 2014 Portfolio Submission Date (for Advisor Review): Your advisor or reviewer must verify that your portfolio is ready for departmental review (e.g. contains all required sections and artifacts; writing quality acceptable, etc.). Give your portfolio to your advisor or reviewer sooner if you think you will need more time to make any necessary revisions. March 7, 2014
IDD Portfolio Management Site
Full Show | Watch Digital Media - New Learners Of The 21st Century Online
Learning, Design, & Technology Studio