HTML5
By yadirosadi on December 9, 2012 xCharts is a JavaScript library for building beautiful and custom data-driven chart visualizations for the web using D3.js. Using HTML, CSS, and SVG, xCharts are designed to be dynamic, fluid, and open to integrations and customization. The library can create most of the popular chart formats, such as line charts, cumulative charts and bar charts. you can convert data from e.g, CSV and JSON formats.
xCharts - Build Beautiful Custom Chart & Graphs Based on D3.js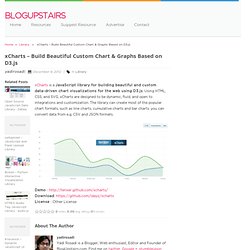 The Complete Guide to Building HTML5 Games with Canvas and SVG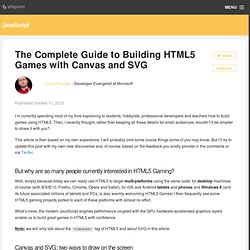 I'm currently spending most of my time explaining to students, hobbyists, professional developers and teachers how to build games using HTML5. Then, I recently thought, rather than keeping all these details for small audiences, wouldn't it be smarter to share it with you? This article is then based on my own experience. I will probably omit some crucial things some of you may know. But I'll try to update this post with my own new discoveries and, of course, based on the feedback you kindly provide in the comments or via Twitter.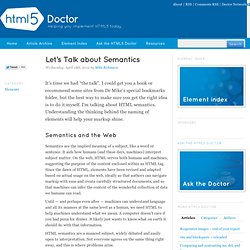 Let's Talk about Semantics
It's time we had "the talk". I could get you a book or recommend some sites from Dr Mike's special bookmarks folder, but the best way to make sure you get the right idea is to do it myself. I'm talking about HTML semantics. Understanding the thinking behind the naming of elements will help your markup shine. Semantics and the Web #
menu
gloparco/Master-List-of-HTML5-JS-CSS-Resources
The Edge of HTML5 Eric Bidelman · Legend: Not quite ready. Keep it on your radar. Relevant Chrome/WebKit bug. Bug has been fixed/resolved.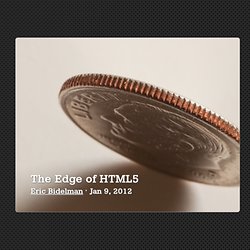 The Edge of HTML5
Dec 01 2011 Over the last few years there has been great collections of quality free HTML & CSS templates published on Noupe such as 50 Free High-Quality and "New" (X)HTML/CSS Templates (2009) and 40+ Elegant Free CSS/(X)HTML Templates (2010). There have been some great free templates released over the last year so we thought it would be appropriate to share some of these great new designs with you all. In web development, it's important to move with the times and embrace the latest changes. As such, all of the templates listed in this article were designed using HTML5 and CSS3; both of which will help future proof your website and make them more accessible.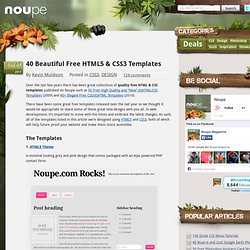 Our today's post is on HTML5 Canvas Applications and Demos. Being the last day of this calender year, we were bit skeptical on topic to choose. After thinking for quite a while we chose HTML5 Canvas Applications over others as we wanted to portray a different subject. In this post, you will be able to check the power of HTML5.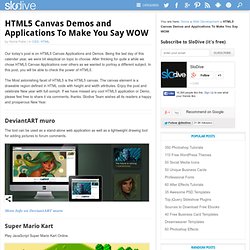 HTML5 Canvas Demos and Applications To Make You Say WOW
A week or two ago I posted a CSS basics tutorial on how to create a simple button graphic using image sprites. By popular demand in the comments we'll now look at creating a similar button style graphic, but entirely with CSS. Let's look at how CSS gradients, shadows, borders and transitions can all be combined to create a stylish button for your website.
How To Create a Stylish Button Entirely with CSS3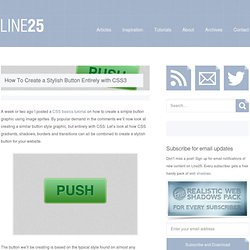 Browser support The patterns themselves should work on Firefox 3.6+, Chrome, Safari 5.1, Opera 11.10+ and IE10+. However, implementation limitations might cause some of them to not be displayed correctly even on those browsers (for example at the time of writing, Gecko is quite buggy with radial gradients). Also, this gallery won't work in Firefox 3.6 and IE10, even though they support gradients, due to a JavaScript limitation. Submission guidelines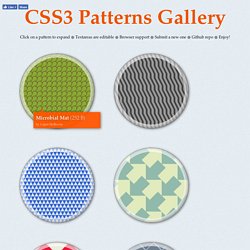 Value Bubbles for Range Inputs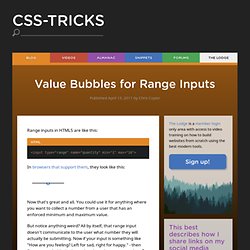 Published by Chris Coyier Range inputs in HTML5 are like this: In browsers that support them, they look like this: Now that's great and all.
Voxels
Add HTML5 video to your site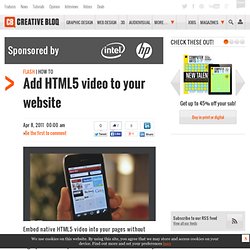 Embed native HTML5 video into your pages without plug-ins, and provide Flash-based fallback content for legacy browsers. Opera's Vadim Makeev shows the way.
watermark.js | Image watermarks with HTMLCanvas and Javascript
What is watermark.js? watermark.js is a js library for creating watermarks on images written by Patrick Wied. Images with a classname of your choice (default "watermark") will get processed and then apply your watermark.
Cross-Browser HTML5 Placeholder Text
One of the nice enhancement in HTML5 web form is being able to add placeholder text to input fields. Placeholder attribute allows you to display text in a form input when it is empty and when it is not focused (it clears the field on focus). This is a nifty feature, but it is not supported by all browsers yet. This tutorial will show you how to use Modernizr to detect if placeholder is supported, or else use jQuery to display the fallback placeholder text dynamically.
Automated Optimization with HTML5 Boilerplate Build
HTML5 Boilerplate is widely recognized as a rock-solid foundation for building new web-based sites and applications. That said, few are aware that the tool offers more than simply setting up your development environment. It also helps you "wrap up" your work by providing an awesome cross-platform build process.
Can we use HTML5 today? What can we do with it? Is it really going to kill Flash?
HTML5 Unleashed: Tips, Tricks and Techniques
ZEN - HTML5-CSS3 Audio Player
Use HTML5 in WordPress TwentyTen - TwentyTen Five - The HTML5 WordPress theme :)
The Movement You're excited about HTML5; we are too. You've not just been enjoying the HTML5-powered web already — you're building it!
C HTML5 Logo