Cleaners/Soap
20 Amazing Uses for Baking Soda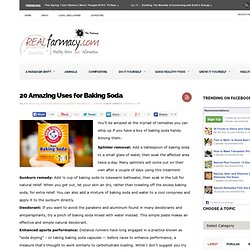 20 Amazing Uses For Baking Soda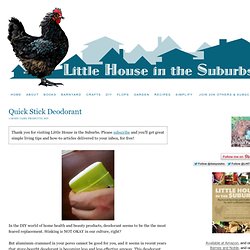 Thank you for visiting Little House in the Suburbs. Please subscribe and you'll get great simple living tips and how-to articles delivered to your inbox, for free! In the DIY world of home health and beauty products, deodorant seems to be the the most feared replacement.
5 DIY Deodorant Alternatives - Mother Nature Network
Our Homemade Lavender-Lemongrass Body Wash What do you put on your body every day? By the time I've finished my morning routine I've used shampoo, conditioner, body wash, face wash, toner, moisturizer and sunscreen for my face, and lotion for my body. Somehow, it took me close to a year before I started wondering what the heck was actually in those bottles in my shower.
Homemade Body Wash - Keep Scary Out Of Your Shower - To Be A Farmer - Little Seed Farm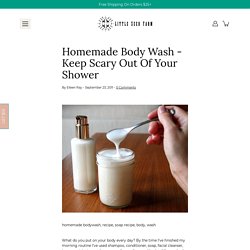 Note: Complete with answers to frequently asked questions. If you've been around DIY Natural long then you're aware of our mission to help you make more of your own natural products. It's often easy and beneficial on many levels, which is why we're dedicated to doing it and to teaching others to do the same. Today we'll learn how to make homemade natural shampoo that works, is inexpensive, and so easy you won't believe it!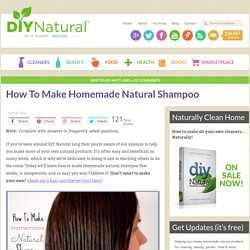 So, you want to make your own toothpaste or tooth powder, eh? Well, we have quite a few recipes here and on a few other pages... First, let me tell you that this site is about oral health and how you can preserve your good teeth by learning the truth about tooth decay, diet and nutrition, the oral biology and so forth. You can also learn about decayed teeth, sore or bleeding gums, the consequences of tooth and gum diseases and how the body fights disease and what you can do to help out. You may feel that by making your own paste or powder, you will be doing yourself some good by taking a more natural approach to your oral health. I would tend to agree with you - BUT, that is only a PART of the story.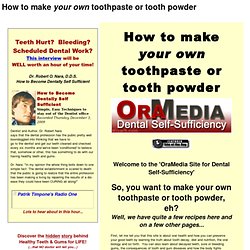 How to Make Your Own Toothpaste, Tooth Powder, Beat Gum Disease Now, Right at Home
Cleaning generally isn't anyone's favorite activity, but it's a lot less fun when you're spending your hard-earned dollars on several supplies. You can, however, effectively clean your home with a few things you probably already have. Here's how to do it. This post is broken down room by room, but since many rooms have similarities you'll find that, for example, a living room tip is also very applicable to the bedroom. This is mentioned when relevant, but be sure to read about similar rooms if you're looking for more options than a particular section provides.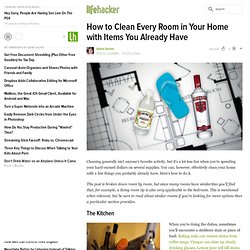 Tackling spring-cleaning this month? Us too. But there's no sense in doing it if you're going to create a big mess for the planet (and your body) in the process. Cleaning up your act isn't as straightforward as running to the pharmacy and picking out a bottle covered in claims of eco-friendliness and biodegradability, however.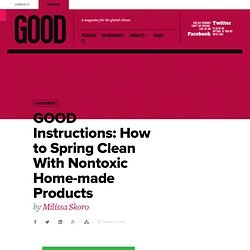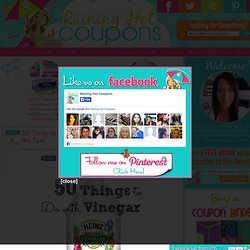 50 Things To Do With Vinegar (Cooking, Cleaning, Laundry, Pet Tips)
You may not have known this but there are actually a TON of different things you can do with Vinegar from cooking and cleaning to first aid and gardening! Since vinegar is so inexpensive, this is a great way to save money! *Get more FRUGAL Articles, tips and tricks from Raining Hot Coupons here*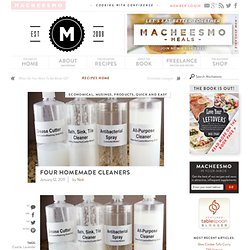 This was easier than I thought it would be. One of Betsy's goals for the year was to ditch some of our standard cleaners that we use around the house and make them! Honestly, I was a bit skeptical about this project mainly because I wasn't sure that homemade cleaners would really get the job done. And my lovely wife is a bit of a neat freak so there's no way she would use something that didn't perform well. So a couple of weekends ago she went out and bought a few staple ingredients and some empty spray bottles and we spent a few minutes mixing up four different homemade cleaners that have since replaced 90% of the cleaners we use around the house.
I came across this great idea to Make Your Own Febreeze over at Homemade Mamas ( http://www.homemademamas.net ), and I just had to give it a try to see if it's as good as the real thing. Well, it is as good as the real thing. No. Actually....It's Better ! I changed their recipe up a bit to Refill my already existing 32 oz Febreeze Spray Bottle: 1/8 Cup of Your Favorite Fabric Softener 2 Tablespoons Baking Soda Hot Tap Water - To Fill the Bottle to the Top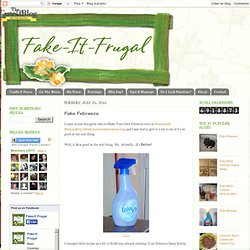 The below Homemade Laundry Detergent and Homemade Fabric Softener recipes can save you a lot of money and your health too. They are also more eco-friendly laundry alternatives. Many expensive store bought laundry detergents and fabric softeners are some of the most toxic household products in the average home. Expensive heavy duty chemical laundry cleaners and fabric softener have been implicated as being possible causes of breast cancer. So the below safe, simple, and cheaper homemade alternatives will possibly extend your lifespan as well as your dollars.
Extensive List Of Easy DIY Cleaning Products
Homemade Wood Cleaner & Polish...
This page is my own personal writings and is copyright protected. NO PART OF THIS PAGE MAY BE COPIED AND PASTED ONTO WEBSITES, BLOGS OR MESSAGE BOARD FORUMS! Making Homemade Laundry Soap By Crystal Miller
One of the main components that you'll want to have around the house (or apartment) during a SHTF situation is chlorine bleach. Not only can it be used for cleaning water (although boiling is hands down more effective and healthier) it is excellent for keeping things sanitary. Unfortunately, the average shelf life of liquid bleach (being stored between 50 and 70 degrees Fahrenheit) is around 6 months. After that, bleach will lose 20% of it's strength at around the year mark and then 20% each year after that. So if you're not vigilant about keeping it rotated, chances are when you need it for disinfecting water or to keep things clean you'll be fresh out of bleach and luck. There is a better option.
Homemade laundry soap is quick, easy and cheap. What other reasons do you need to make either a laundry powder or soap for your front loader or top loader washing machines? I will teach you how to make laundry detergent and a laundry soap liquid with step-by-step instructions, and you will never want to buy another box of expensive, commercial washing powder again.
DIY Laundry Soap Detergent: Images & Recipes