Food and nutrition
15 Food Companies that Serve You 'Wood'
Alzheimer's Prevention in Your Pantry
Alzheimer's Prevention in Your PantryMonday, June 27, 2011 TAU researcher discovers a cinnamon extract to inhibit progression of Alzheimer's disease Alzheimer's, the degenerative brain disorder that disrupts memory, thought and behavior, is devastating to both patients and loved ones. According to the Alzheimer's Association, one in eight Americans over the age of 65 suffers from the disease.
Aspartame Linked to Multiple Sclerosis and Lupus
Public release date: 24-May-2011 [ Print | E-mail Share ] [ Close Window ] Contact: David Knowles 202‑331‑1634 Corn Refiners Association WASHINGTON – A comprehensive review of research focusing on the debate between High Fructose Corn Syrup (HFCS) and other sweeteners presented today finds there is no evidence of any significant variation in the way the human body metabolizes HFCS as opposed to standard table sugar, or any difference in impact on risk factors for chronic disease. James M. Rippe, MD, founder and director of the Rippe Lifestyle Institute and professor of biomedical sciences at the University of Central Florida, presented a summary of recent research entitled -- "High Fructose Corn Syrup, Sucrose and Fructose: What Do We Really Know?"
Studies show no meaningful difference between high fructose corn syrup and sucrose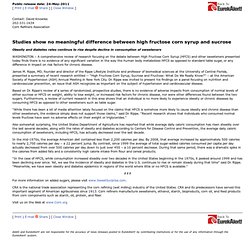 That anxiety may be in your gut, not in your head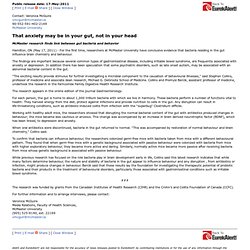 Public release date: 17-May-2011 [ Print | E-mail Share ] [ Close Window ] Contact: Veronica McGuirevmcguir@mcmaster.ca 90-552-591-402-2169McMaster University
23 April 2011Last updated at 11:36 The ketogenic diet is 87% fat A controlled diet high in fat and low in carbohydrate can repair kidney damage in diabetic mice, according to US scientists. The study, published in journal PLoS ONE, showed a "ketogenic diet" could reverse damage caused to tubes in the kidneys by too much sugar in the blood. In the UK around a third of the 2.8m people with either type 1 or 2 diabetes go on to develop kidney damage. Diabetes UK said it was "questionable" whether humans could sustain the diet.
Diet 'can reverse kidney failure' in mice with diabetes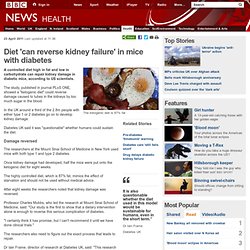 Gut Bacteria Divide People Into 3 Types, Scientists Report
Is Sugar Toxic?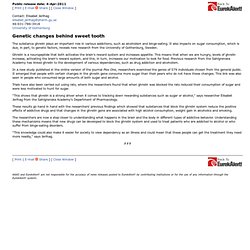 Genetic changes behind sweet tooth
Public release date: 4-Apr-2011 [ Print | E-mail Share ] [ Close Window ] Contact: Elisabet Jerlhagelisabet.jerlhag@pharm.gu.se 46-031-786-3418University of Gothenburg The substance ghrelin plays an important role in various addictions, such as alcoholism and binge-eating.
Colloidal Silver Natural Remedy Gone Bad - Blue Skin Man!
Brain scan leaves no sour taste › News in Science (ABC Science)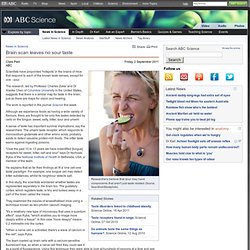 News in Science Friday, 2 September 2011 Clare PainABC Taste sensation Scientists have pinpointed 'hotspots' in the brains of mice that respond to each of the known taste senses, except for one - sour. The research, led by Professor Charles Zuker and Dr Xiaoke Chen of Columbia University in the United States, suggests that there is a similar map for taste in the brain, just as there are maps for vision and hearing.
Public release date: 29-Aug-2011 [ Print | E-mail Share ] [ Close Window ] Contact: Emma Dickinsonedickinson@bmjgroup.com 44-020-738-36529BMJ-British Medical Journal High levels of chocolate consumption might be associated with a one third reduction in the risk of developing heart disease, finds a study published on bmj.com today.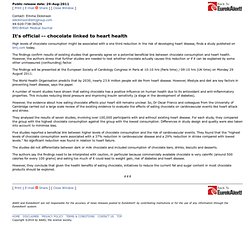 It's official -- chocolate linked to heart health
Walnuts are top nut for heart-healthy antioxidants
Public release date: 27-Mar-2011 [ Print | E-mail Share ] [ Close Window ] Contact: Michael Bernstein m_bernstein@acs.org 714-765-2012 (Meeting, March 27-31) 202-872-6042 (Before March 27) Michael Woods m_woods@acs.org 714-765-2012 (Meeting, March 27-31) 202-872-6293 (Before March 27) American Chemical Society