WASTEWATER
Treated Wastewater Used for Drinking Supplies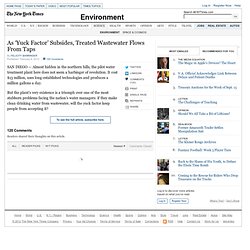 But the plant's very existence is a triumph over one of the most stubborn problems facing the nation's water managers: if they make clean drinking water from wastewater, will the yuck factor keep people from accepting it? With threatening to diminish water supplies in the fast-growing Southwest, more cities are considering the potential of reclaimed water. A new report from the said that if coastal communities used advanced treatment procedures on the effluent that is now sent out to sea, it could increase the amount of municipal water available by as much as 27 percent. San Diego's success, 12 years after its City Council recoiled from the toilet-to-tap concept, offers a blueprint for other districts considering wastewater reuse. For most of the four decades beginning in 1970, the arid West was the fastest-growing region in the country; the population of Nevada quintupled in that period while Arizona's nearly quadrupled.
Wasting the Wastewater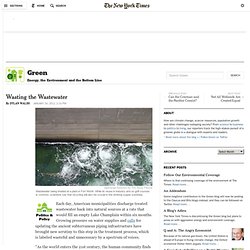 Djakhangir Zakhidov for The Texas Tribune Wastewater being treated at a plant in Fort Worth. While its reuse in industry and on golf courses is common, scientists say that recycling will also be crucial to the drinking supply someday. Each day, American municipalities discharge treated wastewater back into natural sources at a rate that would fill an empty Lake Champlain within six months. Growing pressure on water supplies and calls for updating the ancient subterranean piping infrastructure have brought new scrutiny to this step in the treatment process, which is labeled wasteful and unnecessary by a spectrum of voices.
Turning Waste to Energy | ThinkGreen.com
The average person generates about 4.5 pounds of waste per day. The good news is that we can reuse it to generate clean, renewable power. But this isn't news to us. Since the 1970s, our trailblazing Waste-to-Energy facilities have transformed over 145 million tons of municipal solid waste into 75 billion kilowatt-hours of energy.
ctp.iccas.miami.edu/Appendices/Appendix_C_Water_Wastewater/Ortega_et_al_2009.pdf