GIMP
The Gimp : Aides, trucs, astuces et tutoriaux en français !
Collect & Go
Notre service Quand puis-je réserver ? Vous réservez vos courses sur Internet, où et quand vous le désirez. Notre webshop est ouvert 24 heures sur 24, 7 jours sur 7. Haut de page Quand puis-je venir retirer mes courses ?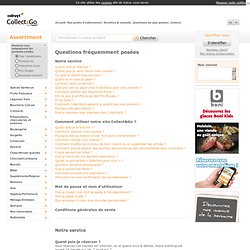 21.Gimp-Colaj nunta 2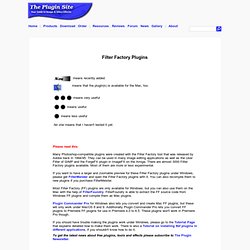 means recently added means that the plugin(s) is available for the Mac, too. means very useful
The Plugin Site - Adobe Photoshop plugins and plug-ins, filters and effects for Paint Shop Pro, Corel Photo-Paint, Adobe Premiere
Gutenprint Printer Drivers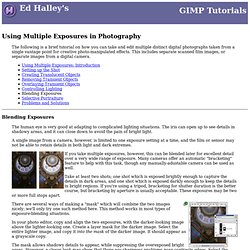 Ed Halley's GIMP Tutorial on Using Multiple Exposures
The human eye is very good at adapting to complicated lighting situations. The iris can open up to see details in shadowy areas, and it can close down to avoid the pain of bright light. A single image from a camera, however, is limited to one exposure setting at a time, and the film or sensor may not be able to retain details in both light and dark extremes.
"Soleil, lune, étoiles. Au ciel il y a beaucoup d'étoiles; il y a des tribus entières, hommes, femmes, enfants, depuis longtemps devenus des étoiles." Proverbe africain
ciel étoilé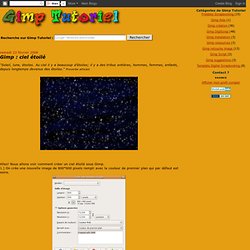 Today, most businesses want a website. Some already have one. Others want one.
Ed Halley's GIMP Tutorial on Using Multiple Exposures
www.GIMP-Atelier.org • Thema anzeigen - Plugin: Abdunkelnde Rahmen (Darken Frames)
Erster und dazu noch unser erstes brauchbares plugin. Autoren Avarra & Hans! Das Plugin heißt DarkenFrames (sich abdunkelnde Rahmen) und ist in den plug-ins Ordner zu kopieren.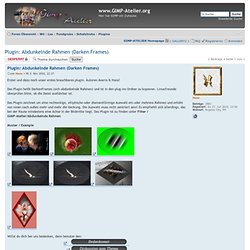 GimpLensfun
GIMP思い込みチュートリアル(GIMPの使い方)
まずは、加工前と加工後を並べて比べておきます。(以下、画像はクリックすると拡大します) では、作成方法です。 白黒にしたい写真を用意します。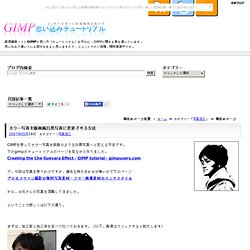 カラー写真を版画風白黒写真に変更させる方法 ≫ 写真加工 | GIMP思い込みチュートリアル(GIMPの使い方)
Simple steps to photo touch-up
In this post I'm going to show you how to go post-process this image: By the end, we'll have an image that looks like this: This tutorial was created using the GIMP, but it's equally applicable to your favourite editing software as long as it has the same tools. Photoshop, and other editing software should work equally well.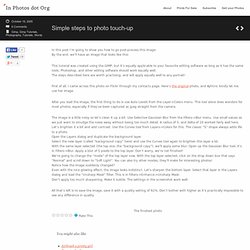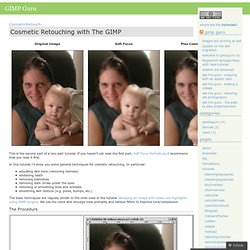 CosmeticRetouch « GIMP Guru
CosmeticRetouch This is the second part of a two-part tutorial. If you haven't yet read the first part, Soft Focus Portraiture, I recommend that you read it first. In this tutorial I'll show you some general techniques for cosmetic retouching. In particular: adjusting skin tone (removing redness) whitening teeth removing blemishes removing dark circles under the eyes removing or smoothing lines and wrinkles smoothing skin texture (e.g. pores, bumps, etc.)
Gimp Tutorials for pictures, Bilder and Fotos
Skip to content Dennis Plucinik's Web Design Blog Just another WordPress site advertisements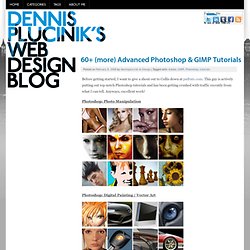 GIMP tricks Sunday, 27 April 2008, michuk GIMP is the image manipulation program for GNU/Linux.
GIMP tricks
Vitor Rodrigues » Blog Archive » Photoshop filters on GIMP
For the GIMP users that, like me, keep complaining that Photoshop has so much more filters to do some fancy effects, the agony is over I just found this today, but it dates back to 2004. There is a GIMP plugin that handles Photoshop plugins. It is called PSPI and it works like a charm on the filters I have tested so far. Here are the instructions on how to get it working on Windows:
Gimparoo!
It was fun to to follow Abduzeedo tutorial for making bokeh digital effect in Photoshop (i'm using photoshop and gimp) and i really excited when i managed to do similiar effect in Gimp. So i decided to make a Gimp tut for this one..it's been over a months since my last tutorial and i think after this i'll make more Gimp tuts..Click More Inside The Post to read the tutorial. P/s: This tutorial has been converted from the original Photoshop tutorial into Gimp. The original Photoshop tutorial can be found HERE in Abduzeedo site.
Gimp Tutorial: Awesome Bokeh Effect in Gimp
Gimp Tutorial: Bokeh Effect
GimpKnowHow's Channel
SelectiveColorization In this tutorial I will explain how to convert a color photograph to a B&W one with color restored to selective areas. With the right subject this can give really striking results, as you can see for yourself. This technique is elsewhere referred to sometimes as "hand coloring" The basic technique is to duplicate the color photograph, convert the duplicate to B&W, and paste it as a new layer on top of the color image. Add an opaque layer mask and then selectively paint transparency into the upper mask, exposing the color photograph underneath.
SelectiveColorization « GIMP Guru
SoftPortrait « GIMP Guru
SoftPortrait I'm sure you've seen examples of "soft focus" portraiture, often used by photographers to lend a soft, slightly hazy, "dreamy" feel to a photograph. The midtones are sometimes keyed up a bit also, giving a sort of glow to the faces of the subjects. Typical applications are high school senior/wedding/baby/couples portraits as well as in fashion or "glamour" photography.
Welcome - Liquid Rescale GIMP plugin
GIMP Plugin: image-subdivide.scm suddivide una immagine in M righe x N colonne
GIMP - Save for Web - Need to Know Info!
Gimp Tutorial: Awesome Bokeh Effect in Gimp
GIMPER.NET - The GIMP Community - Index page