Maps
Table of Contents -- Library of Congress Geography and Maps: An Illustrated Guide. Credits for the print version of this guide: This publication was made possible by generous support from the James Madison Council, a national, private-sector advisory council dedicated to helping the Library of Congress share its unique resources with the nation and the world.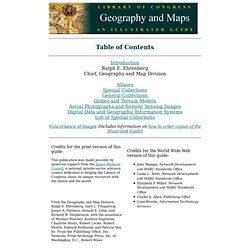 From the Geography and Map Division, Ralph E. Ehrenberg, Gary L. Fitzpatrick, James A. Flatness, Ronald E. Color_etopo1_ice_low.jpg (JPEG Image, 5400×2700 pixels) - Scaled (24%) Map Collection Digital Maps. The Harvard Map Collection is one of the oldest and largest collections of cartographic materials in the United States with over 500,000 items.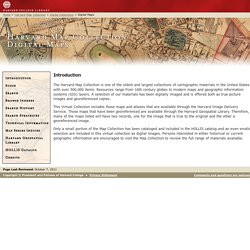 Resources range from 16th century globes to modern maps and geographic information systems (GIS) layers. A selection of our materials has been digitally imaged and is offered both as true picture images and georeferenced copies. This Virtual Collection includes those maps and atlases that are available through the Harvard Image Delivery Service. Map Collections Home Page. The Library of Congress Search by Keyword | Browse by Geographic Location Index | Subject Index | Creator Index | Title Index The Geography and Map Division of the Library of Congress holds more than 4.5 million items, of which Map Collections represents only a small fraction, those that have been converted to digital form.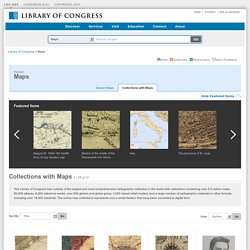 Gridded Population of the World - GPW v3. Introduction GPWv3 depicts the distribution of human population across the globe.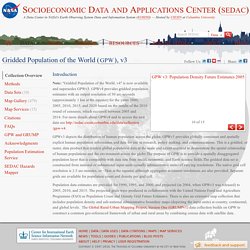 GPWv3 provides globally consistent and spatially explicit human population information and data for use in research, policy making, and communications. This is a gridded, or raster, data product that renders global population data at the scale and extent required to demonstrate the spatial relationship of human populations and the environment across the globe.The purpose of GPW is to provide a spatially disaggregated population layer that is compatible with data sets from social, economic, and Earth science fields.The gridded data set is constructed from national or subnational input units (usually administrative units) of varying resolutions. The native grid cell resolution is 2.5 arc-minutes, or ~5km at the equator, although aggregates at coarser resolutions are also provided. Separate grids are available for population count and density per grid cell. Earthquakes In The Last Week.
Test Your Geography Knowledge- USA. World Sunlight Map. Watch the sun rise and set all over the world on this real-time, computer-generated illustration of the earth's patterns of sunlight and darkness.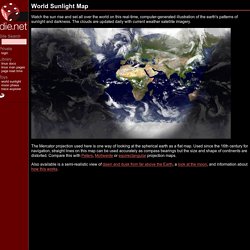 The clouds are updated daily with current weather satellite imagery. The Mercator projection used here is one way of looking at the spherical earth as a flat map. Used since the 16th century for navigation, straight lines on this map can be used accurately as compass bearings but the size and shape of continents are distorted. Mapping America — Census Bureau 2005-9 American Community Survey. Animated Manhattan. ACME Mapper 2.0. World-resources-map-r2.gif (GIF Image, 1450×1450 pixels)
World Subways at Scale. European Countries - Level Three. State and County QuickFacts. Google Maps Transparencies. Imagery ©2014 TerraMetrics Terms of Use Report a map error Map Satellite.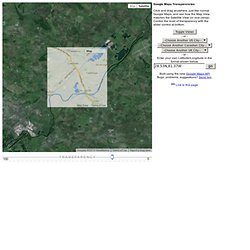 ---