Mapa Multi-tipo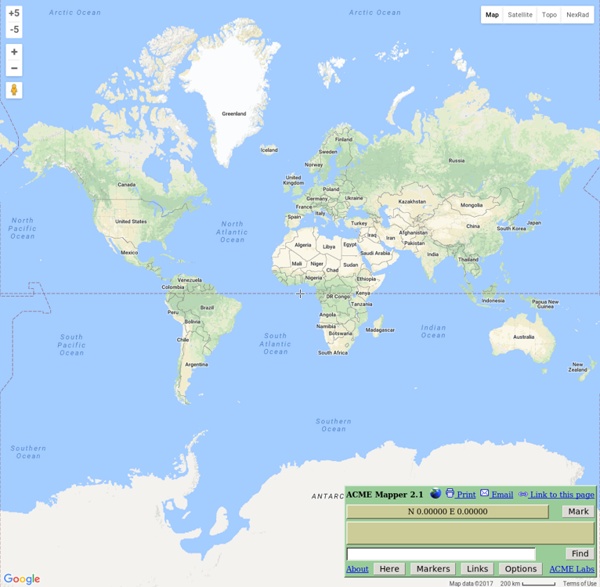 Mapas Creadores y Editores • Savoir Géographie • tammyhills • MAPS VIEWERS • Favorite Links
Mapa Mundial Vistas Multi - Genero Powered by WorldMap WorldMap Sign in | Create Map | View Map | Help Search for geospatial data Selected Data Refine Search Countries Skip to main content Countries Browse by country for overviews, news, analysis and maps on crises and disasters. free expressions meanings, words, phrases origins and derivations home » glossaries/terminology » cliches and expressions origins origins and meanings of cliches, expressions and words Cliches and expressions give us many wonderful figures of speech and words in the English language, as they evolve via use and mis-use alike. Many cliches and expressions - and words - have fascinating and surprising origins, and many popular assumptions about meanings and derivations are mistaken.
List of online map services Online maps can be basically divided by the covered area (global or local) and by the representation of this area (classic drawn or orthophoto). Global on-line maps[edit] These maps cover the world, but may have insufficient details in some areas. Europe online maps[edit] Map1.eu -Turistic Map of Europe Local online maps[edit] North Central River Forecast Mapa Creador y Editor Portail cartographique de la Région wallonne Le Portail cartographique de la Région wallonne méritait bien un petit coup de jeune. C'est désormais chose faite, puisque son successeur est en ligne depuis peu. Découvrez dès à présent le nouveau Géoportail de la Wallonie. En pratique : 100 Most Inspirational Quotes Of All Time Courtesy of My-Inspirational-Quotes.com 1. Twenty years from now you will be more disappointed by the things that you didn't do than by the ones you did do. So throw off the bowlines.
OSM+Google+Bing fullscreen map Bosquejos Geograficos para Comparación World Atlas | Atlas of the World The origin of the word World Atlas in itself is no less interesting than the traditional meaning which has come to denote a collection of maps, providing an encyclopedic wealth of information on the land, people and cultures in different parts of the world. One of the legends in this relation state, that the land of Mauritania was once ruled by King Atlas, a great philosopher, mathematician and astronomer who created the first celestial globe. In 1595, the great cartographer Gerardus Mercator first called his collection of maps as an "Atlas" in honor of this legendary king Atlas. Another even more popular legend speaks about the Greek mythological character of Atlas, the son of Titan Iapetus and Oceanid Asia, who was condemned to bear the burden of celestial sphere on his shoulders by the Greek God of Zeus.