Geeky
crypto.hurlant.com/demo/
50 ways to impress your geeky linux friends - LaptopLogic.com
notesforlater
Facebook Chat Symbols
Incredibly Depressing Mega Millions Lottery Simulator!
Calculator company list
MS-DOS 5.00 - 8.00 Undocumented + Hidden Secrets Some of these UNDOCUMENTED MS-DOS commands might save your "computing life" one day, as they have saved mine. I will post here new DOS secrets every time I'll also add them to SECRETS.TXT , part of my Updated ©Tricks + Secrets Files , FREEware : Back 2 Contents COMMAND.COM is the MS-DOS mode command line interpreter, located by default in %winbootdir% + %winbootdir%\COMMAND (default is C:\WINDOWS + C:\WINDOWS\COMMAND) [Windows 95/98/ME, a.k.a.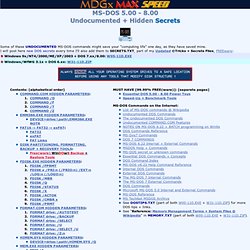 MS-DOS Undocumented + Hidden Secrets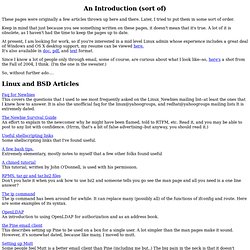 http://home.roadrunner.com/~computertaijutsu/
An Introduction (sort of) These pages were originally a few articles thrown up here and there. Later, I tried to put them in some sort of order. Keep in mind that just because you see something written on these pages, it doesn't mean that it's true. A lot of it is obsolete, as I haven't had the time to keep the pages up to date. Since I know a lot of people only through email, some of course, are curious about what I look like--so, here's a shot from the Fall of 2004, I think.
Have you ever wondered what would happen if a nuclear bomb goes off in your city? With Google's Maps framework and a bit of Javascript, you can see the outcome. And it does not look good. Search Usage Just enter the address of that boss, teacher, colleague or loved one. If you can find it in Google Maps, you can nuke it.
Glimpse
Surfraw - Shell Users' Revolutionary Front Rage Against the Web