Game Engines & SDK
BasicBuild your games or apps in record time and start monetizing with in-app purchases or ads.BUY $16/monthProPro adds advanced graphics, all Corona Plugins, analytics and much more.BUY $49/monthEnterpriseCall any native library (C++/Objective-C/Java) from your Corona app and do offline builds.LEARN MORE Download Corona and you are automatically a Corona SDK Starter. You can build and publish your apps for free.Upgrade to Basic, Pro or Enterprise when you are ready for more functionality. Read on to learn why Corona SDK is the leader for 2D apps and games…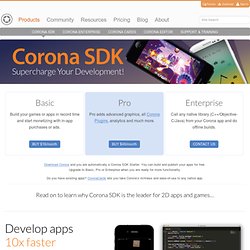 A Fast, Open Source JavaScript, Canvas & Audio Implementation for iOS e·jec·ta, noun – debris that is ejected during the formation of an impact crater Ejecta is like a Browser without the Browser. It's specially crafted for Games and Animations. It has no DIVs, no Tables, no Forms – only Canvas and Audio elements.
Ejecta - Impact
Allegro 4 and Allegro 5 are cross-platform, libraries mainly aimed at video game and multimedia programming. They handle common, low-level tasks such as creating windows, accepting user input, loading data, drawing images, playing sounds, etc. and generally abstracting away the underlying platform. However, Allegro is not a game engine: you are free to design and structure your program as you like. According to the Oxford Companion to Music, Allegro is the Italian for «quick, lively, bright».
Allegro - Introduction -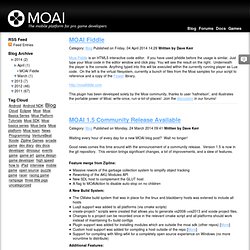 Moai | The mobile platform for pro game developers
Shutting Down Moai Cloud Details Category: Blog
Publish to all the major platforms without code (but you can if you want!) Stencyl isn't your average game creation software; it's a gorgeous, intuitive toolset that accelerates your workflow and then gets out of the way. Our drag-and-drop gameplay designer pays homage to the successful MIT Scratch project, where creating logic is literally a matter of snapping blocks together. Advanced users can use code to add new features and create complex behaviors.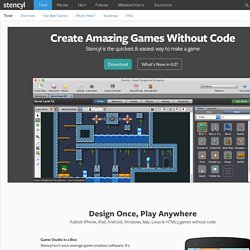 NME :: Create high-performance Windows, Mac, Linux, iOS, Android, BlackBerry, webOS, Flash and HTML5 applications, written with Haxe
Hi there! LÖVE is an *awesome* framework you can use to make 2D games in Lua. It's free, open-source, and works on Windows, Mac OS X and Linux. Documentation The wiki will help you get started, and contains a description of the entire API. It is collaboratively edited by LÖVE users — getting bigger and better every day.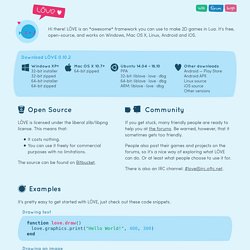 Novashell Game Creation System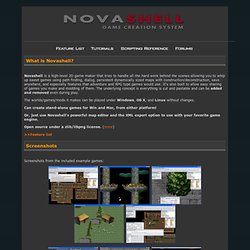 What is Novashell? Novashell is a high-level 2D game maker that tries to handle all the hard work behind the scenes allowing you to whip up sweet games using path finding, dialog, persistent dynamically sized maps with construction/deconstruction, save anywhere, and especially features that adventure and RPG type games would use. It's also built to allow easy sharing of games you make and modding of them. The underlying concept is everything is cut and pastable and can be added and removed even during play.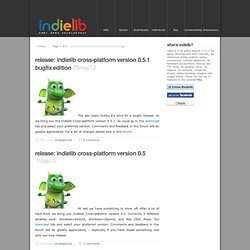 The dev team thinks it's time for a bugfix release, so we bring you the Indielib Cross-platform version 0.5.1. As usual go to the download tab and select your preferred version. Comments and feedback in the forum will be greatly appreciated.
IndieLib - 2d Engine Rapid Game Development
Torque 2D is an extremely powerful, flexible, and fast open source engine dedicated to 2D game development. The MIT licensed version of Torque 2D is now available on GitHub. Cross Platform Development at Its Best Torque 2D was developed with OS X, Windows, and iOS devices in mind and works equally well on all the platforms.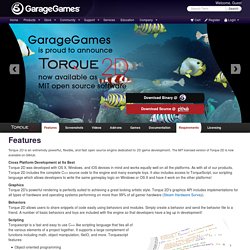 What is UDK? The Unreal Development Kit is the free edition of Unreal Engine 3 that provides access to the award-winning 3D game engine and professional toolset used in blockbuster video game development, architectural visualization, mobile game development, 3D rendering, digital films and more. Who is it for? Unreal Engine technology is used by game developers, researchers, television studios, machinima directors, artists and students.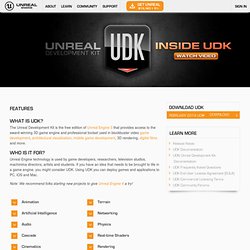 M.U.G.E.N | elecbyte.com
About M.U.G.E.N™ M.U.G.E.N is a 2D fighting game engine that is enables you to create commercial-quality fighting games. Almost everything can be customized, from individual characters to stages, as well as the look and feel of the game.
GameMaker: Studio caters to entry-level novices and seasoned game development professionals equally, allowing them to create cross-platform games in record time and at a fraction of the cost! In addition to making games development 80 percent faster than coding for native languages, developers can create fully functional prototypes in just a few hours, and a full game in just a matter of weeks. Key Features GameMaker: Studio Feature Comparison