Game Engines & SDK
BasicBuild your games or apps in record time and start monetizing with in-app purchases or ads.BUY $16/monthProPro adds advanced graphics, all Corona Plugins, analytics and much more.BUY $49/monthEnterpriseCall any native library (C++/Objective-C/Java) from your Corona app and do offline builds.LEARN MORE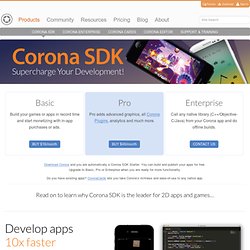 A Fast, Open Source JavaScript, Canvas & Audio Implementation for iOS e·jec·ta, noun – debris that is ejected during the formation of an impact crater Ejecta is like a Browser without the Browser. It's specially crafted for Games and Animations. It has no DIVs, no Tables, no Forms – only Canvas and Audio elements.
Ejecta - Impact
Allegro 4 and Allegro 5 are cross-platform, libraries mainly aimed at video game and multimedia programming. They handle common, low-level tasks such as creating windows, accepting user input, loading data, drawing images, playing sounds, etc. and generally abstracting away the underlying platform. However, Allegro is not a game engine: you are free to design and structure your program as you like. According to the Oxford Companion to Music, Allegro is the Italian for «quick, lively, bright».
Allegro - Introduction -
Moai | The mobile platform for pro game developers
NME :: Create high-performance Windows, Mac, Linux, iOS, Android, BlackBerry, webOS, Flash and HTML5 applications, written with Haxe
Novashell Game Creation System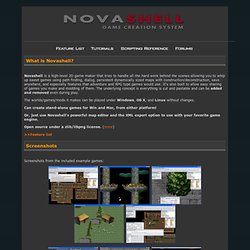 What is Novashell? Novashell is a high-level 2D game maker that tries to handle all the hard work behind the scenes allowing you to whip up sweet games using path finding, dialog, persistent dynamically sized maps with construction/deconstruction, save anywhere, and especially features that adventure and RPG type games would use. It's also built to allow easy sharing of games you make and modding of them. The underlying concept is everything is cut and pastable and can be added and removed even during play.
IndieLib - 2d Engine Rapid Game Development
Torque 2D is an extremely powerful, flexible, and fast open source engine dedicated to 2D game development. The MIT licensed version of Torque 2D is now available on GitHub. Cross Platform Development at Its Best Torque 2D was developed with OS X, Windows, and iOS devices in mind and works equally well on all the platforms.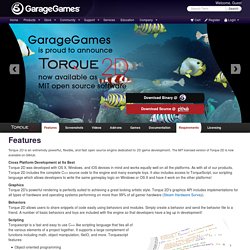 M.U.G.E.N | elecbyte.com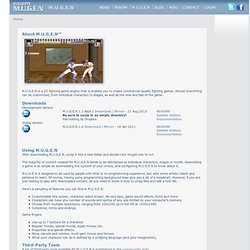 About M.U.G.E.N™ M.U.G.E.N is a 2D fighting game engine that is enables you to create commercial-quality fighting games. Almost everything can be customized, from individual characters to stages, as well as the look and feel of the game.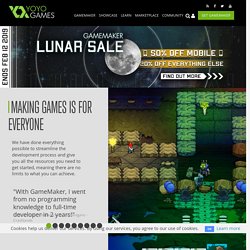 GameMaker: Studio caters to entry-level novices and seasoned game development professionals equally, allowing them to create cross-platform games in record time and at a fraction of the cost!