[+]Followers & Followıng
AutoFF. Twidium. Twibs. GroupTweet. Twellow. Twit100. Unfollowers.me. Qwitter. Tweepi. UnfollowıngForTwıtter. Have you asked yourself this?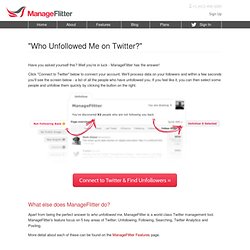 Well you're in luck - ManageFlitter has the answer! Click "Connect to Twitter" below to connect your account. We'll process data on your followers and within a few seconds you'll see the screen below - a list of all the people who have unfollowed you. If you feel like it, you can then select some people and unfollow them quickly by clicking the button on the right. What else does ManageFlitter do? Twıtturly. Fllwrs. iUnfollow. Twitchimp. DMCleaner. Fake Follower Check. WeFollow.
Twellow. LocalFollow. Tweepi. Twitscoop. Lıstorıous. TwıtCleaner.
Application twitter. FriendOrFollow. Twtvıte. DoesFollow. Twılk. Refollow. UnTweeps. Twıtter Unfollower Tracker. JustUnfollow.
---