Flipped Classrooms
Exploring the flipped classroom movement, trying to define it more clearly. Is it about homework and videos? Is it about changing roles in the classroom? Looking for answers.
'Flipped classroom' gains popularity in schools. Flip That Class: A "Flipped Classroom" at New Egypt HS.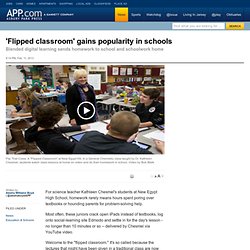 In a General Chemistry class taught by Dr. Kathleen Chesmel, students watch class lessons at home on video and do their homework in school. Video by Bob Bielk For science teacher Kathleen Chesmel's students at New Egypt High School, homework rarely means hours spent poring over textbooks or hounding parents for problem-solving help. Most often, these juniors crack open iPads instead of textbooks, log onto social-learning site Edmodo and settle in for the day's lesson - no longer than 10 minutes or so -- delivered by Chesmel via YouTube video. Flipped-revamp.png (600×4590) Society for Learning Analytics Research. Answers To The Biggest Questions About Flipped Classrooms.
Flipped classrooms are truly changing education (see ' How To Flip An Entire School ' and a report on how the flipped classroom can improve test scores .)
As a school psychologist intern highly interested in 'flipping classrooms', I have consulted with many teachers and school staff that have adopted (or have expressed interest in) the flipped classroom model, and those that have implemented the model, have nothing but great things to say. Below are some frequent questions I get about flipped classrooms from teachers; and my answers, based on personal interactions and professional consultations with teachers. Has it "solved" the homework problem? It is a giant leap in the right direction. Flipped-Classroom-Infographic.jpg (2551×3301) Before We Flip Classrooms, Let's Rethink What We're Flipping To. Integrated into their regular math classes, Globaloria students access online video tutorials and receive expert advice on how to build original educational video games about math topics.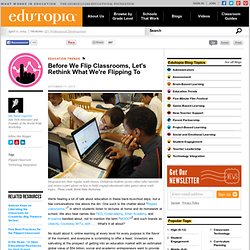 Photo credit: World Wide Workshop We're hearing a lot of talk about education in these back-to-school days, but a few conversations rise above the din. One such is the chatter about "flipped classrooms,"1 in which students listen to lectures at home and do homework at school. We also hear names like TED, Codecademy, Khan Academy and Knowmia bandied about, not to mention the term "MOOC"2 and such brands as Udacity, Coursera, MITx, edX . . . How To Flip An Entire School. I'm the Principal at Clintondale High School – a financially disadvantaged high school located outside of Detroit.
Our school has been in debt for the past decade, and during the recession our area suffered immensely. 74 percent of our 570 students qualify for the free or reduced lunch program, 38 percent receive special education services and 70 percent are a racial minority. Like many schools around the country, our students were not doing well in class, and many were failing – two years ago our failure rate was 61 percent. We decided that a change had to be made in order to put our students in a position to succeed in high school and beyond.
Tom Sciacca: Technology can cut school costs - Wayland, MA - Wicked Local Wayland. Flipped Classroom - digitalsandbox. Friday Institute for Educational Innovation - FIZZ. Concluded in August, 2013.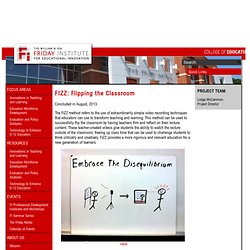 The FIZZ method refers to the use of extraordinarily simple video recording techniques that educators can use to transform teaching and learning. This method can be used to successfully flip the classroom by having teachers film and reflect on their lecture content. These teacher-created videos give students the ability to watch the lecture outside of the classroom, freeing up class time that can be used to challenge students to think critically and creatively. FIZZ provides a more rigorous and relevant education for a new generation of learners.
Part 1: Flipping The Classroom? … 12 Resources To Keep You On Your Feet. Welcome to another post rich in resources.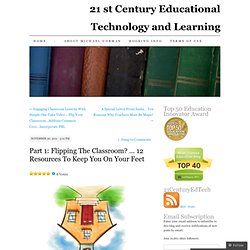 If you have come here looking for links that will guide you to videos and multimedia to use in a Flipped Classroom that is coming in a future post. Perhaps you have tried a little Flip of your own and want to learn more. If you are beginning to investigate what a Flipped Classroom is, with the thought of possibly trying some kind of Flip yourself… then this is also the right place. I have researched and tried to find you the very best resources to get educators in all positions thinking about what a Flipped Classroom" really is"?
I know that if you take a look at the resources provided you will walk away with a better understanding, and a well thought out implementation. The Flipped Classroom: Explanation & Resources. The flipped classroom model, in which traditional teaching methods and the order of a student's day are basically reversed to make use of resources online and/or outside of class while moving what we know as traditional "homework" into actual classroom time, has been slowly gaining steam around the country since its unofficial inception in 2004, but the recent onslaught of high quality educational resources being released from the likes of Khan Academy, MIT, and others has really kicked the movement into high gear.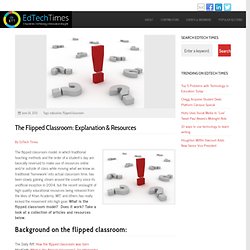 What is the flipped classroom model? Does it work? Take a look at a collection of articles and resources below. Internet Catalogue. 8 Crucial Resources For Flipped Classrooms. Have you "flipped" yet?
My colleagues have this week; it's PSSA week in Pennsylvania (PSSAs are standardized tests.). That's not the flipped I meant, however. I meant, have you flipped your classroom yet? Well, if you have or are thinking about it, here are some tools you might want to consider using for those after-hours background knowledge sessions. There's More Than One Way to Flip a Classroom - Digital Education. In a packed session this afternoon at ISTE 2012 here in San Diego, a panel of nine educators, as well as two moderators presented their ideas and experiences with "flipping" their classrooms.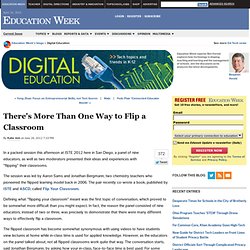 The session was led by Aaron Sams and Jonathan Bergmann, two chemistry teachers who pioneered the flipped learning model back in 2006. The pair recently co-wrote a book, published by ISTE and ASCD, called Flip Your Classroom. Defining what "flipping your classroom" meant was the first topic of conversation, which proved to be somewhat more difficult than you might expect. 4 Ways Flipping Forces Fundamental Change - Getting Smart by Susan Lucille Davis - edchat, edreform, flipped classroom. Email Share June 14, 2012 - by Susan Lucille Davis 0 Email Share Photo Courtesy of Flickr: kkimpel.
Region XIII's E-Campus. The flip: Turning a classroom upside down. Roshan, her AP Calculus teacher at the private Bullis School in Potomac, told students that they would be learning their lessons at home with help from videos and other materials that she had made, and then would do "homework" problems in class. Roshan had "flipped" her class — a trend in teaching and classroom management that has been adopted by thousands of teachers across the country for a variety of different subjects.
It is a reimagination of life in a classroom. The philosophy behind the flip is that teachers can spend time working with students who need their help in the classroom — and students can work together to solve problems — rather than sitting home alone with work they might not understand and with nobody to ask for help. Skeptics raise questions about flipped classrooms: How many subjects are really appropriate for this technique? Salman Khan: Let's use video to reinvent education. Flipping for fitness. By Jason Hahnstadt Read more by Contributor The flipped learning model can be applied in physical education classes with great success. Teacher Vodcasting and Flipped Classroom Network - A professional learning community for teachers using vodcasting in the classroom.
The Flipped Classroom is Hot, Hot, Hot. There are news stories and web articles about reverse instruction, or 'flipping the classroom', published just about every day lately. Here's 15 news stories from the last 4 weeks focused on this instructional technology phenomenon. Many of these articles mention 'the flip' in their title (and for every one of these, there have been one or two additional articles that discuss the concept). In addition to listing these articles here, I've also created and shared a video and a Slideshare deck to help to bring attention to this powerful idea and spread the word about it to educators everywhere. If you want to spread the word too, please pass this article or one of these other presentations on to your colleagues.
Flippedlearning.org. Moving the Flipped Class « Educator. I have not written for almost two weeks now. Half of the reason is because of writer's block, another half because school is crazy, and a third half because of some family issues that came up unexpectedly. I opened up my blog a few times with intention to write, but I could not get anything to form. To Flip Or Not Flip? To flip or not to flip? That is not the essential question.
In assessing the optimal classroom dynamics, I would argue that we need to take a good look at what our classrooms look like right now, what activities our students gain the most from, what we wished we had more time for, and what things about our class we wish we could eliminate. Do I flip: yes. Flipped Classroom: Beyond the Videos. Webinar with Alan November and Dr. Eric Mazur. Flipped Classroom. Flipped Classroom Infographic #flippedclassroom #blendedlearning #edtech. Flipped Classroom Resources. The flip: Classwork at home, homework in class.
---