Film making
The goal is to provide information for the independent film-maker. Everything from "how-to" sites, film festivals, state and local film boards, contests, financing...basically anything that can help you get from an initial concept to a finished film and beyond. dimanes2 Dec 14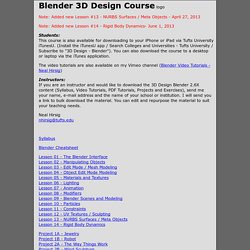 Blender 3D Design Course Note: Added new Lesson #13 - NURBS Surfaces / Meta Objects - April 27, 2013 Note: Added new Lesson #14 - Rigid Body Dynamics- June 1, 2013 Students: This course is also available for downloading to your iPhone or iPad via Tufts University iTunesU. (Install the iTunesU app / Search Colleges and Universities - Tufts University / Subscribe to "3D Design - Blender").
Top 20 developers in 2013 To salute and applaud the developers: here's a 2013 top-20 Blender developers page. Plans for 2014-2015 With the high quality demands users expect nowadays it's needed to involve more full-time developers.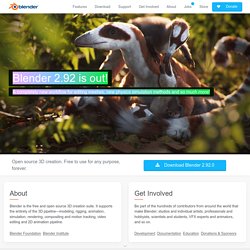 RE: hitRECorderly Thanks for everyone's feedback re: hitRECorderly 1-3 Profit Proposals. We've posted the Final Profits on the site. Thanks Again to all of the contributing artists! <3 hitRECord x SONY Bryden McGrath (@Bryden13 on Twitter) wrote an excellent post entitled "44 Ways 'The Hunger Games' Social Media Campaign Increased the Movie's Odds of Success." He broke up the article by social media platform: Facebook, Google Plus, YouTube, Tumblr and Twitter with a note about the film's success on Pinterest without an official account on the site. I agree with Bryden that some of the strategies are "nothing short of brilliant." Especially interesting is the use of the novel's characters and situations to create more fan involvement (Full disclosure: I have not read any of "The Hunger Games" trilogy.
Using Social Media Creatively to Promote a Film | The Indie Times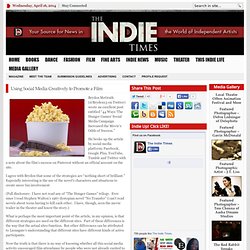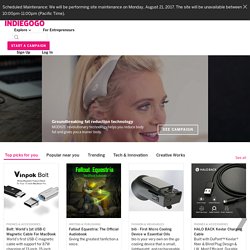 The world's funding platform. Fund what matters to you. Final Countdown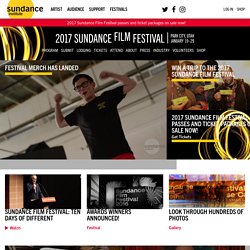 Jan 22 – Feb 1, 2015 Park City, Utah Sundance Film Festival 2014 Submit Your Film • Press Center • Donate April Now Playing: Jim Jarmusch's Only Lovers Left Alive and more
DCIFF HOME PAGE 2012
Distribution 101: Lists, Documents and Other Essentials From Our Panel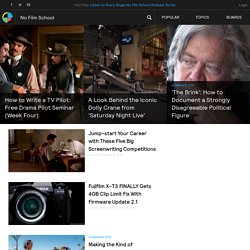 It has been a big week for independent films — especially for independent, crowdfunded films. Not only is 10% of this year's Sundance slate made up of Kickstarter-funded films, but Vimeo made an announcement at the festival yesterday that they're launching a program specifically for films that have raised funds through crowdfunding platforms, offering $500K in support for marketing. Continue on for more info. More » Premiere Pro Tutorial: Taking Creative Control of Your Black & White Robert Hardy 01.17.14 @ 9:15AM Tags: adobe, black-and-white, blackandwhite, color, colorcorrection, editing, premiere, premiereprotutorial, tutorial, video
HHH - Hand Held Hollywood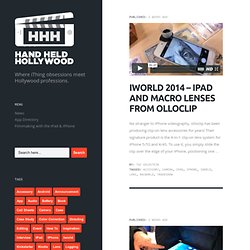 1 day agoNew Sure, I enjoy discussing the finer points of Hong Kong action movies as much as the next guy… but you know what I really love? Discussing how new technology is changing/disrupting the entire entertainment industry! And that's exactly what I'll be discussing with a … 1 month ago Naturally, when music video director Ian Padgham was enlisted to shoot a memorable video for megastar LeAnn Rimes, he chose the very best video camera for the job – an iPhone.
Off the back of a successful Kickstarter campaign, Digital Bolex (a JV between the original Bolex company and start-up Cinemeridian) are set to launch their first product - the D16 Bolex, digital 16mm camera. The chaps over at SoundWorks Collection explore Director J.C. Chandor's new film, All is Lost. Premiered at the 2013 Cannes Film Festival, the film features only one character and contains almost no dialogue yet is brought to life almost entirely by sound design.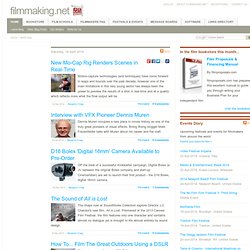 Lena Dunham's perennially popular and continuously controversial HBO series Girls is back, thanks to last night's two-episode double-whammy, an entire hour of lady-centric television that reintroduces us to the lives, loves, and horrible horrible oh my god terrible mistakes of our eponymous girls-not-yet-women. And they're not the only ones back for more! Yes, our own Rob Hunter and I have returned to discuss, dissect, and dismantle each episode of Girls as the season winds on – so let's see get down to it while we're still young. The third season of the series picks up an indeterminable number of days?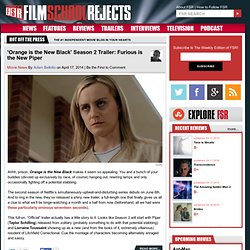 Virginia Film Office