Ethos - Ways of doing & being
Sense of relationships. For infants and toddlers, the "set-goal" of the attachment behavioural system is to maintain or achieve proximity to attachment figures, usually the parents.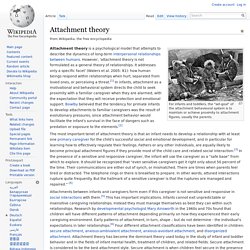 Attachment theory describes the dynamics of long-term relationships between humans. Its most important tenet is that an infant needs to develop a relationship with at least one primary caregiver for social and emotional development to occur normally. Attachment theory explains how much the parents' relationship with the child influences development. Attachment theory is an interdisciplinary study encompassing the fields of psychological, evolutionary, and ethological theory. Consensus decision-making. Consensus decision-making is a group decision making process that seeks the consent of all participants.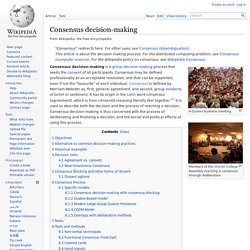 Consensus may be defined professionally as an acceptable resolution, one that can be supported, even if not the "favourite" of each individual. Consensus is defined by Merriam-Webster as, first, general agreement, and second, group solidarity of belief or sentiment. Sense of community. In his seminal 1974 book, psychologist Seymour B.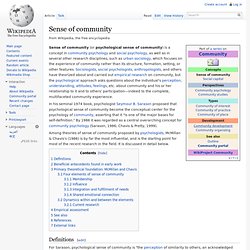 Sarason proposed that psychological sense of community become the conceptual center for the psychology of community, asserting that it "is one of the major bases for self-definition. " By 1986 it was regarded as a central overarching concept for community psychology (Sarason, 1986; Chavis & Pretty, 1999). Among theories of sense of community proposed by psychologists, McMillan & Chavis's (1986) is by far the most influential, and is the starting point for most of the recent research in the field. It is discussed in detail below. Definitions[edit] Belongingness. Belonging is a strong and inevitable feeling that exists in human nature.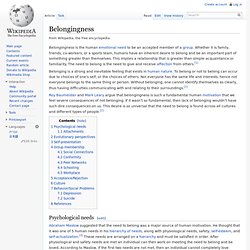 To belong or not to belong can occur due to choices of one's self, or the choices of others. Not everyone has the same life and interests, hence not everyone belongs to the same thing or person. Without belonging, one cannot identify themselves as clearly, thus having difficulties communicating with and relating to their surroundings.[1] Personal development. Personal development includes activities that improve awareness and identity, develop talents and potential, build human capital and facilitate employability, enhance quality of life and contribute to the realization of dreams and aspirations.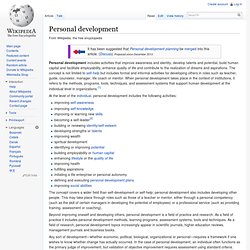 The concept is not limited to self-help but includes formal and informal activities for developing others in roles such as teacher, guide, counselor, manager, life coach or mentor. When personal development takes place in the context of institutions, it refers to the methods, programs, tools, techniques, and assessment systems that support human development at the individual level in organizations.[1] At the level of the individual, personal development includes the following activities: The concept covers a wider field than self-development or self-help: personal development also includes developing other people. Beauty. The experience of "beauty" often involves an interpretation of some entity as being in balance and harmony with nature, which may lead to feelings of attraction and emotional well-being.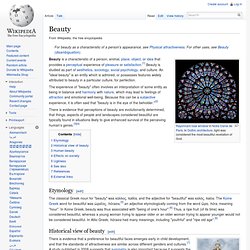 Because this can be a subjective experience, it is often said that "beauty is in the eye of the beholder. "[2] Play (activity) In psychology and ethology, play is a range of voluntary, intrinsically motivated activities normally associated with recreational pleasure and enjoyment.[1] Play is most commonly associated with children and their juvenile-level activities, but play can also be a useful adult activity, and occurs among other higher-functioning (non-human) animals as well.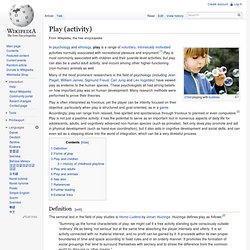 Many of the most prominent researchers in the field of psychology (including Jean Piaget, William James, Sigmund Freud, Carl Jung and Lev Vygotsky) have viewed play as endemic to the human species. These psychologists all had strong beliefs on how important play was on human development. Many research methods were performed to prove their theories. Reciprocity (social and political philosophy)
The social norm of reciprocity is the expectation that people will respond to each other in similar ways—responding to gifts and kindnesses from others with similar benevolence of their own, and responding to harmful, hurtful acts from others with either indifference or some form of retaliation.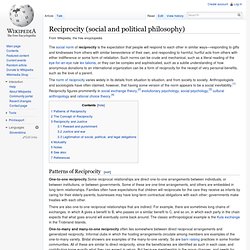 Such norms can be crude and mechanical, such as a literal reading of the eye-for-an-eye rule lex talionis, or they can be complex and sophisticated, such as a subtle understanding of how anonymous donations to an international organization can be a form of reciprocity for the receipt of very personal benefits, such as the love of a parent. One-to-one reciprocity.Some reciprocal relationships are direct one-to-one arrangements between individuals, or between institutions, or between governments. Some of these are one-time arrangements, and others are embedded in long-term relationships. Commoning. = the act of creating, constructing and maintaining a commons "A verb to describe the social practices used by commoners in the course of managing shared resources and reclaiming the commons.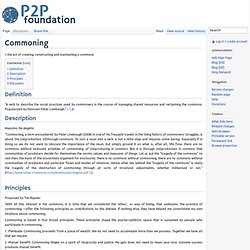 Popularized by historian Peter Linebaugh. " [1] Massimo De Angelis: "Commoning, a term encountered by Peter Linebaugh (2008) in one of his frequent travels in the living history of commoners' struggles, is about the (re)production of/through commons. Group cohesiveness. When discussing social groups, a group is said to be in a state of cohesion when its members possess bonds linking them to one another and to the group as a whole.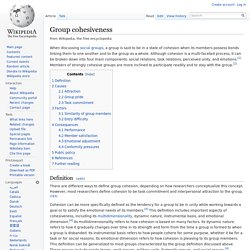 Although cohesion is a multi-faceted process, it can be broken down into four main components: social relations, task relations, perceived unity, and emotions.[1] Members of strongly cohesive groups are more inclined to participate readily and to stay with the group.[2] Definition[edit] There are different ways to define group cohesion, depending on how researchers conceptualize this concept. However, most researchers define cohesion to be task commitment and interpersonal attraction to the group.[3][4]
Solidarity. Solidarity is unity (as of a group or class) that produces or is based on universities of interests, objectives, standards, and sympathies.[1][2] It refers to the ties in a society that bind people together as one. The term is generally employed in sociology and the other social sciences as well as in philosophy or in Catholic social teaching.[3] What forms the basis of solidarity varies between societies. In simple societies it may be mainly based around kinship and shared values. In more complex societies there are various theories as to what contributes to a sense of social solidarity.[1] Durkheim[edit]
Equity (economics) Equity or economic equality is the concept or idea of fairness in economics, particularly in regard to taxation or welfare economics. More specifically, it may refer to equal life chances regardless of identity, to provide all citizens with a basic and equal minimum of income, goods, and services or to increase funds and commitment for redistribution.[1] Inequality and inequities have significantly increased in recent decades, possibly driven by the worldwide economic processes of globalisation, economic liberalisation and integration.[2] This has led to states 'lagging behind' on headline goals such as the Millennium Development Goals (MDGs) and different levels of inequity between states have been argued to have played a role in the impact of the global economic crisis of 2008–2009.[2]
Generosity. In times of natural disaster, relief efforts are frequently provided, voluntarily, by individuals or groups acting unilaterally in making gifts of time, resources, goods, money, etc. Generosity can also be spending time, money, or labor for others without being rewarded in return. Although the term generosity often goes hand-in-hand with charity, many people in the public's eye want recognition for their good deeds. Sharing. Sharing food Sharing is the joint use of a resource or space. In its narrow sense, it refers to joint or alternating use of an inherently finite good, such as a common pasture or a shared residence. It is also the process of dividing and distributing. Apart from obvious instances, which we can observe in human activity, we can also find many examples of this happening in nature. When an organism takes in nutrition or oxygen for instance, its internal organs are designed to divide and distribute the energy taken in, to supply parts of its body that need it.
Mindfulness. Mindfulness (Pali: sati,[1] Sanskrit: smṛti; also translated as awareness) is a spiritual or psychological faculty (indriya) that, according to the teaching of the Buddha, is of great importance in the path of enlightenment. It is one of the seven factors of enlightenment. "Correct" or "right" mindfulness (Pali: sammā-sati, Sanskrit samyak-smṛti) is the seventh element of the noble eightfold path.
The Buddha advocated that one should establish mindfulness (satipaṭṭhāna) in one's day-to-day life, maintaining as much as possible a calm awareness of one's body, feelings, mind, and dharmas. Love. Empathy. Trust (social sciences)
---