Dopamine, its aftermath, constructive ways of dealing with addic
Cycloserine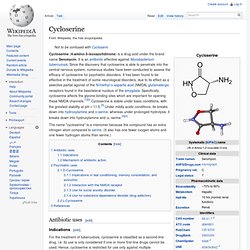 Cycloserine is an antibiotic effective against Mycobacterium tuberculosis . For the treatment of tuberculosis, it is classified as a second line drug, i.e. its use is only considered if one or more first line drugs cannot be used.
Selegiline
Selegiline ( Anipryl , L-deprenyl , Eldepryl , Emsam , Zelapar ) is a drug used for the treatment of early-stage Parkinson's disease , depression and senile dementia . In normal clinical doses it is a selective irreversible MAO-B inhibitor . However, in larger doses it loses its specificity and also inhibits MAO-A.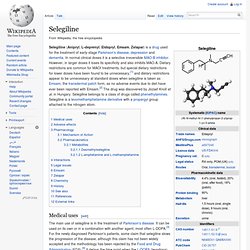 Benzofuranylpropylaminopentane
BPAP may also refer to the mode of mechanical ventilation known as BPAP or B PAP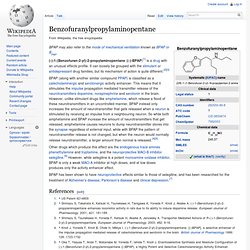 Amantadine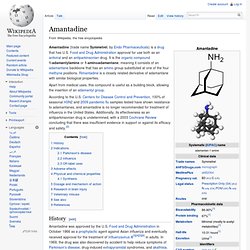 Amantadine (trade name Symmetrel , by Endo Pharmaceuticals ) is a drug that has US Food and Drug Administration approval for use both as an antiviral and an antiparkinsonian drug. It is the organic compound 1-adamantylamine or 1-aminoadamantane , meaning it consists of an adamantane backbone that has an amino group substituted at one of the four methyne positions.
dnld/ExpertGuidelines_000.pdf
Welcome to the Trichotillomania Learning Center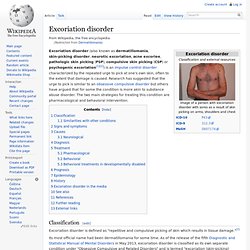 Dermatillomania
Dermatillomania (also known as neurotic excoriation , pathologic skin picking (PSP) , compulsive skin picking (CSP) or psychogenic excoriation [ 1 ] [ 2 ] ) is an impulse control disorder characterized by the repeated urge to pick at one's own skin, often to the extent that damage is caused. Research has suggested that the urge to pick is similar to an obsessive compulsive disorder but others have argued that for some the condition is more akin to substance abuse disorder.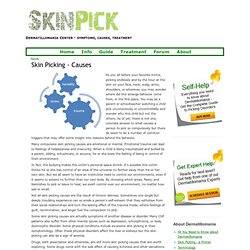 Dermatillomania - Skin Picking - Causes
As you sit before your favorite mirror, picking endlessly and by the hour at the skin on your face, neck, scalp, arms, shoulders, or wherever, you may wonder where did this strange behavior come from, in the first place.
Skin Picking - Dermatillomania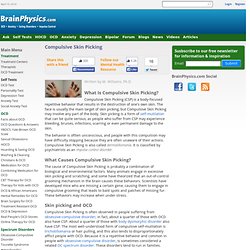 Compulsive Skin Picking - Dermatillomania
Written by M. Williams, Ph.D.
The Complex Shame of Kleptomania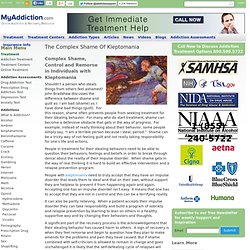 Complex Shame, Control and Remorse in Individuals with Kleptomania Shouldn't a person who steals things from others feel ashamed?
Self-Esteem
Personality Disorders
Sexy-people-take-action | Charisma Arts
Sexy people please our aesthetics | Charisma Arts
Charisma Arts
Compassionate-Mind Social Confidence
Get Out of Your Mind & Into Your Life
Borderline Personality Disorder
Checklist Borderline Personality Disorder
Checklist Personality Disorders
Behaviors, General Questions
Autoimmune Neurological Disorders
Today's most exciting frontier of OCD research stems from a remarkable finding reported in 1997 by psychiatrists Susan Swedo, Judith Rapoport and colleagues at the National Institutes of Mental Health.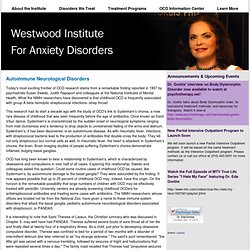 Imagine being unable to control your thoughts and feeling powerless until you perform specific acts or rituals. This is the situation people with obsessive-compulsive disorder (OCD) confront daily. According to Dr.
Neurobiology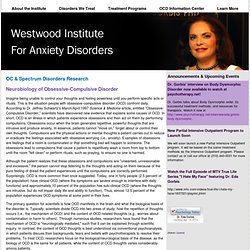 by Dr.
Self-Help Article: Mindfulness
Four Steps
If you have obsessive thoughts and compulsive behaviors, you will be relieved to learn of significant advances in the treatment of this condition.
by Eda Gorbis, Ph.D., M.F.CC. with Daniel Anan'yev, B.S. An intensive program that I developed at the Westwood Institute for Anxiety Disorders, Inc. for the treatment of patients with Obsessive Compulsive Disorder (OCD) combines modern exposure treatment with self-analytical writing. This program has consistently and significantly improved the condition of OCD patients who have been treated with it.
Dr. Gorbis' Intensive OCD Program: It Works!
Schwartz Technique for Rewiring Compulsions | Your Brain On Porn