Methods
Data visualization, infographics and technology in the year 2019
For a famous person, Edward Tufte is adept at avoiding the papparazzi. You probably know this iconic Tufte teaching picture. But it is pretty hard to find another picture of him.
Our Writing – Juice Analytics - Your data is meant for action.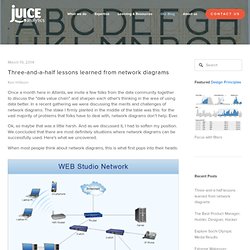 Our Writing – Juice Analytics - Your data is meant for action.
2 June 2011 This event has now happened. You can take a look at the documentation here . An ideas exchange - What happens when art and science meet? Join us to explore astounding work that emerges from the overlap. Quickfire talks, debate, discussion and ideas.
Trigger » Innovation: Science + Culture
iGraphics explained
Sankey Diagrams
Do good with data
Join us for the next edition of Strata Conference , happening February 28-March 1, 2012 in Santa Clara, CA. Big Data is here, and it changes everything. From startups to the Fortune 500, smart companies are betting on data-driven insight. Get control of the new data opportunity at Strata—immerse yourself in three full days of hands-on training, information-rich sessions, and a sponsor pavilion filled with the key players and products. This new O'Reilly conference brings together the people, tools, and technologies you need to make data work.
Strata 2011 - O'Reilly Conferences, February 01 - 03, 2011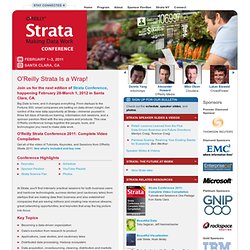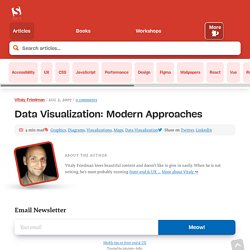 Data presentation can be beautiful, elegant and descriptive. There is a variety of conventional ways to visualize data – tables, histograms, pie charts and bar graphs are being used every day, in every project and on every possible occasion. However, to convey a message to your readers effectively, sometimes you need more than just a simple pie chart of your results. In fact, there are much better, profound, creative and absolutely fascinating ways to visualize data .