Founding
Editor's note: Aileen Lee is founder of Cowboy Ventures, a seed-stage fund that backs entrepreneurs reinventing work and personal life through software. Previously, she joined Kleiner Perkins Caufield & Byers in 1999 and was also founding CEO of digital media company RMG Networks, backed by KPCB. Follow her on Twitter @aileenlee.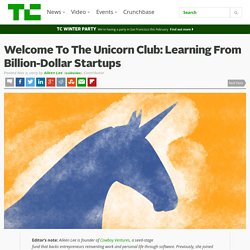 Investment sizing & valuation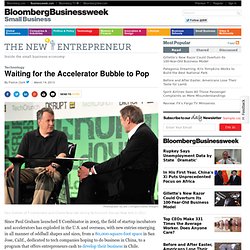 Waiting for the Accelerator Bubble to Pop
Since Paul Graham launched Y Combinator in 2005, the field of startup incubators and accelerators has exploded in the U.S. and overseas, with new entries emerging in all manner of oddball shapes and sizes, from a 80,000-square-foot space in San Jose, Calif., dedicated to tech companies hoping to do business in China, to a program that offers entrepreneurs cash to develop their business in Chile. There are accelerators for green tech, health tech, ed tech, the cloud, and every other tech flavor du jour, and accelerators everywhere from Baton Rouge to Durham, N.H., as cities across the country lay claim to the title of the Silicon Valley of [insert industry here]. There's Unreasonable at Sea, a 100-day program on an ocean liner, which encourages entrepreneurs to "combat the greatest challenges of our time" while sailing among ports in 13 countries.
In the last year I've seen thousands of startup pitches while working with the AngelList crew, coached 100+ founders on how to communicate their product, traction and team, and worked with startups in fine institutions like 500 Startups, AngelPad and Bootup. I've also dissected 500+ emails from a recent seed round fundraising to map investor response. Here's what I've learned. Through thousands of pitches, I've found that fewer that 5% tell a great traction story. Here are 10 tips that can help.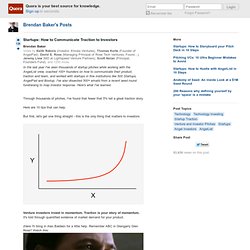 Nivi · February 11th, 2013 AngelList "corporate policy" is that team members should ask forgiveness, not permission. We would rather have someone do something wrong than ask permission to do it. Or better, we would rather have someone do something right and not need permission to do it. This is the most common outcome.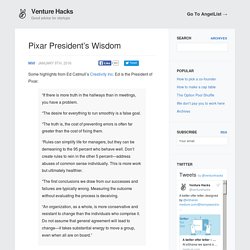 The Venture Hacks Bible - Sample
What To Look For In A Company Board
At any company level, the board of directors has a direct impact on the organization's product strategy, hiring, fundraising and much more. And startups have to be very selective in choosing board members who will advise the company in the right direction. In the big company realm, both the media and the company's shareholders have questioned Yahoo's board, which continues to employ a floundering Carol Bartz as CEO and supports a bizarre product and business strategy. Then you look at Facebook, where founder Mark Zuckerberg has strategically assembled an all-star board to help the company grow as a public company and expand into new directions. Most recently, Facebook added Netflix co-founder and CEO Reed Hastings to its board, joining Marc Andreessen, Jim Breyer, Donald E. Graham, Peter Thiel and Zuck himself.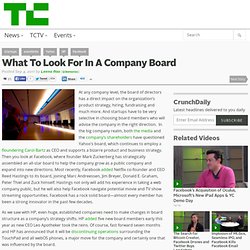 Alexa Clay and Kyra Maya Phillips met one day over tea in Bloomsbury to hatch a plan to shape a new economy. Somewhere along the way a new vision for innovation was born. Bottoms-up, informal, and black market economies may have something to teach the traditional economy about ingenuity, entrepreneurialism and human resilience.
The Misfit Economy