Research Tools
Wolfram|Alpha: Computational Knowledge Engine. FindHow - The How-To Search Engine. SchoolWAX TV. Explore and Create Free Timelines. Tate Learning | Schools Online. WatchKnowLearn - Free Educational Videos for K-12 Students.
The Q&A wiki. WordPress.tv. Free technology teacher training videos for teachers. Earth album alpha - a slicker google maps + flickr mash-up. Free Summarizer, an online automatic tool to summarize any text or article. Anyclip - Any Moment, from Any Film | Anyclip. Precipitate - Your cloud data at your fingertips. Note: This project is not currently maintained, and the last builds no longer function correctly with the current versions of the Google services listed below.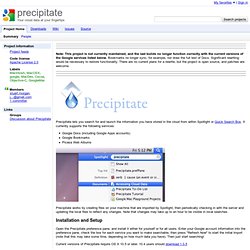 Bookmarks no longer sync, for example, nor does the full text of Docs. Significant rewriting would be necessary to restore functionality.
---