EdTech
Fearless EdTech Curators mrshakedown Jun 28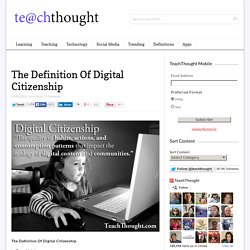 The Definition Of Digital Citizenship by Terry Heick
Definition Of Digital Citzenship
Schools Should Be Teaching Kids How to Use the Internet Well - Abigail Walthausen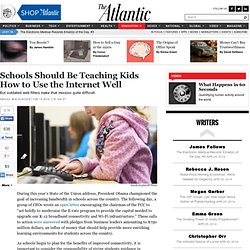 But outdated web filters make that mission quite difficult. Randy Snyder/AP Photo During this year's State of the Union address, President Obama championed the goal of increasing bandwidth in schools across the country.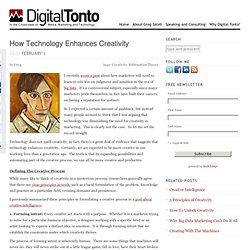 I recently wrote a post about how marketers will need to learn to rely less on judgment and intuition in the era of big data. It's a controversial subject, especially since many marketers pride themselves, in fact have built their careers, on having a reputation for instinct. So I expected a certain amount of pushback, but instead many people seemed to think that I was arguing that technology was diminishing the need for creativity in marketing. This is clearly not the case.
How Technology Enhances Creativity
A Quick Guide To The History Of MOOCs
A Brooklyn High School Takes a New Approach to Vocational Education
The building and its surroundings in Crown Heights, Brooklyn, may look run-down, but inside 150 Albany Avenue may sit the future of the country's vocational education: The first 230 pupils of a new style of school that weaves high school and college curriculums into a six-year program tailored for a job in the technology industry.
20 Must-See Facts About The 21st Century Classroom
8 Crucial Resources For Flipped Classrooms
Have you "flipped" yet?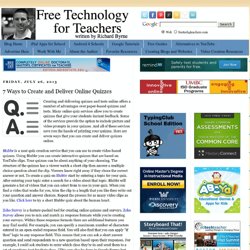 7 Ways to Create and Deliver Online Quizzes
Creating and delivering quizzes and tests online offers a number of advantages over paper-based quizzes and tests.
What Is The Flipped Classroom Model And Why Is It Amazing? (With Infographic)
- 30 Online Multimedia Resources for PBL and Flipped Classrooms by Michael Gorman
1 Comment May 28, 2012 By: Michael Gorman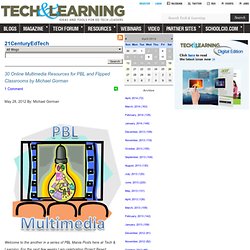 21 Things for the 21st Century Educator - Home
50 Awesome Ways to Use Skype in the Classroom | Teaching Degree.org
Written By: Jillian Terry Skype is a free and easy way for teachers to open up their classroom and their students to a world way beyond their campus. With Skype, students can learn from other students, connect with other cultures, and expand their knowledge in amazing ways. Teachers and parents can also benefit from Skype in the classroom. Read below to learn how you can take advantage of the power of Skype in your classroom. Promoting Education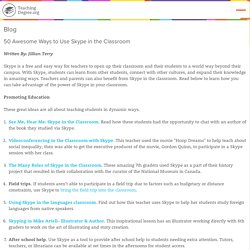 Published Online: June 13, 2012 Published in Print: June 13, 2012, as Digital Badges Features
'Digital Badges' Would Represent Students' Skill Acquisition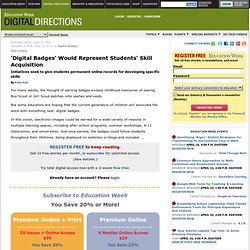 30+ Cool Content Curation Tools for Personal & Professional Use | Social Media Content Curation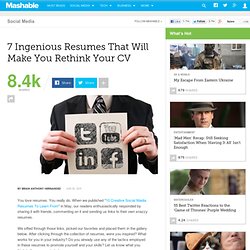 7 Ingenious Resumes That Will Make You Rethink Your CV
You love resumes. You really do.
7 Reasons To Leverage Social Networking Tools in the Classroom
Instructional uses of social networking software can provide opportunities for learning, connecting, and engagement. This year, I've written frequently about popular social media tools, and education-specific social networking apps, and social enterprise solutions.
7 Ways Universities Are Using Facebook as a Marketing Tool
Social media use by universities has become ubiquitous.
Scott Gerber is the founder of the Young Entrepreneur Council, a nonprofit organization that promotes youth entrepreneurship as a solution to unemployment and underemployment.
13 Tips for Increasing Your Company's Google Rank
A Visual History of Twitter [INFOGRAPHIC]
77 Web Resources for Teachers to Try This Summer
Libraries and Museums Become Hands-On Learning Labs
The Super Book of Web Tools for Educators
41 Websites for Teachers to Integrate Tech into Your Classroom « Ask a Tech Teacher
5 Tools for Building a Next-Generation 'Hybrid' Class Website
Top 6 Sites that Inspire and Educate
8 Exam-Prep Activities Students Actually Like
100+ Online Resources That Are Transforming Education
47 New Digital Media Resources You May Have Missed
WEB 2.0 FOR SECONDARY TEACHERS
Where to Get the Best Free Education Online
Mobile Studying & Online Flashcards on Smartphones
What You (Really) Need to Know
Kids Today: How the Class of 2011 Engages with Media
End Technology Training? – Learn. Teach. Engage.
13 Enlightening Case Studies of Social Media in the Classroom
10 Tips for Teaching Technology to Teachers
The Dos and Don'ts of Tech Integration PD
Learning through Digital Media
A Google a Day
3 Chrome Extensions For Gmail That Help You Use Email Quickly
12 Ways To Use Google Search In School, By Degree Of Difficulty
7 Search Tips You Probably Don't Know About
10 Awesome Free Tools To Make Infographics
10 Infographics for Learning
10 Simple Google Search Tricks
The Problem with Classroom Technology? Faculty Can't Use It
The Future of Teaching - Teacher in a Strange Land
Training Teachers for 21st Century Classrooms
Daniel Donahoo: Horizon Report K-12 Released: The Future of Education Is Mobile
When Gaming Is Good for You