EdTech
Fearless EdTech Curators mrshakedown Jun 28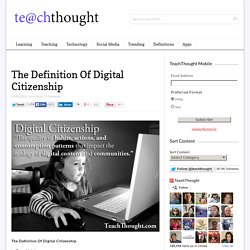 The Definition Of Digital Citizenship by Terry Heick As more and more students interact digitally–with content, one another, and various communities–the concept of digital citizenship becomes increasingly important. Which begs the question: what is digital citizenship? Well, first citizenship, which is formally defined as "the quality of an individual's response to membership in a community." This makes citizenship far more complex than a simple legal matter, but rather one that consists of self-knowledge, interaction, and intimate knowledge of a place, its people, and its cultural history.
Definition Of Digital Citzenship
Schools Should Be Teaching Kids How to Use the Internet Well - Abigail Walthausen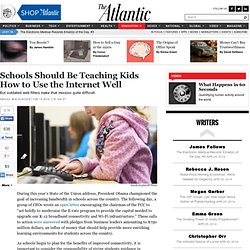 But outdated web filters make that mission quite difficult. Randy Snyder/AP Photo During this year's State of the Union address, President Obama championed the goal of increasing bandwidth in schools across the country.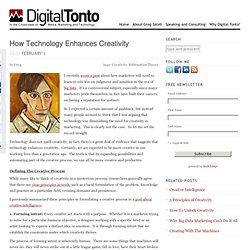 I recently wrote a post about how marketers will need to learn to rely less on judgment and intuition in the era of big data. It's a controversial subject, especially since many marketers pride themselves, in fact have built their careers, on having a reputation for instinct. So I expected a certain amount of pushback, but instead many people seemed to think that I was arguing that technology was diminishing the need for creativity in marketing. This is clearly not the case.
How Technology Enhances Creativity
A Quick Guide To The History Of MOOCs
A Brooklyn High School Takes a New Approach to Vocational Education
The building and its surroundings in Crown Heights, Brooklyn, may look run-down, but inside 150 Albany Avenue may sit the future of the country's vocational education: The first 230 pupils of a new style of school that weaves high school and college curriculums into a six-year program tailored for a job in the technology industry. By 2017, the first wave of students of P-Tech — Pathways in Technology Early College High School — is expected to emerge with associate's degrees in applied science in computer information systems or electromechanical engineering technology, following a course of studies developed in consultation with I.B.M. "I mean, in 10th grade, doing college work?" said Monesia McKnight, 15, as she sat in an introduction to computer systems course taught by a college professor. "How great is that?"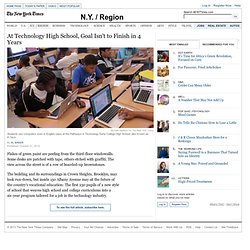 8 Crucial Resources For Flipped Classrooms
Have you "flipped" yet? My colleagues have this week; it's PSSA week in Pennsylvania (PSSAs are standardized tests.). That's not the flipped I meant, however. I meant, have you flipped your classroom yet?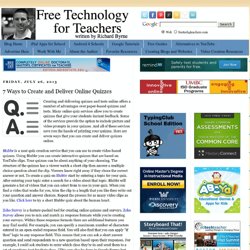 7 Ways to Create and Deliver Online Quizzes
Creating and delivering quizzes and tests online offers a number of advantages over paper-based quizzes and tests. Many online quiz services allow you to create quizzes that give your students instant feedback. Some of the services provide the option to include picture and video prompts in your quizzes. And all of these services save you the hassle of printing your quizzes.
What Is The Flipped Classroom Model And Why Is It Amazing? (With Infographic)
- 30 Online Multimedia Resources for PBL and Flipped Classrooms by Michael Gorman
1 Comment May 28, 2012 By: Michael Gorman May 28 Written by: 5/28/2012 12:30 AM ShareThis Welcome to the another in a series of PBL Mania Posts here at Tech & Learning.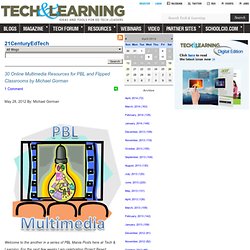 21 Things for the 21st Century Educator - Home
50 Awesome Ways to Use Skype in the Classroom | Teaching Degree.org
Written By: Jillian Terry Skype is a free and easy way for teachers to open up their classroom and their students to a world way beyond their campus. With Skype, students can learn from other students, connect with other cultures, and expand their knowledge in amazing ways. Teachers and parents can also benefit from Skype in the classroom. Read below to learn how you can take advantage of the power of Skype in your classroom. Promoting Education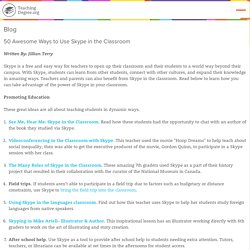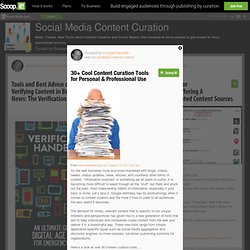 Excerpt from article written and curated by Robin Good and first published on MasterNewMedia:"Content curation tools are in their infancy. Nonetheless you see so many of them around, there are more new curation tools coming your way soon, with lots of new features and options. Enormous progress has been made since the early days of the first news curation tools to what is available today, but yet, I feel we have only barely scratched the surface. To illustrate what I expect to see on this front, here is a panoramic tour of the traits, features, patterns and trends that I expect will characterize the future of digital content curation tools, organized into specific feature areas. 1) Display Formats of Curated Content CollectionsThe first area in which I expect to see lots of improvement and innovative ideas is the one of how a curated collection or stream can be displayed to the user.This is one of the most underestimated and underutilized areas of improvement for content curation tools.
30+ Cool Content Curation Tools for Personal & Professional Use | Social Media Content Curation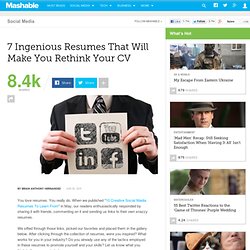 7 Ingenious Resumes That Will Make You Rethink Your CV
You love resumes. You really do. When we published "10 Creative Social Media Resumes To Learn From" in May, our readers enthusiastically responded by sharing it with friends, commenting on it and sending us links to their own snazzy resumes. We sifted through those links, picked our favorites and placed them in the gallery below. After clicking through the collection of resumes, were you inspired? What works for you in your industry?
7 Reasons To Leverage Social Networking Tools in the Classroom
Instructional uses of social networking software can provide opportunities for learning, connecting, and engagement. This year, I've written frequently about popular social media tools, and education-specific social networking apps, and social enterprise solutions. I've also noticed increasing coverage of this topic in the media recently. Maybe it's just me paying more attention to it … or maybe it signals an increasing acceptance of these types of tools as legitimate and effective resources for the classroom. Social networking tools aren't going away any time soon, they appear to be here for the long term. But do these kinds of applications really belong in the classroom?
7 Ways Universities Are Using Facebook as a Marketing Tool
Social media use by universities has become ubiquitous. When earlier this year, researchers from the University of Massachusetts at Dartmouth asked a representative sample of U.S. schools whether they use some social media, 100% of them said they did. Four years ago, just 61% of them said the same. Facebook is the most prevalent social media tool in higher education — 98% of the universities in the study said they had a presence there.
Scott Gerber is the founder of the Young Entrepreneur Council, a nonprofit organization that promotes youth entrepreneurship as a solution to unemployment and underemployment. The YEC provides young entrepreneurs with access to tools, mentorship, and resources that support each stage of a business's development and growth. It goes without saying that entrepreneurs know the importance of search engine optimization, and how to boost their Google search rankings. Right? Or is SEO a foreign language that you haven't quite mastered?
13 Tips for Increasing Your Company's Google Rank
The Social Media Infographics Series is supported by Vocus' Social Media Strategy Tool, a free, six-step online tool that lets you build a custom social media framework tailored to your organization's goals. Since its launch in the summer of 2006, Twitter has become the leader in microblogging, limiting even its most famous users to a concise 140 characters. This infographic details Twitter's most influential content creators, staggering adoption rates, and struggle to turn a profit.
A Visual History of Twitter [INFOGRAPHIC]
77 Web Resources for Teachers to Try This Summer
Libraries and Museums Become Hands-On Learning Labs
20 Must-See Facts About The 21st Century Classroom
The Super Book of Web Tools for Educators
41 Websites for Teachers to Integrate Tech into Your Classroom « Ask a Tech Teacher
5 Tools for Building a Next-Generation 'Hybrid' Class Website
Top 6 Sites that Inspire and Educate
Ten Ideas for Interactive Teaching
8 Exam-Prep Activities Students Actually Like
100+ Online Resources That Are Transforming Education
47 New Digital Media Resources You May Have Missed
WEB 2.0 FOR SECONDARY TEACHERS
Where to Get the Best Free Education Online
Mobile Studying & Online Flashcards on Smartphones
What You (Really) Need to Know
Kids Today: How the Class of 2011 Engages with Media
End Technology Training? – Learn. Teach. Engage.
13 Enlightening Case Studies of Social Media in the Classroom
10 Tips for Teaching Technology to Teachers
The Dos and Don'ts of Tech Integration PD
Learning through Digital Media
A Google a Day
3 Chrome Extensions For Gmail That Help You Use Email Quickly
12 Ways To Use Google Search In School, By Degree Of Difficulty
7 Search Tips You Probably Don't Know About
10 Awesome Free Tools To Make Infographics
10 Infographics for Learning
10 Simple Google Search Tricks
The Problem with Classroom Technology? Faculty Can't Use It
The Future of Teaching - Teacher in a Strange Land
Training Teachers for 21st Century Classrooms
Daniel Donahoo: Horizon Report K-12 Released: The Future of Education Is Mobile
When Gaming Is Good for You
'Digital Badges' Would Represent Students' Skill Acquisition