Edible Forest Gardens
Social Networks. Forest gardening. History[edit] Forest gardens are probably the world's oldest form of land use and most resilient agroecosystem.[2][3] They originated in prehistoric times along jungle-clad river banks and in the wet foothills of monsoon regions.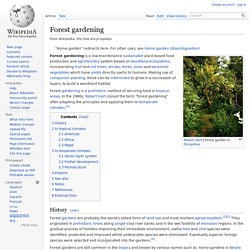 In the gradual process of families improving their immediate environment, useful tree and vine species were identified, protected and improved whilst undesirable species were eliminated. Edible Forest Gardens-Home. Apios Institute | Edible Forest Garden Wiki - Useful Plant Species - Regenerative Agriculture - Edible Landscaping | Regenerative Perennial Agriculture for Temperate Climate Ecosystems.
---