Drawing
People are strange on Vimeo - StumbleUpon. Green Beans Project on the Behance Network. SAI : Find an illustrator. Drawing ARCHITECTURE. Drawing Autism. Drawing Autism is an incredible collection of artwork by people diagnosed with autism, from teenage amateurs to established artists.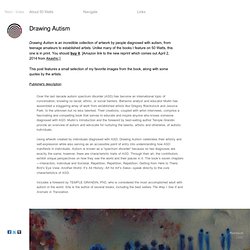 Unlike many of the books I feature on 50 Watts, this one is in print. You should buy it. [Amazon link to the new reprint which comes out April 2, 2014 from Akashic.] This post features a small selection of my favorite images from the book, along with some quotes by the artists. Publisher's description: Solitude - 2010/2011 - A work in progress on the Behance Network. Drawing Tutorial: Male. Yosuke Goda. Art with Salt - Eric Northman (Alexander Skarsgard) True blood portrait drawing - Theportraitart. Sketchbook 2010 (vol. 2) on the Behance Network. Thanks to everyone who left me comments to my previous project "Skechbook.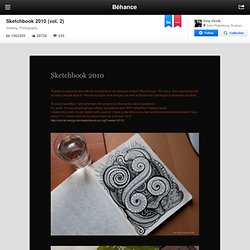 " For me is very surprising that so many people liked it. This set includes new designs, as well as those that I just forgot to show the last time. To avoid repetition, I will write here the answers to frequently asked questions.For work I'm use simple gel pen (Pilot), sometimes also "PITT Artist Pen" Faber-Castell I make only a very rough sketch with a pencil. I have a site where you can see the same pictures closer (if you press "+"). Totorohorror2.jpg (JPEG Image, 1024x1390 pixels) What if Dr. Seuss Created 'Star Wars'? Digg_url = ' tweetmeme_url = ' tweetmeme_source = 'comicsalliance'; The whimsical speech of Jedi Master Yoda may have progressed from endearingly eccentric to Jar-Jarringly annoying in recent years and in recent films, but the 900-year-old's memorable dialogue and that of other characters from the Star Wars saga has been somewhat redeemed by cartoonist Adam Watson with some inspiration from an unlikely source: Dr.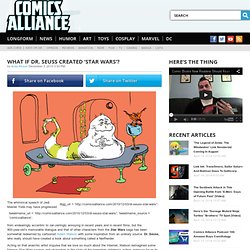 Seuss, who really should have created a book about something called a Nerfherder. Acting on that anarchic artist impulse that we love so much about the Internet, Watson reimagined some famous Star Wars scenes and characters in the style of the legendary children's author, going so far as to create all-new rhymes in the Seussian tradition. The results are of course excellent, and like all the coolest things, make you wonder why nobody did this before. Etude 6 on the Behance Network. Doodling in Math Class: Infinity Elephants [VIDEO] Stop Motion Drawing 2: Sugar Skull by Paul Alexander Thornton. Sagaki Keita. (click images for detail) Artist Sagaki Keita was born in 1984 and lives and works in Tokyo.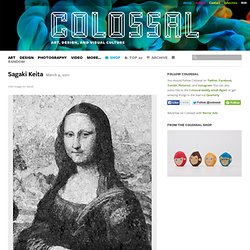 His densely composited pen and ink illustrations contain thousands of whimsical characters that are drawn almost completely improvised. I am dumbstruck looking at these and love the wacky juxtaposition of fine art and notebook doodles. Draw and Fold Over. 90 Incredible Drawings and Pencil Illustrations. Folded Paper Art is...How the Hell? | Mick Landers. Analytical Figure Drawing SP08. Sketchbookideas.
---