Data Mining
ZK Live Demo - Grid
This site is the web resource for the book "Interactive Graphics for Data Analysis – Principles and Examples". There are links to the most important software tools, all datasets used in the book for easy download, and a set of slides which may be used together with the book for a lecture. The R-code used in the book can be found here as well. The news section will cover news on the book, potential courses and all kind of information regarding interactive statistical graphics and data visualization in general.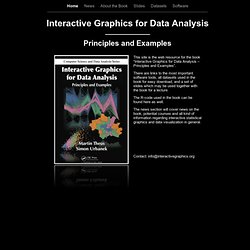 Interactive Graphics for Data Analysis ––––––––– Principles and Examples
Here are the teaching modules for a one-semester introductory course on Data Mining, suitable for advanced undergraduates or first-year graduate students. The teaching modules were created by : Introductions | Course materials | Data Mining Course Modules | Assignments & Datasets | Extra Publications | Additional Lectures | Acknowledgments Introductions Course introduction | For prospective students | For faculty Course materials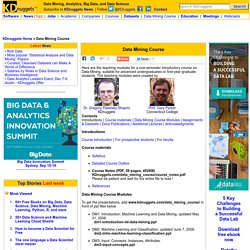 Data Mining Course
Wallpapering Fog: Losing touch... or why Excel and VBA won't cut it any more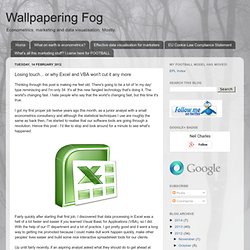 Thinking through this post is making me feel old. There's going to be a lot of 'in my day' type reminiscing and I'm only 34. It's all this new fangled technology that's doing it.
How to read an excel file (dot xls and dot xlsx) into a data frame with r
r twotorials: how to build a for loop in r
Programming R | Beginner to advanced resources for the R programming language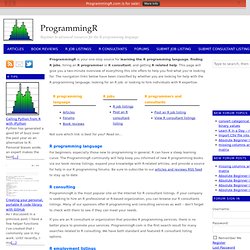 ProgrammingR is your one-stop source for learning the R programming language, finding R jobs, hiring an R programmer or R consultant, and getting R related help. This page will give you a two-minute overview of everything this site offers to help you find what you're looking for. The navigation links below have been classified by whether you are looking for help with the R programming language, looking for an R job, or looking to hire individuals with R expertise.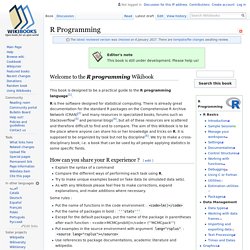 Welcome to the 'R' programming Wikibook This book is designed to be a practical guide to the R programming language[1]. R is free software designed for statistical computing. There is already great documentation for the standard R packages on the Comprehensive R Archive Network (CRAN)[2] and many resources in specialized books, forums such as Stackoverflow[3] and personal blogs[4], but all of these resources are scattered and therefore difficult to find and to compare.
author: mike foskett incept: 8th November 2008 last modified: 28th October 2011 Postcode validation script updated 28th October 2011 An online tool to convert UK postcodes into longitude and latitude mapping coordinates.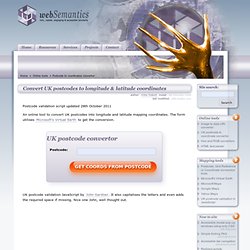 An online tool to convert UK post codes into longitude and latitude mapping coordinates
This is a special version of the GPS Visualizer map form that's designed for plotting quantifiable data on a map. You can colorize and/or resize the points according to a generic frequency field named "N", or you can use a more typical field, such as altitude, population, or category. If you have track data, or if you don't need to automatically colorize/resize your data points by a particular parameter, you'll probably be better served by the normal Google Maps form, the Google Earth KML form, or the JPEG/PNG/SVG form.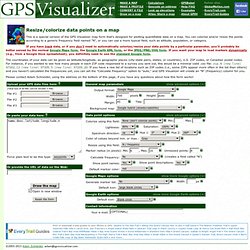 GPS Visualizer map input form: Plot quantitative data
Geographic maps in R | Smart Data Collective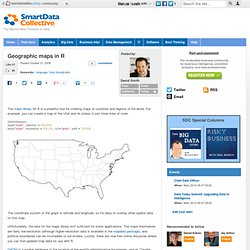 The maps library for R is a powerful tool for creating maps of countries and regions of the world. For example, you can create a map of the USA and its states in just three lines of code: library(maps) map("state", interior = FALSE) map("state", boundary = FALSE, col="gray", add = TRUE) The coordinate system of the graph is latitude and longitude, so it's easy to overlay other spatial data on this map.
by Allen B. Downey, published by O'Reilly Media. Order Think Stats from Amazon.com
Think Stats: Probability and Statistics for Programmers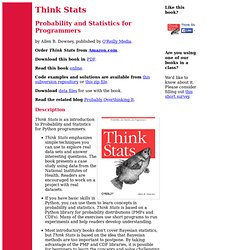 Tile5 is an opensource HTML5 mapping javascript library that gives developers the ability to use existing mapping engines and provide a rich HTML5 experience. Tile5 can also be used to create more generic HTML5 tiling interfaces. Made for Mobile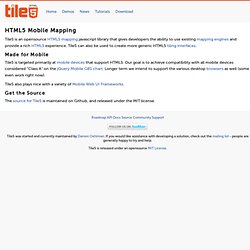 Amazon S3 is storage for the Internet. It is designed to make web-scale computing easier for developers. Amazon S3 provides a simple web-services interface that can be used to store and retrieve any amount of data, at any time, from anywhere on the web.