Data Mining
ZK Live Demo - Grid. Interactive Graphics for Data Analysis ––––––––– Principles and Examples. Data Mining Course. Here are the teaching modules for a one-semester introductory course on Data Mining, suitable for advanced undergraduates or first-year graduate students.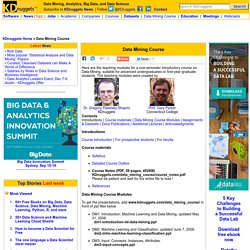 The teaching modules were created by : Introductions | Course materials | Data Mining Course Modules | Assignments & Datasets | Extra Publications | Additional Lectures | Acknowledgments Introductions Course introduction | For prospective students | For faculty Course materials. Wallpapering Fog: Losing touch... or why Excel and VBA won't cut it any more. Thinking through this post is making me feel old.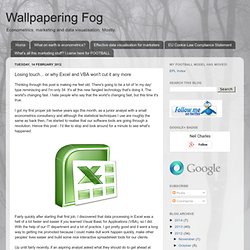 There's going to be a lot of 'in my day' type reminiscing and I'm only 34. It's all this new fangled technology that's doing it. Fast Analytics and Rapid-fire Business Intelligence from Tableau Software. The R Project for Statistical Computing. How to read an excel file (dot xls and dot xlsx) into a data frame with r. RStudio. R twotorials: how to build a for loop in r. Programming R | Beginner to advanced resources for the R programming language. R Programming - Wikibooks, collection of open-content textbooks. Welcome to the 'R' programming Wikibook This book is designed to be a practical guide to the R programming language[1].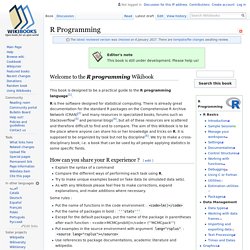 R is free software designed for statistical computing. There is already great documentation for the standard R packages on the Comprehensive R Archive Network (CRAN)[2] and many resources in specialized books, forums such as Stackoverflow[3] and personal blogs[4], but all of these resources are scattered and therefore difficult to find and to compare. An online tool to convert UK post codes into longitude and latitude mapping coordinates. Author: mike foskett incept: 8th November 2008 last modified: 28th October 2011 Postcode validation script updated 28th October 2011 An online tool to convert UK postcodes into longitude and latitude mapping coordinates.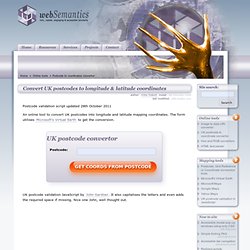 GPS Visualizer map input form: Plot quantitative data. This is a special version of the GPS Visualizer map form that's designed for plotting quantifiable data on a map.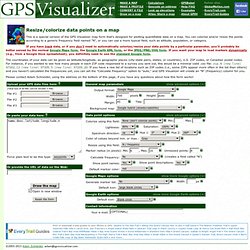 You can colorize and/or resize the points according to a generic frequency field named "N", or you can use a more typical field, such as altitude, population, or category. If you have track data, or if you don't need to automatically colorize/resize your data points by a particular parameter, you'll probably be better served by the normal Google Maps form, the Google Earth KML form, or the JPEG/PNG/SVG form. Geographic maps in R | Smart Data Collective. The maps library for R is a powerful tool for creating maps of countries and regions of the world.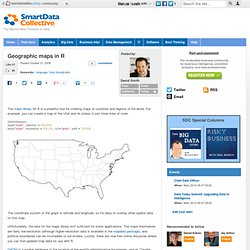 For example, you can create a map of the USA and its states in just three lines of code: library(maps) map("state", interior = FALSE) map("state", boundary = FALSE, col="gray", add = TRUE) The coordinate system of the graph is latitude and longitude, so it's easy to overlay other spatial data on this map. Think Stats: Probability and Statistics for Programmers. By Allen B.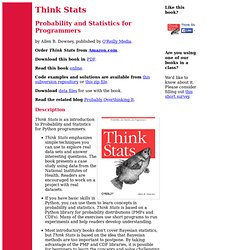 Downey, published by O'Reilly Media. Order Think Stats from Amazon.com. R Programming. R. HTML5 Mobile Mapping. Simple Storage Service (Amazon S3) MongoDB.
---