Current events/News
Our Fundraiser Is A Disaster!! I have to admit to being pretty useless at raising funds. I have to admit that I would prefer to read and research article that add to our awareness and respect for others, rather than creating graphics and crafting slick PR slogans that pluck at the heart strings and emotions of ICH readers. In Fact I refuse To Do So.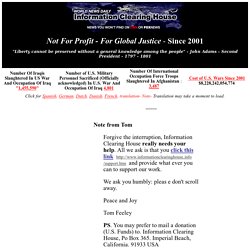 How to contact us We want to hear your suggestions and comments. For tips or comments on our Obameter and our GOP-Pledge-O-Meter promise databases, please e-mail the Obameter. If you are commenting on a specific promise, please include the wording of the promise. For comments about our Truth-O-Meter or Flip-O-Meter items, please e-mail the Truth-O-Meter. We're especially interested in seeing any chain e-mails you receive that you would like us to check out.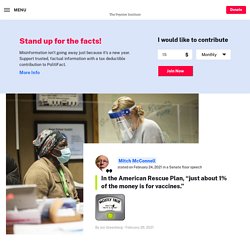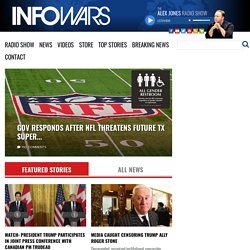 Report: Bundy Family Unearths BLM Mass Cattle Grave Mikael Thalen | "I feel that this needs to be put out for the public to see." Bundy supporter OWNS Chris Hayes on MSNBC: 'We will not allow governance by gunpoint, ever' [VIDEO] Daily Caller | Nevada assemblywoman Michele Fiore clashed with MSNBC's Chris Hayes regarding rancher Cliven Bundy's conflict with the federal government on Friday. Justice Scalia 'Foolish' to Have the Supreme Court Decide If NSA Wiretapping Is Unconstitutional Breitbart | D.C., Justices Antonin Scalia and Ruth Bader Ginsburg talked about their views of the First Amendment.
UPDATED: (Washington, D.C.) — There is a deeply disturbing article in the USA Today that I encourage you to read and share with others. It reports that leaflets are being spread throughout the eastern Ukrainian city of Donetsk saying that government officials controlled by pro-Russian forces are ordering Jews to register with local authorities and pay a fee, or they could be deported and their assets could be confiscated. Secretary of State John Kerry today called such actions "intolerable" and "grotesque." But pro-Russian separatists flatly deny the allegations that they have been distributing leaflets requiring Jews to register. The leaflets exist.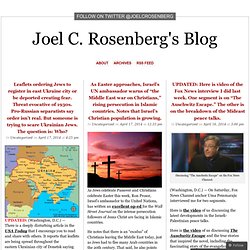 Joel C. Rosenberg's Blog
This Is Your Life - Switchfoot