CSS
lab.goetter.fr
Mobitest.me mobile device screen informations
If you're like me, you're probably wondering, amidst all the hype surrounding the release of IE9 Beta , whether or not Microsoft has finally begun to keep up with the other browser makers. Has IE9 changed Microsoft's reputation of always lagging behind? Does the Beta release of IE9 indicate that Microsoft is finally keeping up with the Joneses? You be the judge. I've created a few charts showing CSS3 support in IE9 Beta. The list does not include every conceivable CSS3 property or selector.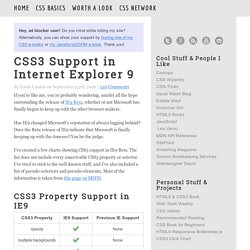 CSS3 Support in Internet Explorer 9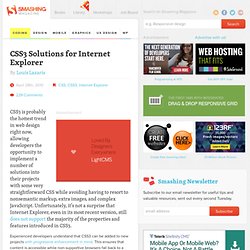 CSS3 is probably the hottest trend in web design right now, allowing developers the opportunity to implement a number of solutions into their projects with some very straightforward CSS while avoiding having to resort to nonsemantic markup, extra images, and complex JavaScript. Unfortunately, it's not a surprise that Internet Explorer, even in its most recent version, still does not support the majority of the properties and features introduced in CSS3. Experienced developers understand that CSS3 can be added to new projects with progressive enhancement in mind .
CSS3 Media Queries Test on your browser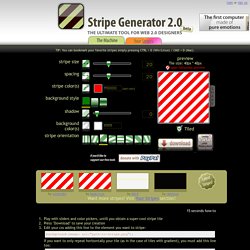 TIP: You can modify slider values by directly typing in the desired value. stripe size spacing stripe color(s) background style shadow gradient height background color(s) stripe orientation preview Tile size: 40px * 40px open fullscreen preview
ie-colorpicker.png (802×405)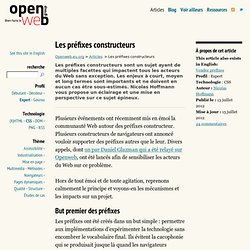 Plusieurs événements ont récemment mis en émoi la communauté Web autour des préfixes constructeur. Plusieurs constructeurs de navigateurs ont annoncé vouloir supporter des préfixes autres que le leur. Divers appels, dont un par Daniel Glazman qui a été relayé sur Openweb , ont été lancés afin de sensibiliser les acteurs du Web sur ce problème. Hors de tout émoi et de toute agitation, reprenons calmement le principe et voyons-en les mécanismes et les impacts sur un projet.
Les préfixes constructeurs
Ça fait quelques temps (depuis la sortie de firefox 3.5, en fait) que j'avais envie de jouer avec quelques sélecteurs css issus de la version 3 de la norme . En fait, nous allons nous amuser avec quelques pseudos-classes. Pour les cancres, les pseudos-classes sont un mécanisme de css qui permet de sélectionner des éléments selon des critères qui ne sont pas explicitements contenus dans de document.
Jouons avec les pseudos-classes des sélecteurs css – Miximum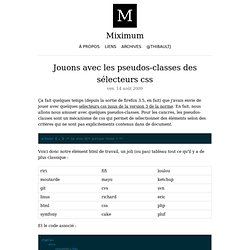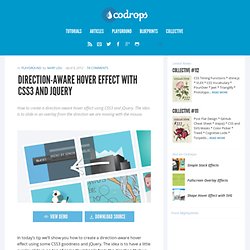 Direction-Aware Hover with CSS3 and jQuery
How to create a direction-aware hover effect using CSS3 and jQuery. The idea is to slide in an overlay from the direction we are moving with the mouse. View demo Download source In today's tip we'll show you how to create a direction-aware hover effect using some CSS3 goodness and jQuery. The idea is to have a little overlay slide in on top of some thumbnails from the direction that we are coming from with the mouse.
CSSLisible - Ranger votre CSS et le rendre lisible
Futurico UI HTML - Free User Interface Elements for Developers
Futurico UI HTML is a web elements pack that has been created based on the free version of Futurico UI elements pack. We are really happy that Futurico UI was so successful and only in 3 months we have gathered about 100 000 tweets! This is something really big for us and we would like to thank you for your support and launch the Futurico UI HTML pack. This pack of ready to use Futurico UI HTML components has been created for designers & developers. There is no need to reinvent the wheel cutting such huge pack yourself.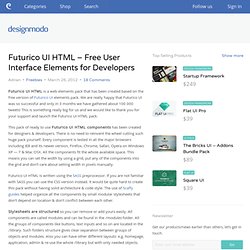 Sweet Hat Club