Creativity
Idées bricolages. Apprendre à dessiner. CGI Studios. Selnajaya. Monty Pythons. Your Creative Success. An online note taking and blogging tool for everyone - Fruitnotes. Tim Harford: Trial, error and the God complex. Joshua Walters: On being just crazy enough. Isabel Allende tells tales of passion. Ross Lovegrove shares organic designs. Ken Robinson says schools kill creativity. Sir Ken Robinson: Bring on the learning revolution! Rory Sutherland: Sweat the small stuff. Elizabeth Gilbert on nurturing creativity. Amy Tan: Where does creativity hide? Tim Brown: The powerful link between creativity and play.
Mihaly Csikszentmihalyi: Creativity, fulfillment and flow. Three Principles Behind All Tools. || Take me back to the main ToolKit page || || Take me back to the DirectedCreativity Home page || There are many tools for creative thinking in the literature...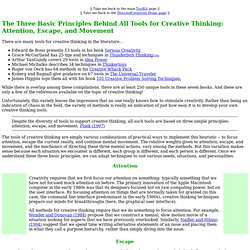 Edward de Bono presents 13 tools in his book Serious Creativity Grace McGartland has 25 tips and techniques in Thunderbolt Thinking(TM) Arthur VanGundy covers 29 tools in Idea Power Michael Michalko describes 34 techniques in Thinkertoys Roger von Oech has 64 methods in his Creative Whack Pack Koberg and Bagnall give guidance on 67 tools in The Universal Traveler James Higgins tops them all with his book 101 Creative Problem Solving Techniques. While there is overlap among these compilations, there are at least 250 unique tools in these seven books. Brainstorming Software. EyeWire Creativity Cards. Litemind. Creativity. Creative Techniques.
From Mycoted This A to Z of Creativity and Innovation Techniques, provides an introduction to a range of tools and techniques for both idea generation (Creativity) and converting those ideas into reality (Innovation).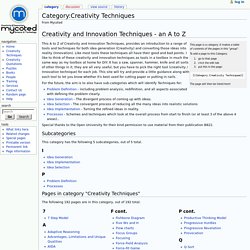 Like most tools these techniques all have their good and bad points. I like to think of these creativity and innovation techniques as tools in a toolbox in much the same way as my toolbox at home for DIY. It has a saw, spanner, hammer, knife and all sorts of other things in it, they are all very useful, but you have to pick the right tool (creativity / Innovation technique) for each job. This site will try and provide a little guidance along with each tool to let you know whether it's best used for cutting paper or putting in nails. Get Creative! Creative-Inspiring People, Places & Things on Creativity-Portal.com. Home : Get Creative!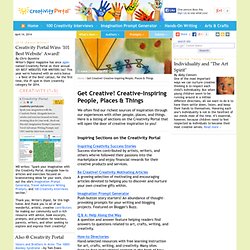 Creative-Inspiring People, Places & Things We often find our richest sources of inspiration through our experiences with other people, places, and things. Here is a listing of sections on the Creativity Portal that will open the door of creative inspiration to you! Inspiring Sections on the Creativity Portal. American Creativity Association Creativity Tools. Creativity Tools A tool that spawns creativity, that adds value, that makes a difference, that grows a person is a great thing to have.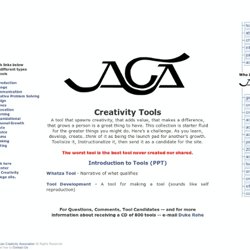 This collection is starter fluid for the greater things you might do. Here's a challenge. As you learn, develop, create…think of it as being the launch pad for another's growth. Toolisize it, Instructionalize it, then send it as a candidate for the site. The worst tool is the best tool never created nor shared. Creating Minds tools. Learn to be more creative. CREAX :: Creativity - Innovation - Trend Portal. Creativity Toolbox. Copy and Share Documents with your Cell Phone Camera. Conrad Hametner is passionate about globalizing technology and building forward thinking companies to address consumer and community needs.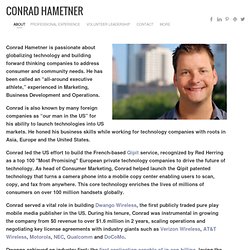 He has been called an "all-around executive athlete," experienced in Marketing, Business Development and Operations. Conrad is also known by many foreign companies as "our man in the US" for his ability to launch technologies into US markets. He honed his business skills while working for technology companies with roots in Asia, Europe and the United States. Imagination Prompt Generator: Random Writing Blog Prompts, Writer's Prompt Tool. Writing Prompts : The Imagination Prompt Generator As featured on Blogger's Buzz!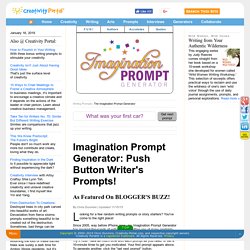 Take as much time with each prompt as you need, or set a 10-minute writing timer. Your first "Imagination Prompt" appears above. To generate another, simply click the "Next Prompt" button. Are you looking for some random writing prompts or story starters for your journal, blog, or other creativity-related project? New Year's Resolutions on 43 Things. Creativity Processes, Creative Thinking and Lateral Thinking from MindTools. © iStockphoto/pavlen The tools in this section can help you to become more creative.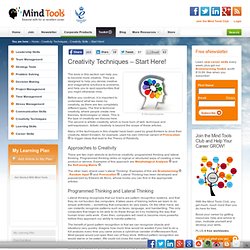 They are designed to help you devise creative and imaginative solutions to problems, and help you to spot opportunities that you might otherwise miss. Before you continue, it is important to understand what we mean by creativity, as there are two completely different types. The first is technical creativity, where people create new theories, technologies or ideas. This is the type of creativity we discuss here. 201 Ways to Arouse Your Creativity. Arouse your creativity A guest post by Katie Tallo of Momentum Gathering.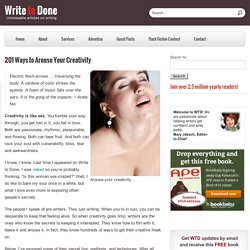 Electric flesh-arrows … traversing the body. A rainbow of color strikes the eyelids. A foam of music falls over the ears. It is the gong of the orgasm. ~ Anais Nin.
---