Conduite du changement
The INTERNET OF CARING THINGS means connected objects that serve consumers' most important needs: physical and mental wellbeing, safety, security, oversight of loved ones, and more. You're probably already familiar with the innovations that have blazed an early CARING trail. The Nest smart thermostat*, NIKE fuelband and Fitbit, for example. But now, as consumer demand and technological capacity converge, the INTERNET OF CARING THINGS will evolve in exciting new directions. Check out the examples below – divided into five categories of CARING – for a glimpse of these...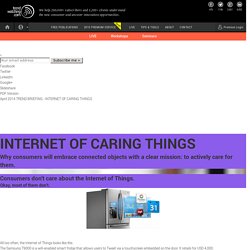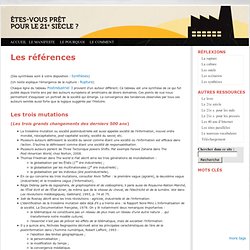 Les références | Constellation W
(Des synthèses sont à votre disposition : Synthèses) (Un texte explique l'émergence de la rupture : Rupture) Chaque ligne du tableau Postindustriel 3 provient d'un auteur différent. Ce tableau est une synthèse de ce qui fut publié depuis trente ans par des auteurs européens et américains de divers domaines.
LANCER UNE PARTIE DE GENERATEUR POIETIQUE (sur PC/mac ou mobile) Ecouter l'explication sur Place de la Toile (France Culture) Place de la Toile, 10 avril 2011, Olivier Auber by OlivierAuber Voir un bon résumé sur Wikipédia (FR) ou (EN) Derrière ce nom étrange se cache une expérience collective très simple et très enrichissante pour les enfants de 7 à 77 ans. En fait, ça marche déjà à partir de 3 ans avec accompagnateur.