Cartographie
GIS, mapping and information management services for humanitarian organisations/ Services de cartographie de SIG et de gestion de l'information pour les organisations humanitaires.
NOUVEAU SITE D'ACCOMPAGNEMENT EN LIGNE ATTENTION - Carmen, coupure des services jeudi 24 Mars entre 14h et 15h. Carmen : bientôt le nouveau site d'accompagnement en ligne Information importante : saisie de vos métadonnées dans Carmen Bonne Année !! Autres Actualités >>> Les administrateurs CARMEN bénéficient d'un accompagnement à la mise en place et à l'utilisation de l'application.
Pericopsis - carte des arbres collaborative
Agreste - La statistique, l'évaluation et la prospective agricole - Ministère de l'alimentation, de l'agriculture et de la pêche
Maps for Change
Worldmapper is a collection of world maps, where territories are re-sized on each map according to the subject of interest. There are now nearly 700 maps. Maps 1-366 are also available as PDF posters. Use the menu above to find a map of interest. In 2009 we added a series of maps of the world's population using a gridded cartogram approach: Worldmapper Population Atlas If you are interested in more background on map projections, read the short introductions about Worldmapper and map projections and gridded cartograms as a map projection. Find out more about the world's population in a new interactive map feature and our gridded country cartogram series: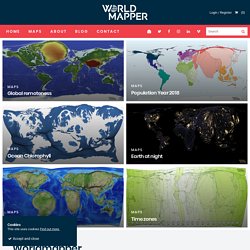 dimanche 13 avril 2014 Bienvenue sur le service de consultation du plan cadastral. Le plan cadastral français disponible en ligne est composé de 597657 feuilles de plan aux formats image ou vecteur.