OCCUPY/INDIGNADOS
En Allemagne, des milliers de manifestants contre "le pouvoir des banques" DELANTE, pensarnoesilegal: More than a thousand words. DELANTE, Números. Victory at Occupy LA: Protesters Ignore Eviction Deadline, Are Allowed to Stay (For Now) Me gustan los Estudiantes, Daniel Viglietti. #OccupyXmas begins, "Buy Nothing Day")   Occupy Movement. Occupyantarctica.jpg (1600×1200) DELANTE, Apoyo Visto en. DELANTE,  Who Is Occupy Wall Street? Occupy Wall Street | NYC Protest for World Revolution. Occupy Everywhere: An Event on November 10. Occupy L.A.: State voters agree with protest issues, poll says.
A majority of California voters say they agree with the underlying reasons for the Occupy protests, but a smaller number say they identify with the protesters, according to Field Poll results released Tuesday.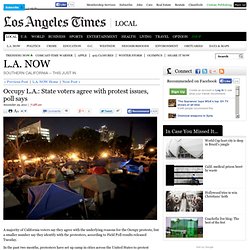 In the past two months, protesters have set up camp in cities across the United States to protest income inequality and corporate influence in government. The latest Field Poll results show that 58% of California voters surveyed agreed with the reasons for the protests but only 46% said they personally identify a lot or somewhat with the movement. Calmatensa: El 15M recibe los resultados... Escaños en Blanco Sevilla. ¡Mándales a la mierda! Estreno de #Indignados, el documental sobre el movimiento #15M. Somos Anonymous · ELPAÍS.com. Este es su lema: "Somos una legión, no perdonamos, no olvidamos, espéranos.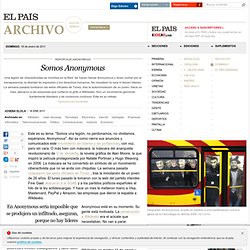 Anonymous". Así es como cierra sus anuncios y comunicados este movimiento sin líderes y sin portavoces, con voz, pero sin cara. Los indignados del 15M ocupan un edificio público | León. 'Laboratorio social'.
Así han llamado varios indignados del 15M al edificio del Laboratorio Agropecuario, propiedad de la Junta de Castilla y León, que han ocupado a última hora de la noche de este domingo, después de asistir a la manifestación convocada por este movimiento y que ha reunido a unas 400 personas. El objetivo de esta ocupación es protestar por el dispendio público, puesto que la Junta lo ha dejado sin uso desde hace tres años, según explican desde este movimiento social que propugna un cambio radical en la política española para conseguir que se acaben algunos de los problemas endémicos de la sociedad del país.
El edificio será utilizado a partir de ahora para organizar las reuniones y asambleas que hasta el momento se habían celebrado en las plazas públicas, en especial en Botines, donde se ha erigido como núcleo clave del movimiento desde que estallara el 15 de mayo, y donde se estableció la acampada que se prolongó más allá de las elecciones municipales. Georgia Militiamen Arrested in Major Domestic Terror Plot. Experiencia islandesa demuestra que es mejor dejar quebrar los bancos.
Tres años después del colapso de los bancos islandeses, la economía de la isla se recupera y se erige como una prueba de que los gobiernos, en lugar de rescatar a estas entidades, deberían dejarlas quebrar y proteger a los contribuyentes, según apuntan analistas.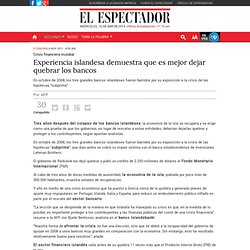 En octubre de 2008, los tres grandes bancos islandeses fueron barridos por su exposición a la crisis de las hipotecas "subprime", que días antes se cobró su mayor víctima con el banco estadounidense de inversiones Lehman Brothers. El gobierno de Reikiavik los dejó quebrar y pidió un crédito de 2.250 millones de dólares al Fondo Monetario Internacional (FMI). Al cabo de tres años de duras medidas de austeridad, la economía de la isla, poblada por poco más de 300.000 habitantes, muestra señales de recuperación. Watch: Occupy Wall Street, Broadcasting Live. Tim Pool doesn't have a fancy camera, high-tech equipment or a news organization to back him.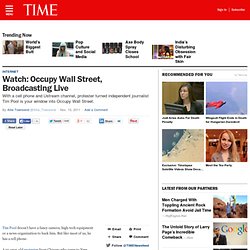 But like most of us, he has a cell phone. A 25-year-old protester from Chicago who came to New York's Zuccotti Park in mid-September to join the Occupy Wall Street movement, Pool was one of the thousands evicted from their makeshift home early Tuesday as police raided the site in full riot gear. As members of the media poured downtown, many were denied access to the park, meaning much of the live coverage and updates would have to come from the protesters themselves. Around 1:30 am, Pool switched on the camera of his Samsung Galaxy S II, and began streaming live from Ustream, broadcasting the raid and mass arrests live online to more than 100,000 viewers.
"We've seen one of the scariest, heart-racing nights," he told viewers. Occupy Everywhere 2011.
---