Pure Design
BODIE and FOU - Award-winning inspiring concept store. Emmanuelle Morice | Category Archive | Boutiques - Décoration - Architecture - Design. French By Design. DESIGNEAST.EU | Acclaimed design blog from the former Eastern bloc. Yatzer. iGNANT. Furniture. Taula is a perforated multifunctional table, created by Spanish studio Adretcient.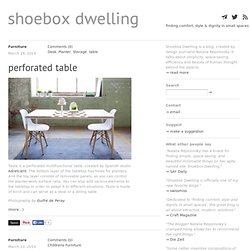 The bottom layer of the tabletop has holes for planters. And the top layer consists of removable panels, so you can control the planter-work surface ratio. You can also add various elements to the tabletop in order to adapt it to different situations. Colossal | An art and design blog. My Modern Metropolis. David restorick interiors.
Dailytonic - Your daily Inspiration in Architecture and Design. Lostudio. Design, or not ! Le design dans tous ses états... Blog Esprit-Design. Design Keys. w3sh. Sleek design. MoCo Loco. NOWNESS. Daily Icon. Admirable Design. Design made in Germany. Core77.
Designklub. Wallpaper.com. Welcome. 3rings. La revue du design. INTRAMUROS. DESIGNSPOTTER.COM.
---