Recipes and things
Phytofoods
Hemp milk recipes | Looking for something sweet? Savory? Decadent? | Living Harvest
‪Raw Food Recipe - Zucchini Pasta with Marinara Sauce - A Raw Diet & Raw Recipe‬‏
‪Katie's 5 min. Raw Hummus Recipe‬‏
Raw Food Recipe - Raw Cucumber Sandwich
A great and delicious raw food recipe. This cucumber sandwich is quick and easy to prepare. Ready in 5 minutes. Perfect for traveling or in your lunch box. Many variations possible. Enjoy!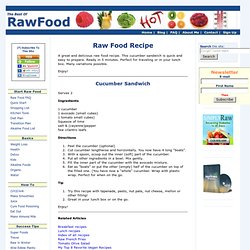 Recipes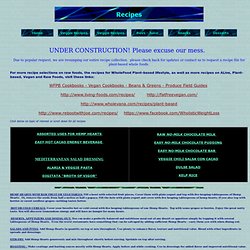 HEMP HEARTS WITH RAW FRUIT OR VEGETABLES:Fill a bowl with selected fruit pieces; Cover them with plain yogurt and top with five heaping tablespoons of Hemp Hearts. Or, remove the seeds from half a melon or half a papaya; Fill the hole with plain yogurt and cover with five heaping tablespoons of hemp hearts; If you also top with berries or sweet seedless grapes--nothing tastes better. HOT OR COLD CEREALS: Cover your favorite hot or cold cereal with five heaping tablespoons of raw Hemp Hearts. Top with some grapes or berries. Enjoy the great nutty taste.
Czech Vegan (in America)
When it comes to dog collars and leashes I learned over the years that many companies offer either a great quality but boring design and colors, or a beautiful design but poor quality. My observations come from years of experience as a holistic pet nutritionist, store manager, and from volunteering at various animal shelters and from having my own animal companions. I would like to introduce you to a company that offers both, high quality and a beautiful design. Lupine company has been making colorful collars, leashes and harnesses for over 23 years.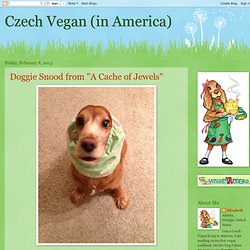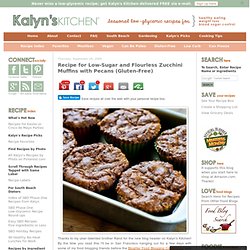 Recipe for Low-Sugar and Flourless Zucchini Muffins with Pecans (Gluten-Free)
Thanks to my uber-talented brother Rand for the new blog header on Kalyn's Kitchen! By the time you read this I'll be in San Francisco hanging out for a few days with some of my food blogging friends before the BlogHer Food Blogging Conference gets started. (I'm actually staying in California nearly a week, and although I'm working on some recipes to auto-post while I'm gone, there might be a bit less action than usual around here for a few days.) I made these muffins a few weeks ago, and now the garden is winding down, but by the time I get home I'm guessing I'll have at least a few monster zucchini begging to be made into something tasty like this. I had quite a zucchini muffin baking spree around here, but this version of zucchini muffins is gluten-free, inspired by the Zucchini Bread recipe in Elana's Gluten-Free Almond Flour Cookbook.
Ginas Skinny Recipes: Vegan Recipes
This dairy-free, low-fat lemon pudding is a thing of dreams! It's bold in flavor and richness but not in calories and is made with just 6 simple ingredients, including one you would never imagine... Cauliflower! Crazy? I know! Please welcome today's guest poster and holistic nutritionist, Leanne Vogul of Healthful Pursuit.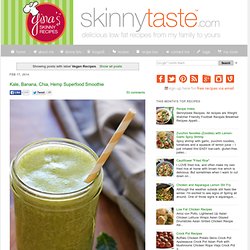 Recipes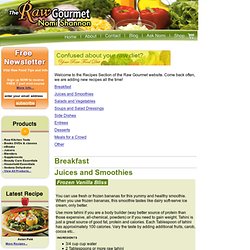 Welcome to the Recipes Section of the Raw Gourmet website. Come back often, we are adding new recipes all the time! Breakfast Juices and Smoothies Salads and Vegetables Soups and Salad Dressings
A Recipe from The Raw Gourmet Pad Thai Noodles This recipe is from Raw Food Celebrations by myself (Nomi Shannon) and my friend Sheryl Duruz. It's a great book full of party themes and recipes.
Raw Pad Thai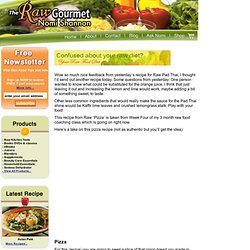 Raw 'Pizza' Recipe
Wow so much nice feedback from yesterday's recipe for Raw Pad Thai, I thought I'd send out another recipe today. Some questions from yesterday: One person wanted to know what could be substituted for the orange juice, I think that just leaving it out and increasing the lemon and lime would work, maybe adding a bit of something sweet, to taste. Other less common ingredients that would really make the sauce for the Pad Thai shine would be Kaffir lime leaves and crushed lemongrass stalk. Play with your food! This recipe from Raw 'Pizza' is taken from Week Four of my 3 month raw food coaching class which is going on right now. Here's a take on this pizza recipe (not as authentic but you'll get the idea)
Recipes | The Raw Gourmet
One of the most delightful contributors to my book What Do Raw Fooders Eat, is a lady by the name of Dena Garrison. She was in her late 70′s when she contributed these tasty and practical recipes. Banana Candy Slice bananas into one inch thick slices.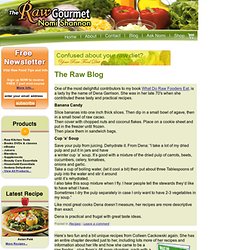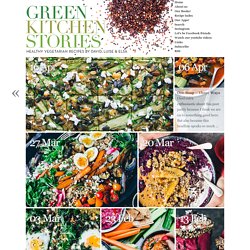 Mung Bean Stew on a Budget Mung Bean Stew on a Budget Buying and eating healthy vegetarian whole foods is often a painfully expensive pleasure. Organic products, fresh fruits and vegetables, plant milks, special flours, nuts and seeds … Raw Cashewgurt Bowl + News!
Healthy vegetarian recipes
The Raw Gourmet Recipe Corner Another ridiculously simple and easy recipe from Nomi Shannon, The Raw Gourmet in an effort to
Red Cabbage Caraway Slaw
The Modern VEGETARIAN - Recipes
Embrace simplicity ... enjoy here and now in order to discover the beauty of the present moment and simple thing. A simple bowl of Curry Mock Abalone with Rice Vermicelli yet it can be quickly and easily transform to be served as a presentable party food. By adding some garnish or simple special ingredient like mock floss or crispy cereal with curry leaves or what you can think of, it will be a unique dish.
Low-Fat! No Fat! Recipes from Happy Herbivore
Show Me Vegan
A couple of topics before we get to the recipe! If you live in Missouri, have you had the opportunity to sign the petition to get the Puppy Mill Cruelty Prevention Act on the ballot? Unfortunately, Missouri is known for puppy mills and meth labs, and the Missouri House just endorsed a bill to allow horse slaughter for human consumption.
* Plus ICANN fee of C$0.20/yr. *** Domains with bulk pricing do not qualify for additional promotional discounts. † Free InstantPage®/Hosting with Website Builder are not included with .XXX domain registrations. All comparison prices are accurate as of 8/21/2013 and are subject to change without notice.
Vegan Macaroon Recipe | Selfish Vegan
| Post Punk Kitchen | Vegan Baking & Vegan Cooking
These recipes have made it to the top of our list. All we can say is yummm! View all Raw Food Recipes Salsa Finta & Almond Polpetta
We Like It Raw - Raw Food Goodness: Raw Food Recipes
The Vegan Stoner
Avocado Mango Broccoli Salad
The FATFREE Recipe Collection
No Meat Zone Recipes: Vegan Warm Chickpea and Artichoke Salad
Recipes
Simple Changes - Sprouted Sunflower Seed Cheese
A creamy (and way better!) alternative to yougurt
Foodie Friday - Mexican Food Fiesta - Raw Food Rehab
All Raw Directory: raw food and raw foods diet recipes
Adventures in Raw Food:  Practical raw foods info, raw food recipes and raw diet tips, for real people living in the real world. How to Make Raw Popcorn
Rawfully Tempting™
Vegan Lunch Box
www.veganhealth.org/articles/MealPlans/1800_day_1-by_meal.pdf
VeganYumYum
Recipes « Vegan Mischief » recipes, reviews, & more from a pair of queer vegans in Vancouver, Canada
Raw Butternut Squash & Apple Soup « Happy Foody
ADDICTED to VEGGIES
ADDICTED to VEGGIES: Easy Raw Vegan Bread (nut free!)
vegan recipes and vegetarian recipes - living and raw - uncooked!
The Sisters Vegan
Homemade Lara-Type Bars (energy bars part 3)
i eat food
eat, drink & be vegan
7 Easy Vegan Recipes to Get You Through Your First Week of Veganism - Planet Green
have cake, will travel |
Vegetarian Times - Great Food, Good Health, Smart Living
Watermelonade Recipe at Epicurious.com
Life in an Organic Vegan Food Co-op
- Home
The Inspiring Vegan
Gonna Go Walk the Dogs
Café VegNews
Easy Vegan Recipes
Fatfree Vegan Recipes
Vegetarian and Vegan Recipes Galore
vegan | Veggie Belly | Vegetarian Recipes
RECIPE: Vegan Salt and Pepper Tofu
Search Results | delicious. Magazine
Top 10 vegetarian mains | delicious. Magazine food articles & advice