Astronomy videos
NASA: Amazing Experiments with Water in Zero Gravity. The Sagan Series. A Toy Train in Space. G2012-041_SDOYEAR2-540-MASTER_high. Osiris_citizenscience_540_MASTER_high. Dont_Judge_A_Moon_540_MASTER_high. G2011-035_Neutron_Stars-540-MASTER_high. G2011-076_SDO_June_7_Blast_high. Black Hole Caught Red-Handed in a Stellar Homicide.
Black Hole Caught Red-Handed in a Stellar Homicide PASADENA, Calif. – Astronomers have gathered the most direct evidence yet of a supermassive black hole shredding a star that wandered too close.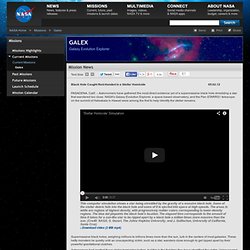 NASA's Galaxy Evolution Explorer, a space-based observatory, and the Pan-STARRS1 telescope on the summit of Haleakala in Hawaii were among the first to help identify the stellar remains. The Aurora. Zooming Into The Center Of The Milky Way [720p] CASSINI MISSION. Earth | Time Lapse View from Space, Fly Over | NASA, ISS. The Mountain. Outer Space.
First Orbit - Trailer II. Video - Saturne et ses satellites : les découvertes de la sonde Cassini. La sonde Cassini 1 a permis d'observer la planète Saturne et ses satellites.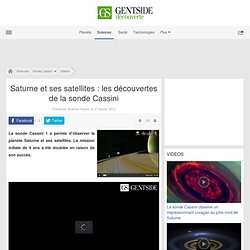 La mission initiale de 4 ans a été doublée en raison de son succès. Avez-vous déjà partagé cet article? Partager sur Facebook.
---