Inspiring Art
Personal work - vacher.com. 绘颜 - 堆糖专辑. Agnieszka Szuba | Illustrations. A landscape of food. BeinArt Collective & Publishing. Jacek Yerka - Paintings - beinArt Surreal Art Collective. Jacek Yerka's Surrealist World. Jacek Yerka was born in Toruń, Poland, in 1952, where he later studied fine arts and graphic design.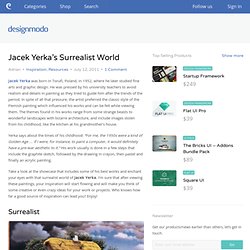 He was pressed by his university teachers to avoid realism and details in painting as they tried to guide him after the trends of the period. In spite of all that pressure, the artist preferred the classic style of the Flemish painting which influenced his works and can be felt while viewing them. The themes found in his works range from some strange beasts to wonderful landscapes with bizarre architecture, and include images stolen from his childhood, like the kitchen at his grandmother's house. Yerka says about the times of his childhood: "For me, the 1950s were a kind of Golden Age … If I were, for instance, to paint a computer, it would definitely have a pre-war aesthetic to it."
His work usually is done in a few steps that include the graphite sketch, followed by the drawing in crayon, then pastel and finally an acrylic painting. Pumpkin Way. Sidewalk chalk guy. Amazingly Creative Drawing Vs Photography. Drowning Beautiful | Paper Art - 100 Extraordinary Examples of Paper Art. Paper art can be traced back to Japan, where it originated over a thousand years ago.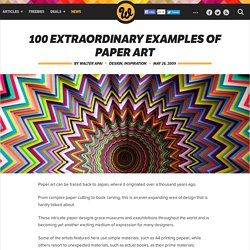 From complex paper cutting to book carving, this is an ever expanding area of design that is hardly talked about. These intricate paper designs grace museums and exauhibitions throughout the world and is becoming yet another exciting medium of expression for many designers. Some of the artists featured here use simple materials, such as A4 printing papeel, while others resort to unexpected materials, such as actual books, as their prime materials. In this article, we'll take a look at 13 remarkable artists and showcase their truly amazing pieces of paper art. Going West. Peter Callesen.
One man, 100,000 toothpicks, and 35 years: An incredible kinetic sculpture of San Francisco. Thirty five years ago I had yet to be born, but artist Scott Weaver had already begun work on this insanely complex kinetic sculpture, Rolling through the Bay, that he continues to modify and expand even today.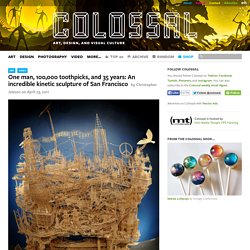 The elaborate sculpture is comprised of multiple "tours" that move pingpong balls through neighborhoods, historical locations, and iconic symbols of San Francisco, all recreated with a little glue, some toothpicks, and an incredible amount of ingenuity. He admits in the video that there are several toothpick sculptures even larger than his, but none has the unique kinetic components he's constructed. Leaf Cut Art by Lorenzo Durán. Robots Hechos en Casa.
---