Art
Recovery. New Aesthetics. Illusions. Animated. Wearable. Sculpture. Kinetic. Acoustic. Photography. Inspired by Nature. 20 Awe-Inspiring TED Talks for Artists & Designers. September 19th, 2010 By Alvina Lopez Finding things that inspire you to excel in your career or college education as an artist or designer is essential to your long-term success.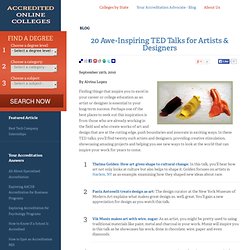 Perhaps one of the best places to seek out this inspiration is from those who are already working in the field and who create works of art and design that are at the cutting edge, push boundaries and innovate in exciting ways. In these TED talks, you'll find twenty such artists and designers, providing creative stimulation, showcasing amazing projects and helping you see new ways to look at the world that can inspire your work for years to come. Thelma Golden: How art gives shape to cultural change: In this talk, you'll hear how art not only looks at culture but also helps to shape it. Between The Folds - a film by Vanessa Gould. Invisible Chinese Artist. Denis Dutton: A Darwinian theory of beauty. Why Beauty Matters. Philosopher Roger Scruton presents a provocative essay on the importance of beauty in the arts and in our lives.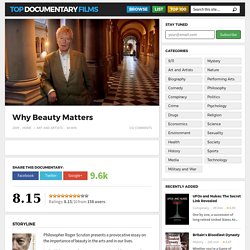 In the 20th century, Scruton argues, art, architecture and music turned their backs on beauty, making a cult of ugliness and leading us into a spiritual desert. Using the thoughts of philosophers from Plato to Kant, and by talking to artists Michael Craig-Martin and Alexander Stoddart, Scruton analyses where art went wrong and presents his own impassioned case for restoring beauty to its traditional position at the center of our civilization.
Watch the full documentary now - JR's TED Prize wish: Use art to turn the world inside out. Ursus Wehrli: Tidying up art. Apollonian and Dionysian: A Visual Aid. The two cultural patterns or cognitive narratives play out in many different ways.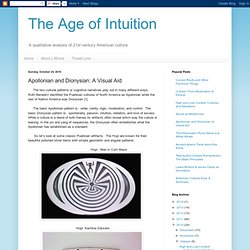 Ruth Benedict identified the Puebloan cultures of North America as Apollonian while the rest of Native America was Dionysian [1]. The basic Apollonian pattern is: order, clarity, logic, moderation, and control. Globalization: preventing the sameness of the world / An EarSay Project. Art's great nudes have gone skinny | Art and design. Gustav Klimt's Lost Paintings « Sexuality & Love in the Arts. Artworks by Gustav Klimt: (Click on the images if you wish to view them individually or larger.)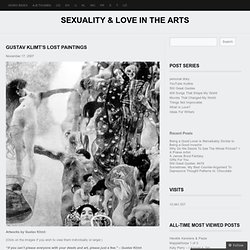 "If you can't please everyone with your deeds and art, please just a few." – Gustav Klimt A couple years ago I was rifling through the art section of a book store, and I came across information about several Gustav Klimt paintings that had been lost or destroyed over time. Most had been intentionally destroyed by German agents at the end of World War II. Smashing Picture. 20 awesome and creative portrait ideas » Blog of Francesco Mugnai. 20 awesome and creative portrait ideas on November 11, 2011 Huge self portrait mosaic made of thousands of plastic bottle caps.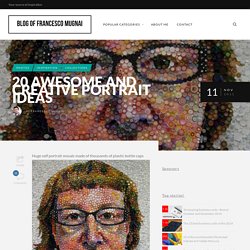 Remarkable Portraits Made with a Single Sewing Thread Wrapped through Nails by Kumi Yamashita. Constellation is an ongoing series of portraits by New York artist Kumi Yamashita known most prominently for her innovative light and shadow sculptures.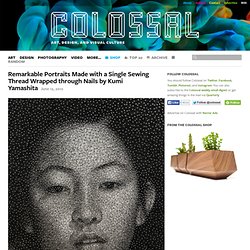 Each image is constructed from a single unbroken black thread wound through a dense array of galvanized nails mounted on a painted white board, meaning that the darker areas within the portrait are formed solely from the density of the string. Colossal is no stranger to artworks created with thread and nails, but these are certainly some of the most impressive and intricate works I've ever seen made using this method.
Screw portraits. Judith Braun -Artist -Judith Braun Weinperson art- judithannbraun-art. Oil paintings on pennies [8 pictures] Rift. Reform & Revolution / R² Google Art Project. Synaptic Stimuli. Dribbble - Popular. Super Punch. SpaceCollective. COMPLEXITY GRAPHICS. Arabian Antiquities of Spain. My daughter thinks I should write about a girl who finds a million dollars and spends it all on a Shetland pony.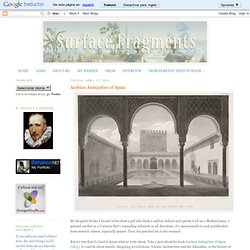 I pointed out that in a Universe that's expanding infinitely in all directions, it's unreasonable to seek gratification from material objects, especially ponies. Then she punched me in the stomach. But it's true that it's hard to know what to write about. Artists that inspire. Akten - Selected artworks, projects and research - Work. Mon, 04/09/2012. Banksy On Advertising. 12 Inspiring Urban Image Galleries | 500+ Pictures. 12 Inspiring Urban Image Galleries | 500+ Pictures Jump in and take incredible visual tour of the best of WebUrbanist, from alternative forms of graffiti to amazing green designs and awe-inspiring abandoned places from around the world.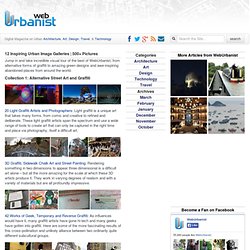 Collection 1: Alternative Street Art and Graffiti 20 Light Graffiti Artists and Photographers: Light graffiti is a unique art that takes many forms, from comic and creative to refined and deliberate. These light graffiti artists span the spectrum and use a wide range of tools to create art that can only be captured in the right time and place via photography, itself a difficult art. XAVI DESIGNS. Featured Artist :: Xavi Panneton. We are sure the wondrous creative nexus you find yourself in is the product of a long, beautiful and challenging journey.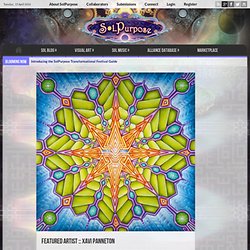 When did you first start creating art? Where do the roots of such an incredible blossoming of creative energy lie? X: I started drawing and 'making art' as a toddler , as soon as I could pick up a pencil. My mom was an artist, and there was always lots of art supplies around the house and studio space for me to play in. by 8 yrs old, I was obsessed with drawing and fully identified myself as being an artist. - new work blog. Andres Amador Arts. Visionary Art of the New Millennium | SOLAR SENTINEL. Visionary Art of the New Millennium These are incredibly beautiful artists who are apart of a Visionary art movement that is abundantly basking the counter culture/ underground global community with their presence and planting their seeds in modern society across the globe.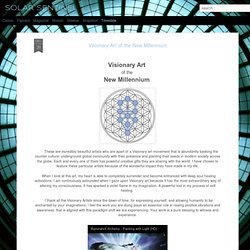 Totemical. Mark Henson Artwork | Artwork by Visionary Artist Mark Henson. Alex Grey. Art by George Atherton | Art by George Atherton. Damanhur - Temples of Humankind. LED cube 8x8x8 demo. "Umshini Wam" Die Antwoord Harmony Korine (Official, HD) Yarn Bombing a Bus in Mexico City. Mar 17, 2012 In this crocheted masterpiece, artist Maga Sayeg yarn bombs an entire bus in Mexico City.
Considered to be the mother of yarn bombing, Magda did her first solo exhibit in Rome at La Museo des Esposizione in the summer of 2010. She continues to lead community-based projects and works on commissions around the world with companies such as Absolut Vodka, Madewell, Insight 51, Mini Cooper, and Smart Car as well as participating in shows at Milan's Triennale Design Museum, Le M.U.R. in Paris, and the National Gallery of Australia, among others.
Her installations have also been featured prominently at American monuments to contemporary culture, such as The Standard Hotel, South By Southwest, and the Austin City Limits Festival. Adventures in Mathematical Knitting. Rendering mathematical surfaces and objects in tactile form requires both time and creativity sarah-marie belcastro I have known how to knit since elementary school, but I can't quite remember when I first started knitting mathematical objects. At the latest, it was during my first year of graduate school. Crocheting the Lorenz manifold. Dr Hinke Osinga and Professor Bernd Krauskopf have turned the famous Lorenz equations that describe the nature of chaotic systems into a beautiful real-life object, by crocheting computer-generated instructions. Together all the stitches define a complicated surface, called the Lorenz manifold.
The final result consists of 25,511 crochet stitches and took Osinga about 85 hours to complete. However, this wasn't just done for fun.
---