ARM based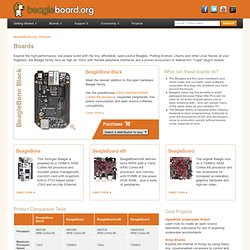 Explore the high-performance, low-power world with the tiny, affordable, open-source Beagles. Putting Android, Ubuntu and other Linux flavors at your fingertips, the Beagle family revs as high as 1GHz with flexible peripheral interfaces and a proven ecosystem of feature-rich "Cape" plug-in boards. BeagleBone Black
org - Products - Iceweasel
BairesRobotics
Posted by en September 19th , 2012 , agente y distribuidor de , anuncia el . El AS1130 se puede programar vía I2C , ofrece la posibilidad de controlar con un solo driver una matriz de 12 ×11 LEDs , multiplexado a 12.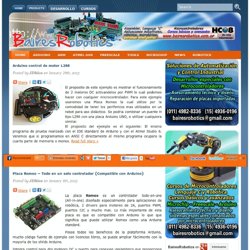 Chinese Version 中文版 Welcome to ARM Next Generation Online Connected Community! It's the place that makes it easier for developers to find information for ARM-based designs, applications and projects.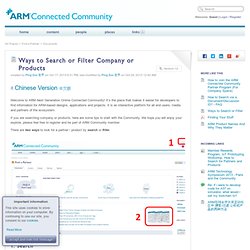 NXP LPC1343 Starter Kit by Embest Info&Tech Inc. 深圳市英蓓特信息技术有限公司 - ARM Connected Community
Products-SAMICC-AT91SAM MCUs & eMPUs Platform Solution and Service
NXP LPC1343 MCU Datasheet | Embedded ARM Evaluation Boards and Tools
EmbeddedDeveloper.com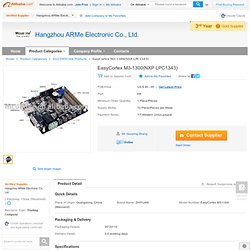 EasyCortx M3-1700 On board Emluator On chip HID and USB mass storage driver 32KB on chip FLASH,support ISP 8KB SRAM Description: EasyCortex M3-1300 development kit is based on NXP LPC1300 CPU,Cortex-M3 core. EasyCortex M3-1300 is a high performance,low cost full function development kit,shipped with full example code and documents.this development kit is suitable for education,graduation design and electronic competition.
EasyCortex M3-1300(NXP LPC1343) - Detailed info for EasyCortex M3-1300(NXP LPC1343),cortex-M3,EasyCortex M3-1300(NXP LPC1343),EasyCortex M3-1300 on Alibaba.com
Community: NXP Semiconductors
Are you new to NXP LPC microcontrollers? Wondering what the industry is saying about LPC microcontrollers? Check out LPCnow.com. LPCnow is a curated site that brings together the latest development tips, design articles, application notes, and implementation ideas for LPC microcontrollers from NXP and third parties. We do the searching, so you don't have to. Visit LPCnow.com
Semiconductors - Microcontrollers [Products - ARM Cortex-M3 Core Microcontrollers (MCUs) and Microcontroller (MCU) Functions]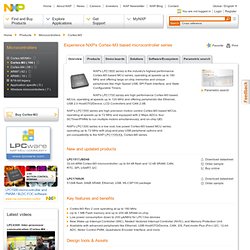 Semiconductors - Microcontrollers [Support - LPC1000 EDA Files (IBIS, OrCAD, EAGLE)]
Semiconductors - Microcontrollers [Support - LPCXpresso]
Semiconductors - Microcontrollers [Support - Documents for LPC1343]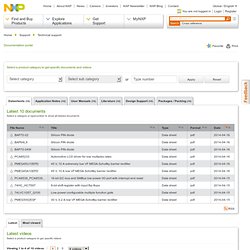 Semiconductors - ICs [Literature]
Global / English
Semiconductors - ICs [Support - Tools]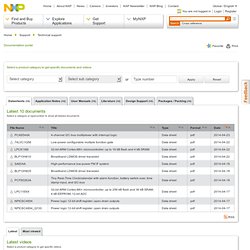 Global / English Region / Country
Semiconductors - ICs [Support - EDA Files (SPICE Circuit Simulation Models)]
Semiconductors - Logic [Support]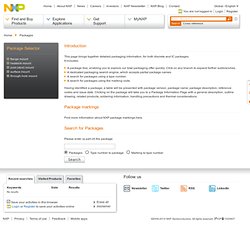 This page brings together detailed packaging information, for both discrete and IC packages.It includes: A package tree, enabling you to explore our total packaging offer quickly.
Semiconductors - ICs [Packaging - IC Packages Data Handbook]
Semiconductors - ICs [Literature]
WikiHome - ** Code Red Support Site **
Home Page | LPCXpresso, powered by Code Red Technologies
Embest NXP LPC1343 Starter Kit | ARM Cortex-M3 kit| LPC1343 Starter Kit| NXP LPC1343| Eval kit for NXP Cortex-M3 - Embedded ARM Evaluation Boards and Tools
Tutorial: Using the TFT LCD API >
Free and open ARM Cortex M3 and Cortex M0 embedded development tools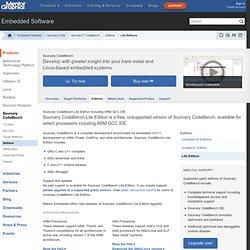 Sourcery CodeBench Develop with greater insight into your bare-metal and Linux-based embedded systems Try now Buy now
Sourcery CodeBench Lite Edition
News - EmbDev.net
Forum: ARM programming with GCC/GNU tools - EmbDev.net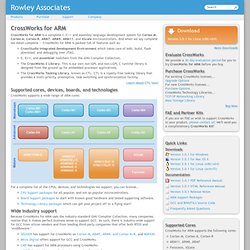 CrossWorks for ARM - C/C++ Compiler for ARM and Cortex Microcontrollers
CrossWorks for ARM is a complete C/C++ and assembly code development system for ARM7, ARM9, XScale, and Cortex microcontrollers. And when we say complete we mean complete — CrossWorks for ARM is packed full of features such as: CrossStudio Integrated Development Environment-taking care of edit, build, download and debug over JTAG. C, C++and Assembler toolchain from the GNU Compiler Collection. The CrossWorks C Library. This is our own non-GPL and non-LGPL C runtime library that has been designed from the ground up for embedded processor applications.
YAGARTO - Yet another GNU ARM toolchain
Individual chapters--or a zip file containing all chapters--of the original Basic Linear Design seminar notes can be downloaded by selecting the appropriate links below. Cover (pdf, 2690 KB) Introduction (pdf, 115 KB) Chapter 1: The Op Amp (pdf, 3738 KB) Chapter 2: Other Linear Circuits (pdf, 2888 KB)
Basic Linear Design: Analog Dialogue: Analog Devices
OSHW Design Checlist
PCB Design Checklist An ever expanding list of tips, tricks and things to keep in mind when designing PCBs This page is a repository, of sorts, of various tips and tricks I've picked up myself through books, app notes, or just experience doing everything the wrong way. It's neither authoritative nor can I promise that everything here is the best solution (assuming there even is a 'best' solution), but it comes out of my own dissatisfaction with many of the tutorials and resources on the web that don't always do a great job of explaining certain important subjects as clearly as they could or in one place.
Setting up a GCC Development Environment for the Cortex M0/M3 Tutorial on installing all everything needed to create a basic GCC build environment in Windows One of the biggest challenges for many people who wish to develop embedded software with GCC for ARM is simply installing and properly configuring the toolchain, particularly in a non-Linux environment. This tutorial will guide you through the process of setting up an entire open source GCC-based development environment, including the main cross-compiler and toolchain (Yagarto 4.5.0), a graphical development environment (CodeLite), as well as Subversion to be able to download the latest version of the LPC1343 Code Base. Software While there are many toolchains and open-source development tools available for ARM, the LPC1343 Code Base has been developped with the tools and software packages listed below.
Tutorial: Setting up a GCC Development Environment for ARM Cortex (Windows) >
Building an ARM GCC Toolchain from Source >
Measuring Battery Voltage with an ADC >
Open Hardware and Micro-Manufacturing Made Easy(er)
ISEE, Online Store
IMX53QSB Product Summary Page
Calculateurs Embarqués - Boutique en ligne CALAO Systems
Igloo community
www.OrigenBoard.org