Arduino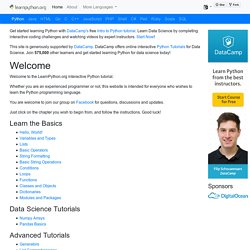 Welcome to the LearnPython.org interactive Python tutorial. Whether you are an experienced programmer or not, this website is intended for everyone who wishes to learn the Python programming language. You are welcome to join our group on Facebook for questions, discussions and updates.
Arduino is awesome. The boards are solid, the programming language and IDE are easy, and the community is awesome. But for a lot of electronics projects, an Arduino is overkill.
Tiny AVR Programmer Hookup Guide - Learn.SFE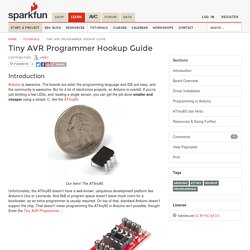 Thermocouple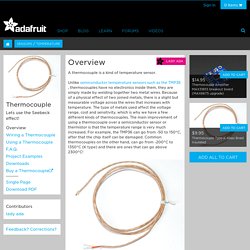 A thermocouple is a kind of temperature sensor. Unlike semiconductor temperature sensors such as the TMP36 , thermocouples have no electronics inside them, they are simply made by welding together two metal wires. Because of a physical effect of two joined metals, there is a slight but measurable voltage across the wires that increases with temperature. The type of metals used affect the voltage range, cost and sensitivity, which is why we have a few different kinds of thermocouples. The main improvement of using a thermocouple over a semiconductor sensor or thermistor is that the temperature range is very much increased.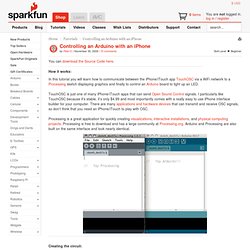 Skill Level: Beginner by Pete-O | November 30, 2009 | 72 comments You can download the Source Code here. How it works: In this tutorial you will learn how to communicate between the iPhone/iTouch app TouchOSC via a WiFi network to a Processing sketch displaying graphics and finally to control an Arduino board to light up an LED. TouchOSC is just one of many iPhone/iTouch apps that can send Open Sound Control signals.
Controlling an Arduino with an iPhone
About This is a multiplatform software oscilloscope and logical analyzer. It supports arduino(with custom firmware) and a Parallax USB oscilloscope. More platforms to come.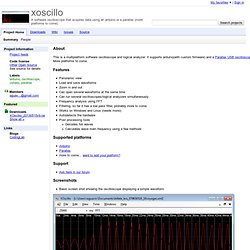 There are a few instances in which it is neccesary to program microcontrollers without a bootloader. For example, if have run out of storage on a chip you can get an additional 2KB when you program without a bootloader. Another example, the one I will show you how to do, is to program chips that have no serial capabilities and therefore cannot use a bootloader.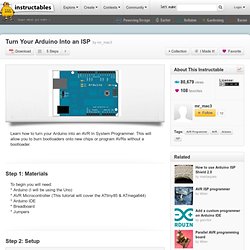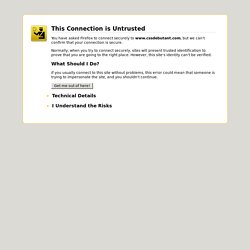 ... an evolving index of practical subjects for the Arduino and Freeduino microcontrollers, as found in the Arduino site, Playground wiki, forum and that big WWW thing. Everything you read here will work on Arduino, the many versions of Freeduino, the Barebones and RBBB, the Boarduino, the iDuino and MAXserial, the eauDuino, the Jeenode, the many Arduino-compatible boards listed below, and of course the new-kids-on-the-block, the Sanguino, the Freeduino EPIC and the Arduino MEGA. Because of the different hardware layouts of these boards, slight modifications will occasionally be required between physical platforms.
Breadboard Sanguino
Okay, so you want a Sanguino but Zach's Sanguino is too expensive ;-> Or too red ;-> Or you just have to have it NOW ;-> And you just used up the last of your solder so a strip board is out. What are you to do … bread board Sanguino. Of course, nothing in life is free.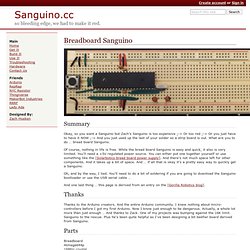 Build an Arduino Yún powered cat camera Zoe Romano – January 16th, 2014 Hotte submitted to our blog a tutorial to monitor his 2 little cats in their favorite spots when he's at work: This is a very, very small project that shows just how to build an Arduino Yún powered Camera application: It grabs photos from an USB camera connected to the Yún, saves them periodically on a uSD card and uploads them to a web host where a gallery is automatically created based upon the number of images in the upload folder.
This tutorial demonstrates how to use the Arduino to read in the analog input and update a ThingSpeak Channel by sending an HTTP POST via the Arduino Ethernet Shield or the Arduino Ethernet (all-in-one). The analog input can be the output of a sensor, like a light sensor or temperature sensor. ThingSpeak Client Arduino Sketch This Arduino sketch takes the value of Analog Pin 0 and updates Field 1 of a ThingSpeak Channel using the ThingSpeak API. ThingSpeakClient.pde [download]
Using an Arduino + Ethernet Shield to Update a ThingSpeak Channel « ThingSpeak Community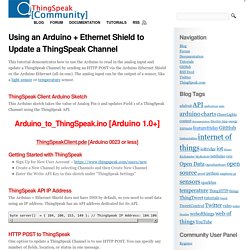 Hi All! I was inspired by the fantastic work of Graynomad (Link) to make a version for Arduino UNO.I hope it is useful ... Arduino YÚN ARDUINO 2009New! New version 2.2 ATMEGA328 PINOUTNew version 2.0
Transform businesses (and lives) Xively helps unlock and expand business potential by removing the barriers inhibiting the complete comprehension and control of your business. Continuous, 360-degree interaction with your business-connected objects delivers real-time insights that drive intelligent action. Companies are transformed into responsive organizations that can predict and fix disruptive issues before they happen, streamline operational processes, anticipate and proactively meet customer needs, and much more. Business Opportunities
The equivalent for Dish Network to the U-450 is the America's Every little thing package deal, which has more than 295-channels, 31-top quality motion picture channels from HBO, Showtime, Starz and Cinemax and a 32-channel Multi-Sports activities package deal, which features NFL Purple Zone, NHL Network, NFL Network and NBA Television. You may possibly think that cable or satellite are your only choices, but which is not correct. Several folks pick cable thanks to their possibility to have a bundle with phone, World wide web, and tv at a discounted selling price. That is a terrific offer, but you have incredibly little regulate in excess of the pricing and only get discounted price ranges when you contact and threaten to go away. http://www.couponpromocodedeal.com/att-uverse-coupon-code-and-deals/ comes from a company with pretty much a century of practical experience and it has all the terrific choices of cable.
Pachube & Arduino