Arduino
Arduino is awesome. The boards are solid, the programming language and IDE are easy, and the community is awesome. But for a lot of electronics projects, an Arduino is overkill.
Tiny AVR Programmer Hookup Guide - Learn.SFE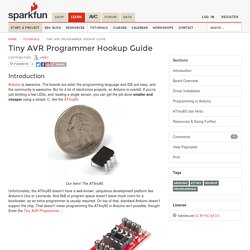 Thermocouple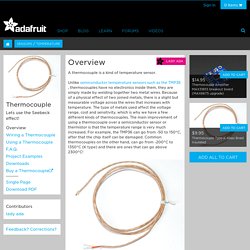 A thermocouple is a kind of temperature sensor.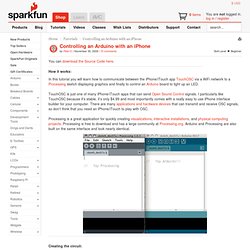 You can download the Source Code here. How it works:
Controlling an Arduino with an iPhone
About This is a multiplatform software oscilloscope and logical analyzer. It supports arduino(with custom firmware) and a Parallax USB oscilloscope. More platforms to come.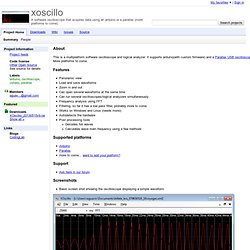 There are a few instances in which it is neccesary to program microcontrollers without a bootloader. For example, if have run out of storage on a chip you can get an additional 2KB when you program without a bootloader. Another example, the one I will show you how to do, is to program chips that have no serial capabilities and therefore cannot use a bootloader.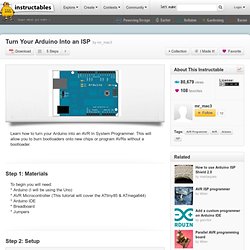 Breadboard Sanguino
Okay, so you want a Sanguino but Zach's Sanguino is too expensive ;-> Or too red ;-> Or you just have to have it NOW ;-> And you just used up the last of your solder so a strip board is out. What are you to do … bread board Sanguino. Of course, nothing in life is free.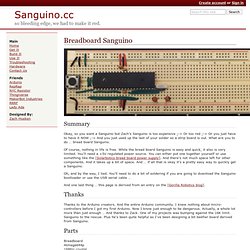 This tutorial demonstrates how to use the Arduino to read in the analog input and update a ThingSpeak Channel by sending an HTTP POST via the Arduino Ethernet Shield or the Arduino Ethernet (all-in-one). The analog input can be the output of a sensor, like a light sensor or temperature sensor. ThingSpeak Client Arduino Sketch This Arduino sketch takes the value of Analog Pin 0 and updates Field 1 of a ThingSpeak Channel using the ThingSpeak API. ThingSpeakClient.pde [download]
Using an Arduino + Ethernet Shield to Update a ThingSpeak Channel « ThingSpeak Community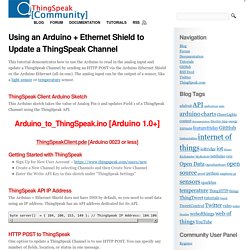 Hi All! I was inspired by the fantastic work of Graynomad (Link) to make a version for Arduino UNO.I hope it is useful ...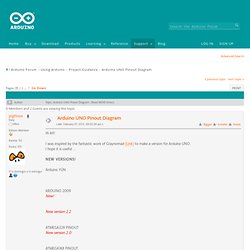 Pachube & Arduino