Approfondissement anglais
Humanoid Robots. Reading. Welcome to EnglishClub.com Reading for ESL learners.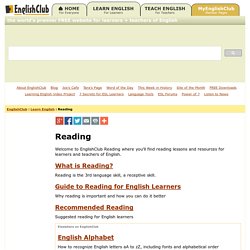 This is where you'll find help to improve your reading skills. Reading is the third of the four language skills, which are:1. Listening 2. Speaking3. Intelligence Artificielle.
Séquence Brick Road
Edward Hopper. "Edward Hopper, the best-known American realist of the inter-war period, once said: 'The man's the work.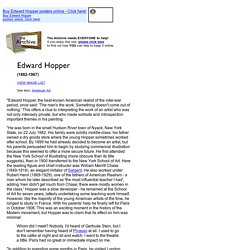 Something doesn't come out of nothing.' This offers a clue to interpreting the work of an artist who was not only intensely private, but who made solitude and introspection important themes in his painting. EDIT: EDWARD HOPPER. L'autoportrait (1925 - 1930) : maîtrise du cadre et du dessin.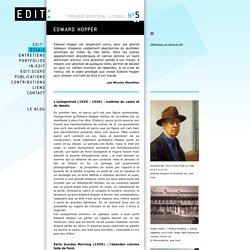 En premier lieu, et parce qu'il est une figure primordiale, l'autoportrait qu'Edward Hopper réalise de lui-même est un manifeste à plus d'un titre. D'abord, parce qu'on associe son travail aux représentations de scènes de la vie quotidienne plus qu'à des portraits et parce que sa figure est rare bien que discrètement présente dans son œuvre. Pdf_E._Hopper.pdf (Objet application/pdf) Edward Hopper Review. Edward Hopper saw an America that no other painter had got right.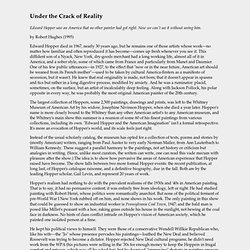 Now we can't see it without seeing him. by Robert Hughes (1995) Edward Hopper died in 1967, nearly 30 years ago, but he remains one of those artists whose work—no matter how familiar and often reproduced it has become—comes up fresh whenever you see it. This diffident son of a Nyack, New York, dry-goods merchant had a long working life, almost all of it in America, and a sober style, some of which came from France and particularly from Manet and Daumier. One of his few public utterances—in 1927, to the effect that "now or in the near future, American art should be weaned from its French mother"—used to be taken by cultural America-firsters as a manifesto of secession, but it wasn't.
Edward Hopper. Edward Hopper déclarait en 1964, en préambule pour une interview sur NBC : "Je sais bien que des peintres contemporains vont manifester le plus grand mépris pour cette citation.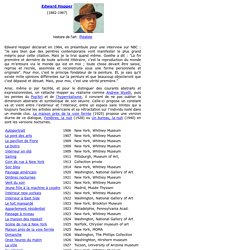 Mais je la lirai quand même. Goethe a dit : "La fin première et dernière de toute activité littéraire, c'est la reproduction du monde qui m'entoure via le monde qui est en moi ; toute chose devant être saisie, reprise et recrée, assimilée et reconstruite sous une forme personnelle et originale". Pour moi, c'est le principe fondateur de la peinture. Edward Hopper, American Realist Artist, Urban Genre-Painter: Biography, Art Style, Famous Paintings: "House by the Railroad", "Nighthawks", "Gas" Recognition and Commercial Success The 1920s finally brought Hopper the breakthrough he sought.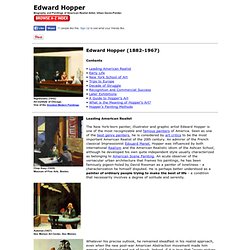 His etchings began to receive a degree of public recognition, and his oil painting (as in New York Interior, 1921; New York Restaurant, 1922) - if not yet appreciated by curators and exhibition juries - was becoming more inspired. He also began painting watercolours outdoors during the summer at Gloucester, a small town on the Massachusetts coast, except that while other painters were fully absorbed painting seascapes and scenic views, Hopper was fascinated by the large Victorian houses built by rich sea captains during the previous century. Hopper l'illusionniste. English translation Après son retour définitif de France en 1910, alors que, de ses propres dires, ni Matisse, ni Picasso ne l'ont beaucoup intéressé, Edward Hopper peint en 1914 cette composition assez unique dans son travail, Soir Bleu (exposition au Palazzo Reale de Milan jusqu'au 3 février 31 janvier*).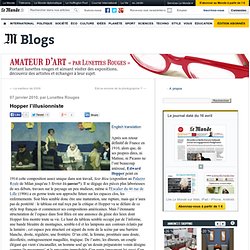 Il se dégage des pièces plus laborieuses de ses débuts, travaux sur le paysage un peu studieux, même si l'Escalier du 46 rue de Lille (1906) a en germe toute son approche future sur les espaces clos, les enfermements. Soir bleu semble donc être une maturation, une rupture, mais qui n'aura pas de postérité : le tableau est mal reçu par la critique et Hopper va se défaire de ce style trop français et commencer ses compositions américaines. Edward Hopper (1882–1967) | Thematic Essay. Edward Hopper was born in Nyack, New York, a town located on the west side of the Hudson River, to a middle-class family that encouraged his artistic abilities.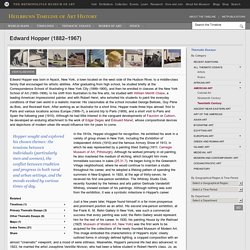 After graduating from high school, he studied briefly at the Correspondence School of Illustrating in New York City (1899–1900), and then he enrolled in classes at the New York School of Art (1900–1906). In his shift from illustration to the fine arts, he studied with William Merritt Chase, a leading American Impressionist painter, and with Robert Henri, who exhorted his students to paint the everyday conditions of their own world in a realistic manner. His classmates at the school included George Bellows, Guy Pène du Bois, and Rockwell Kent. After working as an illustrator for a short time, Hopper made three trips abroad: first to Paris and various locations across Europe (1906–7), a second trip to Paris (1909), and a short visit to Paris and Spain the following year (1910).
---