All Photography
Just mono. f11 :: for photographers and aficionados. PHOTO : Bienvenue sur le site PHOTO.fr. Digital Photography Tips: Digital Photography School. Hypell picked your team's pearltree: Inspirational Photographers - sey.ros2 - Gmail. Best photos on the web. iGoogle. Digital photo printing - Online digital photo printing made easy. If you order consists of any Products over 20"x16" in size (excludes large format prints.)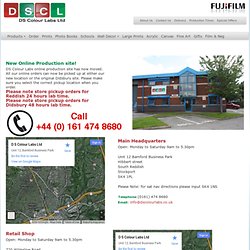 You must Select COURIER If not selected we will contact you for further payment and this can slow your order down. is the most cost effective method of delivery but offers no tracking facility. Also this service can take between 1 - 10 days. If you require a Nextday service please use either Special Delivery or Courier service.
Video resources
Enthusiast Compact Camera Group Test (Q4 2010) Review: 1. Introduction. It wasn't so long ago that DSLRs were out of financial reach for most enthusiast photographers.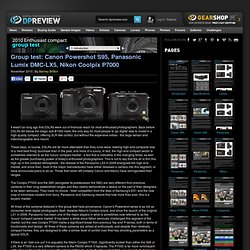 Back before DSLRs fell below the magic sub-$1000 mark, the only way for most people to 'go digital' was to invest in a high-quality compact, offering SLR-like control, but without the expensive extras - the large sensor and interchangeable lens mount. These days, of course, DSLRs are far more attainable than they once were, making high-end compacts less of a 'next best thing' purchase than in the past, and more of a luxury. British Photography Exhibitions.
Inspirational Photographers. Digital camera reviews, photographic equipment tests and cameras compared. Photography forum. Login or Join Now Upload your photos, chat, win prizes and much more Can't Access your Account?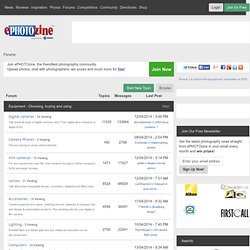 Digital camera reviews, photography techniques, photography gallery and photography forums. Nikon D7000 Digital SLR Review. FeaturesHandlingPerformanceVerdict and ratingsSpecification In 2004, Nikon's D70 camera caused quite a stir, offering some features and resolution seemingly reserved for contemporary professional and semi-pro bodies such as the D1x and the D100, but at a cut down, bargain basement price.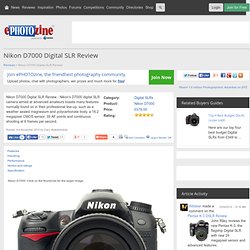 At the time the specification and overall performance was so good for the price, it pretty much made the D100 redundant as it offered little extra for its higher price point. Over time Nikon have made this a bit of a habit. When the D300 camera was announced in 2007, it pretty much made the older D2x redundant, except for those who had the need for hammering nails with their camera. In their continued effort to blur divisions between different levels of camera within their range, Nikon have now released the D7000, which sits at the top of their consumer SLR range.
Nikon D700 long term test Digital SLR Review. Will Cheung on the Nikon D700Gary Wolstenholme on the Nikon D700Our original Nikon D700 review The Nikon D700 was announced back in the summer of 2008.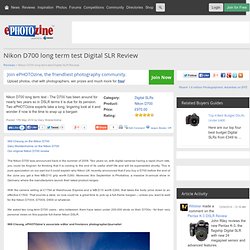 Two years on, with digital cameras having a rapid churn rate, you could be forgiven for thinking that it is coming to the end of its useful shelf life and will be superseded shortly. This is pure speculation on our part but it could explain why Nikon UK recently announced that if you buy a D700 before the end of the June you get a free MB-D10 grip worth £260. Moreover, this September is Photokina, a massive bi-annual show in Germany where the manufacturers launch their latest product ranges. Great Photography Quotes - Best Photographers Quotations. Digital Cameras: Digital Photography Review, News, Reviews, Forums, FAQ.
Digital Camera Product Reviews. Nikon D7000 Review: 1. Introduction. Review based on a production Nikon D7000 with firmware V1.00, 1.00, 1.002 When it was announced in September the D7000 took a lot of people by surprise.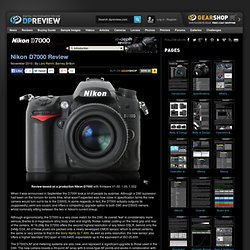 Although a D90 successor had been on the horizon for some time, what wasn't expected was how close in specification terms the new camera would turn out to be to the D300S. In some respects, in fact, the D7000 actually outguns its (supposedly) semi-pro cousin, and offers a compelling upgrade option to both D90 and D300S owners, whilst nominally sitting between the two in Nikon's current lineup. Nikon D700 Review: 1. Introduction. Review based on a production Nikon D700 The introduction of Nikon's new D700 may have been one of the worst kept secrets in an industry with more leaks than the Titanic, but it was still something of a surprise coming so hot on the heels of the D3 and D300.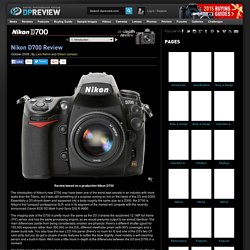 Essentially a D3 shrunk down and squeezed into a body roughly the same size as a D300, the D700 is Nikon's first 'compact' professional SLR, and in its segment of the market will compete with the recently announced Canon EOS 5D Mark II and Sony DSLR-A900. Nikon D3S Review: 1. Introduction. Based on a production Nikon D3S, firmware version 1.0, 1.0 (note: As we were finalizing this test for publication, Nikon released a firmware upgrade for the D3S to Firmware 1.0.1, which corrects some minor bugs relating to video performance.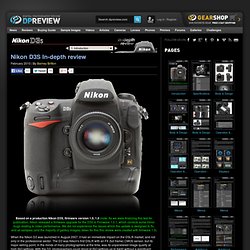 We did not experience the issues which the update is designed to fix, and all samples (and the majority of gallery images) taken for this this review were created with firmware 1.0) When the Nikon D3 was launched in August 2007, it had an immediate impact on the DSLR market, and not only in the professional sector. The D3 was Nikon's first DSLR with an FX (full frame) CMOS sensor, but its major selling point, in the minds of many photographers at the time, was its unparalleled image quality at high ISO settings.
Nikon D3x Review: 1. Introduction. Review based on a production Nikon D3X, Firmware V1.0 Ever since the simultaneous announcement of the Nikon D1H and D1X back in 2001 Nikon's professional D 'single digit' series has been split into two - the X series designed for high resolution applications such as fashion or landscape photography and the H series for high speed sports type photography (lower resolution but faster continuous shooting).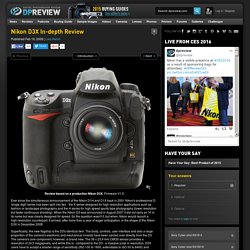 When the Nikon D3 was announced in August 2007 it did not carry an 'H' in its name but was clearly designed for speed. So the question wasn't if, but when, Nikon would launch a high-resolution counterpart. Forums. Enthusiast Compact Camera Group Test (Q4 2010) Review: 1. Introduction. What Digital Camera, digital camera reviews and photography tips | What Digital Camera. What Digital Camera Forums.
Amateur Photographer - news, camera reviews, lens reviews, camera equipment guides, photography courses, competitions, photography forums - Amateur Photographer - news, camera reviews, lens reviews, camera equipment guides, photography courses, competitio.
---