2012 - mystery, stupidity and science
Almost all religions of the planet say that there is some underground realm. At that, each religion has its peculiar description of the realm. Some elements of the description however are typical of all religions. First of all, the population of the underground realm consists of 'masters' and people who get there after their death. Second, people get under the surface in the form of shadows, souls and others known today as clots of information and energy fields. Third, the 'masters' and sometimes the souls posses unique information about the past and even about the future.
Mysterious Hole Phenomenon - Unsolved Mysteries In The World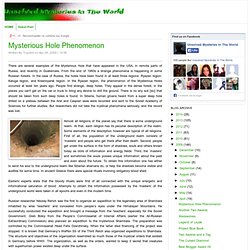 Timewave2012 - Timewave Calculator
genie-geometrie.com - Startseite
Mein Artikel über den angeblichen Weltuntergang am 21.12.2012 erzeugt ja immer noch reges Interesse. Leider, muss man fast sagen – denn die verschiedenen Kommentare zeigen deutlich, dass in den Weiten des Internets immer noch viele verwirrende Informationen herumschwirren die den Menschen teilweise echte Angst einjagen (mit dafür verantwortlich ist sicherliche die virale Werbekampagne für Roland Emmerichs neuen Film zum Thema 2012, der Ende des Jahres in die Kinos kommt).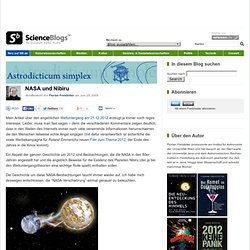 NASA und Nibiru
TheKolbrin.com > The Culdian Trust Kolbrin Manuscripts
December 21 2012 | Nostradamus | Maya | Pole shift | Niburu | Weltuntergang | Prophezeiung | Hopi | deutsch
Was seit dem Jahr 1944 als das bestgehütete Geheimnis des Vatikans galt, ist seit dem 26. Juni 2000 keines mehr. In der Ausgabe des deutschsprachigen "Osservatore Romano" vom 30. Juni 2000 wurde auf den Seiten 13-18 unter dem Titel Die Botschaft von Fatima das langgehütete Geheimnis offengelegt. Dieser Publikation folgte ein von der "Kongregation für die Glaubenslehre" herausgegebene Broschüre mit dem Titel "Die Botschaft von Fatima", Vatikanstadt 2000, die die Texte der drei Botschaften im Faksimile enthält. Auch im Internet ist das gesamte Material in den Sprachen Deutsch, Französisch, Englisch, Portugiesisch, Italienisch und Spanisch abrufbar.
Fatima