Associations/Societies
American Chemical Society - The world's largest scientific society. Small Business Investor Alliance. The Small Business Investor Alliance ("SBIA") is the premier organization of lower middle market private equity funds and investors.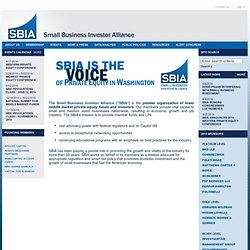 Our members provide vital capital to small and medium sized businesses nationwide, resulting in economic growth and job creation. The SBIA's mission is to provide member funds and LPs: • real advocacy power with federal regulators and on Capitol Hill • access to exceptional networking opportunities • continuing educational programs with an emphasis on best practices for the industry. Home. World Nuclear Association | Nuclear Power - a Sustainable Energy Resource.
NOAA - National Oceanic and Atmospheric Administration.
---