Development Issues
Home | capacity4dev
Natural Resource Charter | NRC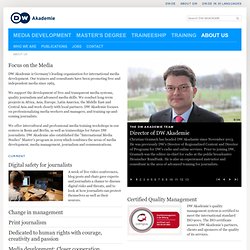 DW Akademie is Germany's leading organization for international media development. Our trainers and consultants have been promoting free and independent media since 1965. We support the development of free and transparent media systems, quality journalism and advanced media skills. We conduct long-term projects in Africa, Asia, Europe, Latin America, the Middle East and Central Asia and work closely with local partners. DW Akademie focuses on professionalizing media workers and managers, and training up-and-coming journalists. We offer intercultural and professional media training workshops in our centers in Bonn and Berlin, as well as traineeships for future DW journalists.
About us | DW.DE
Friends of Europe | Home
GENE - Global Education Network Europe
The Hague International Symposium on Global Education 2012 The Hague International Symposium on Global Education: Enhancing Quality, Improving Coherence, Increasing Cohesion, took place in The Hague, The Netherlands from 15-17th November 2012. It was organised by GENE, hosted by NCDO and supported by the European Commission.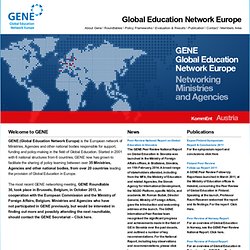 www.slocat.net
The MUNDUS ACP project consists in a partnership of 20 Higher Education Institutions from the European Union and the ACP Countries (Africa, Caribbean and Pacific), within the framework of the Erasmus Mundus Programme, Action 2.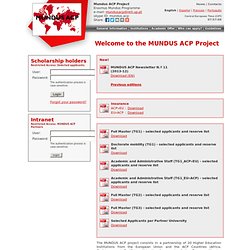 Mundus ACP | Erasmus Mundus - Action 2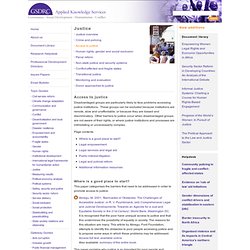 Access to justice
Disadvantaged groups are particularly likely to face problems accessing justice institutions. These groups can be excluded because institutions are remote, slow and unaffordable, or because they are biased and discriminatory. Other barriers to justice occur when disadvantaged groups are not aware of their rights, or where justice institutions and processes are intimidating or unnecessarily complex. Page contents
African Growth & Opportunity Act (AGOA) Approved by Congress in 2000, the African Growth and Opportunity Act, or AGOA, provides reforming African countries with access to the U.S. market. It supports U.S. businesses by encouraging Africa's economic and commercial reforms.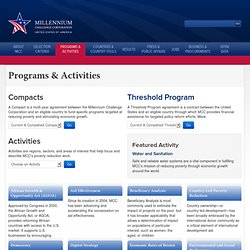 Programs & Activities | MCC | Washington, DC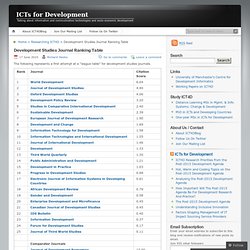 Development Studies Journal Ranking Table
The following represents a first attempt at a "league table" for development studies journals. Basis - Selection was on the basis of development studies journals that appear in various other tables or lists. However, development economics journals (inc. Economic Development and Cultural Change, Journal of Development Economics, Review of Development Economics, and The Developing Economies) were not included.
Corporate Citizenship | Sustainability, simplified.
The sustainability arena is crowded with rankings, standards and awards, all competing for companies' attention and resources. But what is the real value of such initiatives? View event During this webinar we will share findings from recent research into the role of corporate foundations. Through a set of international case studies, we explore: models of delivery; benefits to business, foundation and society; and how corporate foundations are adapting to today's business environment. View event It is the Dow Jones Sustainability Index (DJSI) season again. Not listed last year?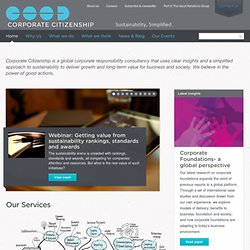 Institute of International Education
Full Text Electronic Journal List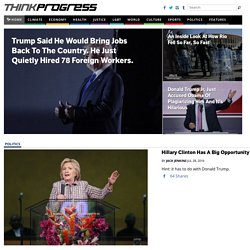 ThinkProgress
Federal Court Deals Blow To Open Internet Access Does West Virginia Have The Political Will To Prevent The Next Water Disaster? New York Post Columnist Calls Sandy Hook A 'Little Convenient Massacre' Justice BREAKING: Federal Judge Rules Oklahoma Marriage Ban Unconstitutional
Volume XXX, Number 1: Spring 2013Volume XXX, Number 2: Fall 2013 Dr. Harold Isaacs, Editor A scholarly and provocative periodical on Third World Problems and Issues, the pioneering effort in Third World Studies.
Journal of Third World Studies New « ATWS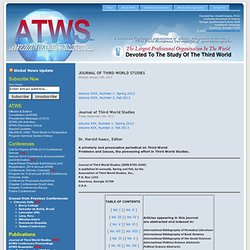 MMorgan Consulting: Economics Unplugged
Markets are complex systems with a multitude of economic actors interacting through buying and selling, and stakeholders like governments and trade regulators defining how market actors must interact. The contexts of markets are also changing constantly–supply is affected by climate change, political instability, and trade standards are just a few factors shaping market contexts. A linear problem solving approach to inclusive market development does not translate into strong efficient market systems that can include the most vulnerable. Facilitating market development requires new skills and knowledge. Mary Morgan specializes in facilitating inclusive market development.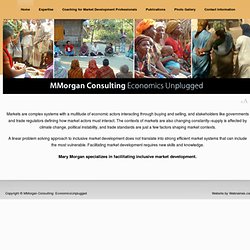 Home
Directories/Lists Directory of Development Organizations lists almost 54,000 organizations involved in development. For easier referencing, the directory has been divided into 6 geographical sections: Africa, Asia and the Middle East, Europe, Latin America and the Caribbean, North America, and Oceania.
Official, IGO & NGO Resources - Development Studies - Guides at Emory University - Main Library (Woodruff)
WiserEarth.org: The Social Network for Sustainability
The Advocacy Project (AP) is seeking contributions for an important student-led fundraising initiative to build toilets for people with a disability in northern Uganda. The Give a S#*T! campaign has been launched by two students from the University of Maryland (UMD), Nicole McDermott and Rebecca Scherpelz. Rebecca, a disability specialist, volunteered as an AP Peace Fellow in 2011 at the the Gulu Disabled Persons Union (GDPU) in Uganda. During her fellowship, she raised the alarm about accessible sanitation in a powerful blog, "When Nature Calls and Society Hangs Up."
Advocacy Project - A Voice for the Voiceless | - Home
Impartial access to data and information relating to humanitarian aid | Global Humanitarian Assistance (GHA)
Abt Associates
Development Bookshop
Charity Navigator - America's Largest Charity Evaluator | Home
worldandmedia.com - Leads, news and resources for journalists covering global events and international development issues -
LINDASWEBS Homepage
This page focuses on where to find in-depth information (web sites, books, journal articles and other publications) on shelter options during a crisis situation. This page was authored by a volunteer from the AWN community. Updates and new pages are welcomed!
Shelter | Aid Workers Network
lawanddevelopment.org - exploring the links between law and economic development
Development and Humanitarian Actors must increasingly be aware of the potential and the pitfalls of operating in national and international legal systems. lawanddevelopment.org aims to create such awareness by contributing to the global thinking on how law can support recovery and economic development. Today, numerous rules apply to the interactions between states and non-state parties. International courts and dispute settlement mechanisms have been set up to enforce compliance with commonly agreed norms.
AidNews | News on Development, Aid and Humanitarian Topics
TCI Network
Intellectual Property Rights (IPR) Programme
Eurodad: The European Network on Debt & Development
Fair Trade Advocacy Office FTAO
Portail de la solidarité