Bitcoin
Imagine a scenario 10 years from now in which Bitcoin has managed to establish itself as an important global currency, supported by a myriad of Bitcoin companies, trade associations, and educational institutions. Now imagine the board meetings of those organisations. What will their demographic breakdown be?
Crypto-Patriarchy: The problem of Bitcoin's male domination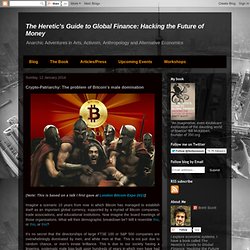 Rich get Richer effect empirically observed in Bitcoin's evolution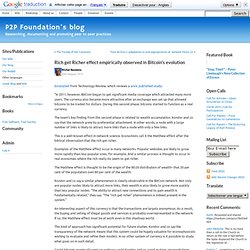 Excerpted from Technology Review, which reviews a arxiv published study: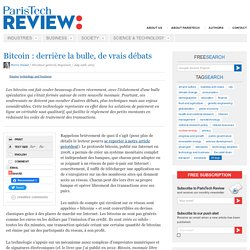 Bitcoin : derrière la bulle, de vrais débats
Rappelons brièvement de quoi il s'agit (pour plus de détails le lecteur pourra se reporter à notre article précédent).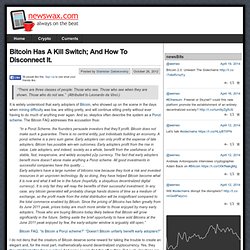 Bitcoin Has A Kill Switch; And How To Disconnect It. | NewsWax
"There are three classes of people: Those who see. Those who see when they are shown. Those who do not see."
Game over, Bitcoin. Long live human-based currencies!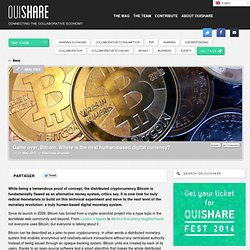 While being a tremendous proof of concept, the distributed cryptocurrency Bitcoin is fundamentally flawed as an alternative money system, critics say. It is now time for truly radical monetarists to build on this technical experiment and move to the next level of the monetary revolution: a truly human-based digital monetary system.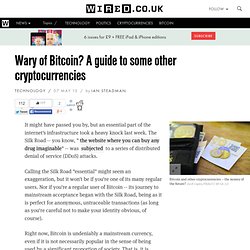 It might have passed you by, but an essential part of the internet's infrastructure took a heavy knock last week.
Wary of Bitcoin? A guide to some other cryptocurrencies
I won't discuss anything in this post. I'm tired of discussing technical things with people with skewed opinions and monetary interest. I've talked enough in the Bitcointalk forum about Satoshi.
The Well Deserved Fortune of Satoshi Nakamoto, Bitcoin creator, Visionary and Genius | bitslog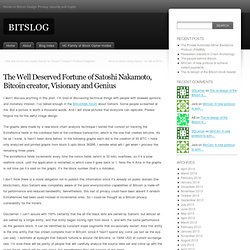 Les Bitcoin obsessives - Towards a leisure society
The environmental cost of Bitcoin « Mktgeist blog
Grâce à un partenariat entre le prestataire de paiment Aqoba et startup Paymium, la monnaie virtuelle Bitcoin va pouvoir transiter légalement au sein du système bancaire.
Une banque française autorisée à transférer des Bitcoins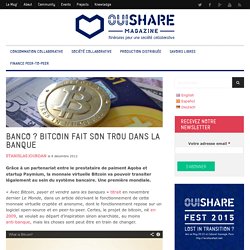 Fractional Reserve Banking With Bitcoins | Libertarian News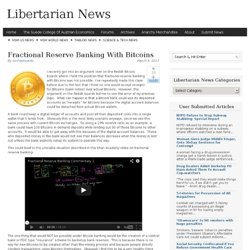 I recently got into an argument over on the Reddit Bitcoin boards where I held the position that fractional reserve banking with Bitcoins was not possible.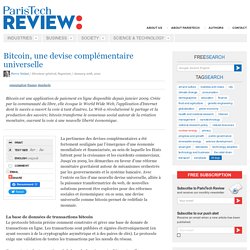 Bitcoin, une devise complémentaire universelle
La pertinence des devises complémentaires a été fortement soulignée par l'émergence d'une économie mondialisée et financiarisée, au sein de laquelle les Etats luttent pour la croissance et les excédents commerciaux. Jusqu'en 2009, les démarches en faveur d'une réforme monétaire gravitaient autour de mécanismes orchestrés par les gouvernements et le système bancaire. Avec l'entrée en lice d'une nouvelle devise universelle, alliée à la puissance transformatrice du web, de nouvelles solutions peuvent être explorées pour des réformes sociales et économiques: en ce sens, une devise universelle comme bitcoin permet de redéfinir la monnaie.
The Rise and Fall of Bitcoin | Magazine
Illustration: Martin Venezky In November 1, 2008, a man named Satoshi Nakamoto posted a research paper to an obscure cryptography listserv describing his design for a new digital currency that he called bitcoin. None of the list's veterans had heard of him, and what little information could be gleaned was murky and contradictory.
A few people around here know about the legal drama currently happening in France between us (Tibanne, MtGox and Macaraja, the company representing us in France) and french banks. A few weeks ago, our previous French bank closed our bank account despite knowing about our activity, which we explained fully before starting. We challenged this decision in court, to which the bank tried to defend itself by saying "Bitcoin is an electronic money, Macaraja is not a bank, therefore it's illegal for Macaraja to be handling this". The court replied that it was not up to the bank to decide this, and ordered the bank to re-open the account.
Bitcoin in France: first legal decision directly related to Bitcoin?
Cryptocurrency
When the virtual currency bitcoin was released, in January 2009, it appeared to be an interesting way for people to trade among themselves in a secure, low-cost, and private fashion.
Unlike other currencies, Bitcoin is underwritten not by a government, but by a clever cryptographic scheme.
What Bitcoin Is, and Why It Matters
MILTON FRIEDMAN famously called for the abolition of the Federal Reserve, which he thought ought to be replaced by an automated system which would increase the money supply at a steady, predetermined rate. This, he argued, would put a lid on inflation, setting spending and investment decisions on a surer footing. Now, Friedman's dream has finally been realised—albeit not by a real-world central bank. Bitcoin, the world's "first decentralised digital currency", was devised in 2009 by programmer Satoshi Nakomoto (thought not to be his—or her—real name).
Virtual currency: Bits and bob
Bitcoin – Pirate's Gold or new Global Currency?
Bitcoin: de la révolution monétaire au Ponzi 2.0
Bitcoin and ethics