Semantic Web
WordLift 2.0 (Pitch at JBoye11 in Aarhus)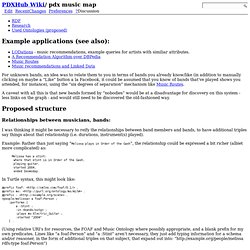 pdx music map
Example applications (see also):
Install XSPARQL | Bridging the RDF and XML worlds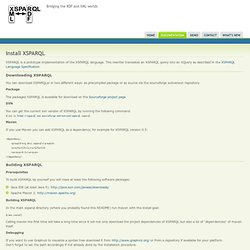 XSPARQL is a prototype implementation of the XSPARQL language.
LeifW/MusicPath - GitHub
From TechWiki
Normative Landscape of Ontology Tools - TechWiki
features - owltools - Summary of features of OWLTools - Wrapper for OWL API
This page describes some of the varied features of OWLTools. Some of these may eventually be split off into separate projects.
owlpopulous - Semantic Spreadsheets for Populating OWL/RDF vocabularies
Populous is an generic tool for building ontologies from simple spreadsheet like templates.
Semantic Web Tools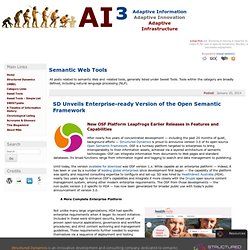 Locational information — points of interest/POIs, paths/routes/polylines, or polygons/regions — is common to many physical things in our real world. Because of its pervasiveness, it is important to have flexible and powerful display widgets that can respond to geo-locational data. We have been working for some time to extend our family of semantic components [1] within the open semantic framework (OSF) [2] to encompass just such capabilities.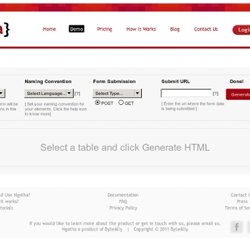 DEMO | Generate HTML
[ Set your naming convention for your elements. Click the help icon to know more]
RIOT - Jena Wiki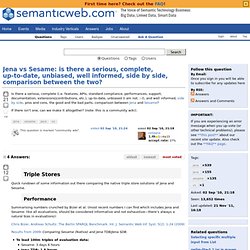 Jena vs Sesame: is there a serious, complete, up-to-date, unbiased, well informed, side by side, comparison between the two?
Here's my take. I don't use either Jena or Sesame as a persistent triple store and don't expect to ever do so.
Semantic Web? It's Not Rocket Science. Except at NASA. - W3C Blog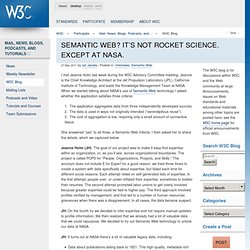 I met Jeanne Holm last week during the W3C Advisory Committee meeting.
Michael Grove, VP of Engineering, Twitter: @mikegrovesoftClark & Parsia, LLC 7 June 2011 About Clark & Parsia
Stardog and Pellet 3: Semantics for the Enterprise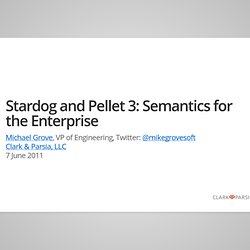 General Overview
Projects / LIMES
rdfa-core-java - RDFa Core 1.1 implementation in Java
rdfa-core-java is a Java implementation of the RDFa Core 1.1 draft. Project is following specification strictly and passes all current unit tests.
The mission of the Library Linked Data incubator group is to help increase global interoperability of library data on the Web, by bringing together people involved in Semantic Web activities—focusing on Linked Data—in the library community and beyond, building on existing initiatives, and identifying collaboration tracks for the future. The group has explored how existing building blocks of librarianship, such as metadata models, metadata schemas, standards and protocols for building interoperability and library systems and networked environments, encourage libraries to bring their content, and generally re-orient their approaches to data interoperability towards the Web, also reaching to other communities.
C Library Linked Data Incubator Group
antidot/db2triples - GitHub
D2RQ - Treating Non-RDF Databases as Virtual RDF Graphs - Chris Bizer
Antidot's Open Source db2triples Implements R2RML and Direct Mapping
Antidot, which makes the semantically-powered Information Factory and Antidot Finder Suite software, this month released its db2triples as open source component software, available here, which implements the W3C RDB2RDF Working Group's proposed R2RML language and Direct Mapping, covered here. Antidot, in fact, shared with the W3C its experience leveraging Direct Mapping and R2RML to, in just half a day, fetch information from hundreds of tables in a client's Magento ecommerce database to transform it to a graph model.
shellac/JenaJung - GitHub
tinkerpop/gremlin - GitHub
Providing easily processable information about the provenance or origins of Web pages and data is important. It lets us give credit where its due and it helps others trust the information we publish on the Web. Here's some simple provenance statements one can make using PROV-DM, the recently released working draft of a data model for provenance from the W3C.
5 Simple Provenance Statements | Semantic Web Activity News
Launch Press Release
The Challenge of Building the Semantic Web
LODWheel
LDIF – Linked Data Integration Framework
The Naive CIO — MakingITclear®
PR-OWL Home
DATAVERSITY
All about Open Linked Data and Semantic Web
Semantic Web
Home - GitHub
Linked Java
fluid Operations | flexibility comes first!
Semantic Web Lab
sadi - Semantic Automated Discovery and Integration (SADI)
A Graph-Based Movie Recommender Engine from the Spring Roo Perspective
A Graph-Based Movie Recommender Engine « Marko A. Rodriguez
Semantic Save – Prototype | Trueg's Blog
Why Semantic Web Technologies: Are We Asking the Wrong Question? - TechnicaLee Speaking
Saving Months, Not Milliseconds: Do More Faster with the Semantic Web - TechnicaLee Speaking
Callimachus
Volkswagen's RDF Data Management Workflow at Frederick Giasson