Developers 1
Houghton Mifflin Interactive. Hitchhiker's Guide to the Galaxy. Helios. GraphSim Entertainment. Garage Games. FrontBase. Freeverse Software. FileMaker. Feral Interactive. FaceSpan. Extensis. Eudora. Equilibrium. Edmark. EarthLink. DreamCatcher. Document Express. Discreet.
DiamondSoft, Inc. Destineer. DataViz. Dantz. CyberExtruder. Corel Corporation. Connectix. Casady & Greene. Canto. CambridgeSoft. Bungie. Bold by Destineer. Blue World. Block Financial. Blizzard Entertainment.
Bioware. Bias. Best. Fiery® Wide Format Products offer a scalable product line for contract proofing, production print and photography from entry level to highest end.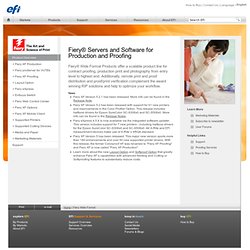 Additionally, remote print and proof distribution and proof/print verification complement the award winning RIP solutions and help to optimize your workflow. News Fiery XF Version 5.2.1 has been released. More info can be found in the Release Note. Fiery XF Version 5.2 has been released with support for 61 new printers and improvements in the Color Profiler Option. Bare Bones Software, Inc. Aspyr. Appgen. America Online. Ambrosia Software. Alias Wavefront. Aladdin Systems. AEC Software. Adobe Systems. Activision. Aatrix. 4D. Developer Connection.
---