QR Codes
unnamed pearl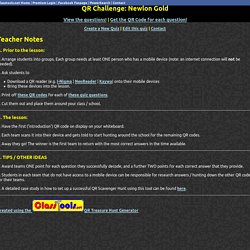 Create a New Quiz | Edit this quiz | Contact A. Prior to the lesson: 1.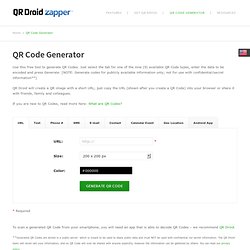 QR Droid » QR code generator
Use this free tool to generate QR Codes. Just select the tab for one of the nine (9) available QR Code types, enter the data to be encoded and press Generate. [NOTE: Generate codes for publicly available information only; not for use with confidential/secret information**]
QR Codes: What are they? How can teachers use QR codes in the classroom?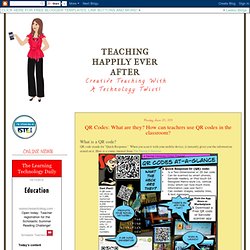 What is a QR code? QR code stands for "Quick Response." When you scan it with your mobile device, it instantly gives you the information stored on it. Here is a comic tutorial from The Daring Librarian : You can find them popping up everywhere nowadays- magazines, posters, even clothing! How do you scan them?
Scan Is the Best QR Code Scanner for iPhone - Lifehacker
There are a ton of QR code scanners for iPhone so it almost seems silly to highlight one above the rest, but if you've gone through a bunch of them you know they're not all made equal. Scan is great because you launch it, it's immediately in scanning mode, and it can pick up a code within seconds. There is no BS—it just does its job. Really, that's all there is to it.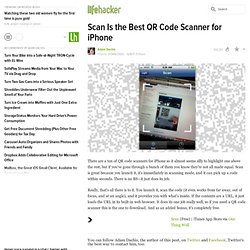 QR Huh? What The Heck Is A QR Code?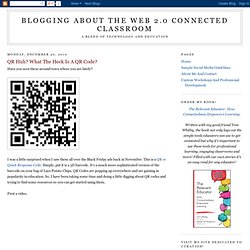 Have you seen these around town where you are lately? I was a little surprised when I saw them all over the Black Friday ads back in November. This is a QR or Quick Response Code . Simply, put it is a 3D barcode.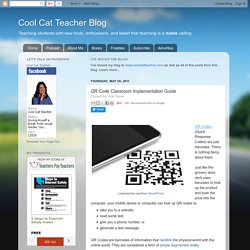 QR Codes (Quick Response Codes) are just barcodes. There is nothing fancy about them. Just like the grocery store clerk uses barcodes to look up the product and scan the price into the computer, your mobile device or computer can look up QR codes to: take you to a website, read some text, give you a phone number, or generate a text message.
QR codes as a learning technology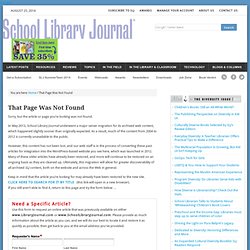 QR Codes Connect Students to Books
By Lauren Barack The fifth graders at Brook Forest Elementary in Oak Brook, IL, don't have their own smartphones—yet. But they're learning about one of the latest trends in mobile media: Quick Response Codes, QR codes for short.
Around the World in 80 Days with 2D codes by Ubimark books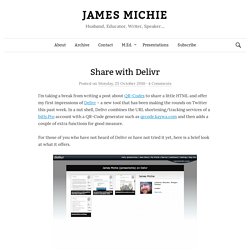 Share with Delivr
I'm taking a break from writing a post about QR-Codes to share a little HTML and offer my first impressions of Delivr – a new tool that has been making the rounds on Twitter this past week. In a nut shell, Delivr combines the URL shortening/tracking services of a bitly.Pro account with a QR-Code generator such as qrcode.kaywa.com and then adds a couple of extra functions for good measure. For those of you who have not heard of Delivr or have not tried it yet, here is a brief look at what it offers. Signing up to Delivr gives you a variety of features including a profile page .
This page is an online two dimensional code generator which is written in PHP. It can generate QR Code , Data Matrix , Aztec Code and Micro QR Code for the time being. Because QR Code is much more popular than the other code formats, it is separately named in the page title. If you need more information on two dimensional bar code systems, I strongly suggest that you take a look at Roger Smolski 's comprehensive blog on QR Code and two dimensional bar codes . Also you should check out John Hopkins 's extensive iPhone QR Code reader roundup .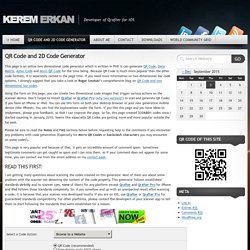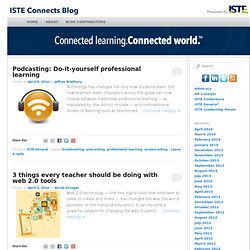 Using QR Codes in Education
Guest post by Sheryl Nussbaum-Beach 1. What are some of the biggest challenges facing superintendents, principals, CTOs, curriculum leaders, and tech coordinators today? I think probably the biggest challenge that leaders in any of these roles face is that we are really living in two worlds now. We're operating in an outdated system in terms of meeting the needs of 21st century learners, so we have to reimagine who we are as educators and reculture our schools. At the same time we have to meet the requirements of state testing, curriculum standards, and the more traditional responsibilities that come with leading schools and school systems.
40 Interesting Ways to Use QR Codes in the Classroom
A QR code generator is a software or online application that allows you to create QR codes. QR codes are probably the most popular and flexible two-dimensional barcode that is used by most businesses and individuals for anything from their marketing campaigns, education and even in ordinary lives and lets not forget just for fun! As QR codes gain popularity, more and more Web sites are offering free QR code generator services.
Popular in Japan, created by Denso-Wave of Toyota in 1994 4296 characters/code 1.25X1.25 or 32mmX32mm About QR Codes: Blended Learning with QR Codes Statistics: 1) 534 students from 24 colleges across USA were asked 80% has iPhone or Android 21.5% knows how to scan or likely to scan when they see a QR code Resource: QR codes on campuses 2) 500 people aged 18+ from accross social networks were surveyed 42% knew what QR codes were They saw them in magazines, stores, restaurants, museums Reasons to scan: get discount, more info on the product, curiosity Resource: Lab42: Who Uses QR Codes Resource: http://rack.0.mshcdn.com/media/ZgkyMDEyLzA0LzI4LzA5XzUwXzUwXzEzNF9maWxl/3dab61e5 QR Codes in education
The Effective Teacher - QRcodes
How To Make QR Codes
In this tutorial we are going to learn how to make QR codes . QR codes are bar-code looking images that have either a website or message embedded inside of it. The only way to make out what a QR code says is to use a QR code reader of some sort. Here is a sample QR code that I made. Try to see what the message says:
Hamilton Chan is CEO and founder of Paperlinks . With the free Paperlinks iPhone app , featured previously by Apple as the #1 New & Noteworthy app, consumers can scan and view QR code content with a native app experience. Paperlinks also provides a powerful platform for generating QR codes, hosting content and tracking their performance.